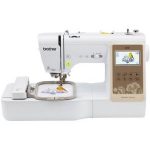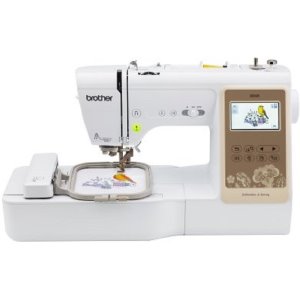 Lots of built-in options
Extra embroidery designs included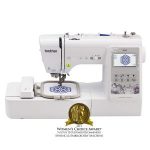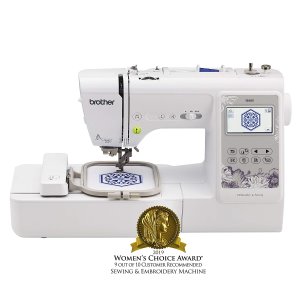 Lots of built-in options
Slightly cheaper
While sewing and embroidery have been pastimes enjoyed by people for thousands of years, it's not quite the same as it once was. No more are people gathering in circles and sewing by hand under candlelight. Today, sewing is a lot different to how it was, and that's mostly due to the introduction of the modern sewing machine.
One of the main brands responsible for bringing sewing into the 20th and 21st century is Brother. Founded more than 100 years ago, back in 1908, Brother is one of the most well-known names in the sewing industry – period. And for good reason. All of their machines are well made, and they offer a wide range of variety. While some of their machines are more basic, entry-level machines, ideal for someone looking to take it nice and slow as they learn the trade. Others are computerized and offer a wide range of features and functions that will satisfy the needs of even the most advanced machinist.
Two of Brother's best-selling computerized models out currently are the Brother SE600 and the Brother SE625. In this review, I'll go through what both have to offer and where they may fall short. This will give you a chance to decide which is the better model to suit your requirements.
---
Brother SE600 Review
The Brother SE600 is a combined sewing and embroidery machine that has a wide range of functionality to offer for both the sewers and embroiderers out there. It has a 4 x 4 embroidery area, which is adequate enough to complete a good number of projects. There is a total of 103 built-in stitches in which to work with, including 8 x 1-step buttonholes. And you get 80 different embroidery designs to play around with. It's also equipped with a USB port in case you want to import your own designs.
Easy to Use
It may be modern, and it may be computerized, but even for those new to sewing will get along just fine on this machine. There's a top drop-in jam-resistant bobbin and an automatic needle threader to ensure you get up and running as quickly as possible upon turning it on. While the 3.2" LCD touchscreen is easy to read and easy to use. From here you can select and control your various stitch options, including the stitch length and width. Once you've made your choice, it's all displayed clearly on the screen for you to preview before you sew.
---
Brother SE625 Review
The Brother SE625 is another fantastic combination machine on offer from Brother.
Simple Controls
You don't have to be a professional to use this machine as everything is so easy to use. All the manual controls are within reach and move smoothly and the LCD touchscreen is also simple to operate. You get 103 built-in stitches to work with, including 8 x 1-step buttonholes. And all your stitch options are chosen and displayed on the screen for you to see at all times.
Another added bonus you get with this being a computerized machine is all the instructions to do things like threading the machine are available instantly on-screen. No more searching frantically for the manual or a tutorial online when you get stuck. Yippee!
Embroiderers Delight
The embroidery area on the SE625 is 4" x 4", so is large enough to complete a range of tasks. And between the machine itself and the enclosed CD, you get 280 embroidery designs to work with including decorative lettering, borders, florals, and kid's designs. While 200 come as an added extra on the enclosed CD the other 80 are already built-in and always at your fingertips. You also have the option of importing your own designs straight to the machine via the handy USB port.
---
Brother SE600 vs Brother SE625: Main Differences
There's no denying that the two Brother models are extremely similar in many ways. They both feature the same size LCD touchscreen and the same navigation keys. And both are equipped with top drop-in jam-resistant bobbins. Another thing that's oddly the same is the number of built-in stitches – 103.
However, while they do share many of the same features, they do have a few differences too, some of which are shown below:
Built-in embroidery designs: The real main difference between the Brother SE600 and the Brother SE625 is the number of embroidery machines each has to work with. While both models have 80 built-in embroidery designs to utilize, the SE625 comes with an additional 200 on the enclosed CD.
Graphics: It may seem a little trivial to mention the graphics as a difference, but this is partly to demonstrate how few differences there are between these two models. Without the graphics, until you sat down to use the machine, you wouldn't be able to tell them apart.
Brother SE600 vs Brother SE625: Final Thoughts
As you can see from the above review, there really isn't much difference between the Brother SE600 and the Brother SE625. In terms of the quality of the machine, they're both very well-made and both achieve an accurate, professional-looking stitch. They also run at the same embroidery speed. In terms of functionality, they both offer the same built-in stitch options, and both offer the ability to connect via USB. Take away the graphics, and they even look the same!
Read More: Full review of the Brother SE600
So, the only real difference to be seen between these two models is the fact that the SE625 comes with a CD that gives you a few extra embroidery designs to play around with. And as there's very little difference in the price, you may as well opt for the Brother SE625 and bag yourself a few extra designs.