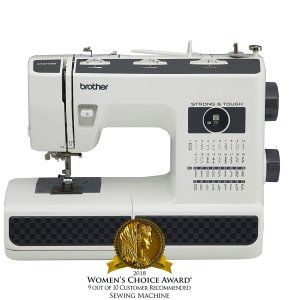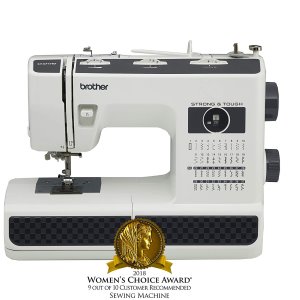 When searching for a new sewing machine there are a few names that are sure to show up over and over again, with Brother being one of them. And there's a good reason for that. Brother has been in the sewing industry for a very long time and in that time that has designed and manufactured millions of sewing machines fit for a variety of purposes. There are machines for beginners and others for advanced users. Some are computerized, while others are mechanical. They vary greatly in price too, as you can imagine.
However, if you're new to the world of sewing or just want a reliable machine that's capable of carrying out a good number of sewing tasks, accurately and efficiently, then you've come to the right place. Strong and Tough by name, and strong and tough by nature, the Brother ST371HD is a fantastic piece of machinery that's suitable for people of all skill levels. While it may be considered an entry-level machine, it still offers a great deal of functionality, and it looks great too!
So, what else is on offer……….
Brother ST371HD Review: Overview
It's always nice to shake things up a little and get away from what becomes "the norm", and that's exactly what's happened here with the Brother ST371HD.
With its smooth black and off-white color scheme, and checkered pattern along the base, this machine is by far, one of my favorites in terms of looks. It's not too girly, and it's not too wild and crazy looking, meaning it will complement pretty much any area you decide to put it.
Just As Hip And Happening Interior
Although the looks are one of this machine's hot points, they're not the be-all and end-all. It's also got some fantastic features hidden underneath that cool exterior.
Firstly, there are 37 unique built-in stitches to choose from while working with this machine. As well as various stitches for everyday use, there are also several decorative, zigzag, stretch, and reinforcement stitches to use, as well as stitches for creating blind hems, and 1 auto-size buttonhole. All of these are printed clearly on the machine for added convenience. To select your stitch simply turn the dial that's located on the right-hand side of the machine. You'll then see it presented in front of you on the mechanical dial.
If you need to adjust the stitch length or width that's really easy too and can be done via the dials located on the top of the machine. The maximum stitch length on the Brother ST371HD is 4mm, while the maximum stitch width is 7mm. It comes with six easy to change, snap-on presser feet, including a spring action zigzag foot for help when sewing over fabrics of varying thicknesses and a nonstick foot which is moves over pretty much any fabric surface with ease.
When it comes to the motor, the maximum sewing speed on this machine is 800 stitches per minute and is capable of handling various types of fabrics ranging from soft silks to heavy denim. And with both a chassis and needle plate built of heavy-duty metal it's one stable machine. So, you don't need to worry about the machine moving too much while in use.
Sewing Made Easy
Whether you're a professional machinist or you're just starting out, the Brother ST371HD is such a nice machine to use because everything works so well and is so easy to operate. Starting with the automatic needle threader – everybody's favorite function. With just a slight press of the lever on the left-hand side of the machine and automatically your needle will be threaded for you. The threading system itself is also pretty easy to follow. While it's not automatic, there is a very clear thread guide printed on the machine to help get you set up and sewing as quickly as possible.
Related Articles:
Moving on, we have Brother's exclusive feature – the jam-resistant drop-in top bobbin. This ensures your bobbin stays put while you're hard at work, helping you to achieve accurate and even stitching. To better assist you when working with fabrics of different thicknesses, there are various different size needles included with the Brother ST371HD. There's a #11 needle for light fabrics and everyday use, a #14 needle for sewing multiple layers of fabric, and a #16 needle for when working with heavyweight materials such as denim or canvas.
And, for added flexibility when sewing things like cuffs or collars there's a convenient convertible free arm for you to use.
A Little Bit More for Your Troubles
As well as the machine itself, there are a number of different accessories that come included with the Brother ST371HD. You get all the usual tools to help you keep your machine clean and dust-free, as well as a few extra needles and bobbins, and other helpful bits and pieces. And, thanks to the built-in accessory compartment, you have somewhere to store it all too!
On top of all that, there's also an instructional DVD to help you with things like threading the machine or choosing your stitch. And failing that, free telephone support directly from Brother's technical team.
Brother ST371HD Review: Final Thoughts
Hopefully, with the help of the above information, you're now one step closer to making your next sewing machine purchase.
It may not be computerized and have all the features and functions of some of the more advanced models out there. And with a maximum sewing speed of just 800 stitches, it's not exactly the fastest machine, either. However, if you're looking for a mechanical machine that's strong and tough, produces accurate and professional stitching, and looks fantastic, then the Brother ST371HD is the perfect match.
Threading the machine is easy thanks to the automatic needle threader, as is loading in and winding your bobbin thanks to Brother's signature feature. There is no overly complicated stitch amending functions to figure out and it comes at a pretty reasonable price tag. So, all-in-all, it's a winner!
Related Articles: