Finally, two of the best midgrade sewing machines are going up against one another. It's Brother vs Singer, and I'm here to tell you which of these machines is going to make your time in the sewing room more rewarding, easier, and altogether more enjoyable.
What do you look for in a high-quality sewing machine? It's the little things, right? A bright LED-illuminated workspace, a built-in needle threader, programmable positions for your needle, and stitching patterns built into the machine. These are the little features that make or break your sewing experience.
Luckily, the Brother CS6000i and the Singer 7258 have features in spades. It is hard to pick a favorite. Both machines are masters at sewing, quilting, and embroidering. They are both built to last, each jam-packed full of impressive features, and both offered at an affordable price. These are premium machines from the biggest names in sewing.
Brother Vs Singer: Comparison
Brother CS6000i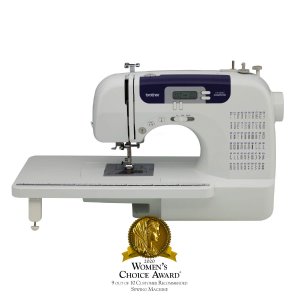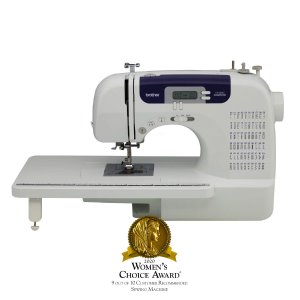 PROS
Extra Wide Table w/ Solid Construction
60 Built-In Stitches
LCD Screen for Easy Selections
CONS
The Tension is Finicky
The Throat is Small
---
Brother CS6000i Sewing and Quilting Machine Review
First up is the Brother CS6000i Sewing and Quilting Machine. As you may have guessed, this machine is positively amazing at quilting. It is built with an extra-wide table to better accommodate your fabrics, it has a tough motor, a ton of included accessories, and will work for you in all your everyday tasks.
Affordable Sewing at its Best
The CS6000i is incredibly affordable, hardly enough to dent even the most frugal budget. This is amazing to me because it truly is a great sewing machine. It comes with 10 sewing feet, three bobbins, a hard case to keep dust and other annoyances out of the gears. It has an automatic needle threader and a drop-in top bobbin that is jam-resistant. What more could you ask for?
Easy & Simple
Brother makes their machines foolproof, easy to use, and fun for everyone. The convenient LCD display is great for seeing exactly what your current selections are, then changing them with a quick touch of a button.
Furthermore, it is an easy machine to sew with. You have plenty of space on the wide table, there are 60 built-in stitches to choose from, you can easily make buttonholes, and you don't even need to thread your own needle. This machine is an absolute breeze.
---
Singer Quantum Stylist 7258 Computerized Sewing Machine Review
How about the Singer Quantum Stylist 7258 Computerized Sewing Machine? It looks great, right? White and blue with a clear interface, easily distinguishable buttons, a nice automatic bobbin winding clutch. What's not to love?
Great for the Home
If you are a casual seamstress or tailor working from home, this is a great low-cost option that will accomplish most fashion, home décor, and hobby tasks. And it will do it in style. There is too much to love about this machine. Twin needle capable, 6-second automated threading, a bright LED to illuminate your workspace. The Stylist 7258 has it all.
So Many Stitches
The Stylist 7258 comes with 100 pre-programmed stitches. That is a lot, especially for a budget machine.  You can embellish all your home décor in an unending variety of styles. This is because 76 of the stitches are decorative, great for casual decorating. There are also 9 basic stitches, 8 stretch stitches, and 6 built-in buttonholes.
Such an array of stitches is great for quilting, sewing fashions, doing crafts, heirlooms, and so much more around the home. Just keep in mind that this is not an industrial-strength machine. The Stylist was designed to enhance your creative sewing at home or with friends.
---
Brother Vs Singer: Main Product Differences
These are two very different machines. While they may cost roughly the same, the Brother CS6000i is a touch more expensive. But this is reflected in the overall quality. And you can tell just by looking at the machines side by side.  A lot of thought went into designing the CS6000i. It looks unique and strong with its extra-wide table, which accommodates large projects.
The Singer Stylist, however, has a cheaper appearance. It looks like an ordinary budget sewing machine. And while the Singer Stylist works great as a hobby machine, it can't stand up to the subtle power of Brother's sewing machine.
Different Features, Different Accessories
The Singer 7258 comes with a few accessories, including an all-purpose foot and a zipper foot. However, the Brother CS6000i comes with 10 quality sewing feet, three bobbins, and a hard protective case, plus more. The case makes all the difference when it comes to keeping the dust and other contaminants out of your machine's gears.
For everyday sewing, both machines have enough features for anyone to stay happy. The Brother has a jam-resistant drop-in top bobbin, while the Singer has a clear cover to closely monitor the thread supply. The Singer has a bobbin winder stop and an LED work light, while the Brother has a convenient LCD display.
Stitch Count: Does it Matter?
The big selling feature of the Singer Stylist is its 100 built-in stitches, as opposed to Brother's 60 unique stitches. Does this matter? Well, it depends on what you are using the machines for. If you need 76 decorative stitches for making crafts then yes, it does matter.
Brother VS Singer: Final Thoughts
If you are still undecided about which of these machines is the best, I understand. They each have their quirks. But at the end of the day, they are built for two totally different purposes. Let me tell you what I think.
First of all, the Brother CS6000i Sewing and Quilting machine is the better unit. It is built better, it looks better, and it is definitely going to last longer. If you are using your sewing machine daily, working with denim and other tough fabrics, and need to do more than embroider, the CS6000i is the best choice.
But don't think less of the Singer Quantum Stylist 7258 Sewing Machine. It is great for what it does. It comes with 76 decorative stitches to see you through long days of crafting together all kinds of unique projects. It is a good learning machine. It can do light work flawlessly. Just don't expect to use it for bulk or ultra-heavy fabrics