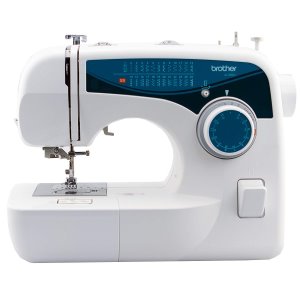 Whether it's done for business or pleasure purposes, sewing is an activity that people across the world have been carrying out for many, many centuries, dating as back as the Paleolithic Era. Thankfully, times have changed, and we've come quite a long way since those days. A lot of that is down to the introduction and acceleration of the modern sewing machine. And a lot of that is down to companies such as Brother.
Brother is a leading name in the sewing industry with a wide range of machines on offer for people of all ages and all skill levels. One popular model out at the moment, particularly where beginners are concerned, is the Brother XL2600i. It may not be the most feature-rich model in the range, but if you're just starting out, that's not a bad thing. And for any seasoned pros out there thinking about using this machine, while it might not have all the bells and whistles of some of the more advanced models on offer from Brother, it's pretty darn good when it comes to completing all those basic, everyday sewing tasks.
So, what else does it have, you may wonder?
---
Brother XL2600i Review: Overview
While a good number of Brother sewing machines are all adorned in the same signature blue and white design, the XL2600i is a little different. While still maintaining that professional, high-class feel, you're also presented with a smooth, cool turquoise exterior that looks inviting for almost anyone.
As well as being modern in looks, this machine also has some great modern features on offer. You get 25 built-in stitches to work with when using the Brother XL2600i, with each one containing multiple stitch functions. And being a mix of stitches such as utility, heirloom, and decorative you can complete a wide range of everyday sewing tasks.
In addition to that, you get a total of 6 presser feet. There's one for general use which you'll use for most things, a zipper foot for sewing zippers, a buttonhole foot for creating buttonholes, a button foot for attaching buttons, a narrow hem foot for creating ornate hems, and a blind stitch foot for making blind hems for pants and curtains, etc.
With all the various stitch selections and presser feet available, it's a pretty versatile machine and can carry out a great number of sewing tasks including general repairs to a range of fabrics, clothes making, curtain creating, home crafts, and more.
---
Great for Beginners
Because there isn't a whole load of different stitches to choose from, the Brother XL2600i is often chosen as a machine for those new to the world of sewing. With fewer stitches to choose from, there's less to worry about, meaning you can concentrate more on enhancing your skills. And everything is nice and easy to use.
To help ensure you get up and running as fast as possible, there's an easy-to-follow threading diagram printed on the machine. Follow this with your thread and it will lead you to the automatic needle threader. Here, you can sit back and relax as the machine threads your needle for you. There's also a handy little thread cutter in which to cut the excess thread when you're done sewing.
While the majority of modern sewing machines include some kind of auto buttonhole feature, not all of them are that easy to use. Thankfully, this is not one of those machines. The Brother XL2600i has a 1-step automatic buttonholer which is great for beginners as it makes sewing on buttons the easiest thing ever.
Related Articles:
Being a mechanical machine, there's no complicated computer to battle with, which is the last thing you want as a learner. To select your stitch all you need to do is turn the big dial located on the front of the machine to your required option. That's it!
Another fantastic feature that's particularly useful for beginners, is the jam-resistant top drop-in bobbin loading system. With this nifty little feature, you simply drop in your bobbin, gently pull your thread through, and start sewing.
---
Small but Durable
While the Brother XL2600i is considered to be a full-sized sewing machine, measuring in at 12.3" x 7.7" x 9.6", and weighing just 13 pounds, makes it compact enough to be portable in my eyes. So, if you do plan on taking your machine to a sewing class or using it on the move, then this is a good model for you.
But don't let its size fool you into thinking it can't take the pace, as with every Brother sewing machine I've come across, this is one tough cookie that was built to last. With a maximum sewing speed of 800 stitches per minute, it's pretty quick considering its size and the fact that it's an entry-level machine. And it puts that power to good use too as you can sew through pretty much anything with this machine. The needles are heavyweight so have no trouble in going through thicker fabrics, and the machine itself is solid as a rock while in use.
---
Brother XL2600i Review: Final Thoughts
Having reviewed all the facts and figures, I believe the Brother XL2600i to be a good, solid, machine that's simple to use that just about anyone can operate it.
Featuring things like 25 in-built stitches and a 1-step auto buttonhole, this machine offers a wide range of functionality even for the more advanced user. While at the same time, it also offers a nice and simple platform to learn on for those with very little or no prior experience of sewing. It comes with all the accessories you need to get started and takes very little effort to set up. All-in-all, it's a pretty low maintenance machine.
So, whether you're looking for a basic machine to help you learn the ropes or need a reliable machine that will cater for all your everyday sewing needs, the Brother XL2600i is a good choice.
Related Articles: