Buying a new sewing machine can be daunting. With all the various shapes and sizes of sewing machines, offering all kinds of features and functions, it's hard to know where to start looking. Thankfully, I am here to lighten some of that burden for you.
The first thing you need to when you go shopping for a new machine is to forget about all those obscure brands offering you the world for very little money. More often than not, they are trash. They're usually made using the cheapest of components and offer very little in the way of actual useable features. Instead, you should focus on some of the bigger, more established names out there. Those that have been around for many, many years, and have a reputation that supersedes them. Someone like Brother, perhaps.
In this review, you'll get a chance to have a closer look into two of the most popular models available right now – the Brother XL2600i and the Brother CS6000i. I'll share with you some of their best features and functions as well as where they may lack a little. And while these two models are similar, you'll also get to see where they differ too.
Brother XL2600i Vs CS6000i: Comparison
Brother XL2600i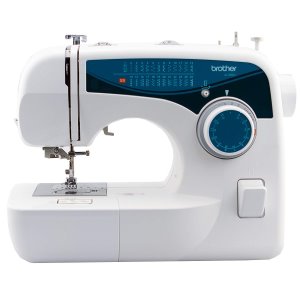 PROS
Easy to use stitch selector
Jam-free bobbin system
Simple automatic bobbin winder
CONS
Not computerized
Limited stitch options
---
Brother XL2600i Review
The Brother XL2600i is a sewing machine that's designed to cater to the everyday user. While it may not have a whole load of advanced features to shout home about, what qualities it does have to share, are pretty cool.
Compact in Size, Not in Ability
This machine measures in at just 12.26" x 7.73" x 9.6", and weighs just 11 pounds, so it's the perfect little number to take to a sewing class or for when you need to sew on the go. It has a total of 25 built-in stitches, including a variety of stitches for garment construction, some for decorative purposes, as well as some heirloom stitches and some quilting stitches. It even has a 1-step auto-size buttonhole thrown in the mix.
Feature-rich and Easy to Use
For such a compact machine, it's surprising to see just home many great, easy to use features it has to offer. There's an automatic needle threader to help save you from getting eye strain. It has a super easy bobbin winding system too. With this thread and bobbin both in place, simply move the bobbin control to the right and watch as your bobbin gets would for you. And, threading is a breeze thanks to the handy thread diagram printed right on the machine itself.
---
Brother CS6000i Review
If you're looking for a mid-range sewing machine that's versatile and computerized, yet simple to use, the Brother CS6000i may be just the model for you.
Plenty of Stitch Options
There are 60 built-in stitches to work within this machine, including a total of 7 x 1-step auto buttonholes. All of which are printed directly on the face of the machine for quick reference. It also comes with 9 different sewing feet to help when working on various projects.
Thanks to the machine's wide table, making quilts is also hassle-free and can be done in no time at all.
User-Friendly
Everything about this machine, screams simplicity. The LCD screen is a little on the small side, but still clear and easy to read. While the corresponding navigation buttons are easy to use. And it's kitted out with loads of great features to help make your life a little easier. There's a start/stop button for those of you who prefer sewing without a pedal, a reverse sewing button for reinforcing all those beautiful stitches, a needle up-down button to give you more freedom when you stop sewing, and a variable speed control function that puts you in charge of how fast you sew.
---
Brother XL2600i vs CS6000i: Main Differences
As you can see from the above, both are fantastic machines that have a lot to offer the user. And while they may be similar in many ways, there are some distinct differences:
Stitch options: The first obvious difference between the two models is the number of stitch options on offer. While the Brother CS6000i has a total of 60 stitches to work with, the Brother XL2600i has just 25. And while that's still a good selection, it's not quite the same.
Size: Another pretty obvious difference to be seen is the size of the two machines. The XL2600i is a very compact machine, measuring in at just 12.26" x 7.73" x 9.6", so while it is good for using on the move, it's not so great at using to sew larger projects such as quilts or drapes.
Stitch speed: While most people don't actually sew at the maximum speed, it's a good indication as to how powerful the motor. But it is also an option if you are feeling brave.
Machine type: Another pretty obvious, but important difference is the fact that the XL2600i is a nice and simple mechanical machine, while the CS6000i is a modern, computerized one. So if you are a technophobe, you may want to opt for the former model.
Brother XL2600i vs CS6000i: Final Thoughts
I hope you found the above both informative and helpful. When it comes to buying a new sewing machine, there's nothing worse than trawling the market for hours on end searching for something that ticks all the boxes, only to draw a blank. Hopefully, with either of these models, you won't have that problem. Both models are made by Brother, so with either option, at least you can be certain the quality of the machine will be very good.
However, if you're looking for a cheap and cheerful sewing machine that will carry out most everyday sewing tasks with no problems at all, then the Brother XL2600i is a good choice for you. It's compact, it's easy to use, and it's affordable. If, however, you're looking for a machine with a little more to offer than just the fundamentals, the Brother CS6000i may be a better option as it has more stitch options to work with and it's a little faster too.