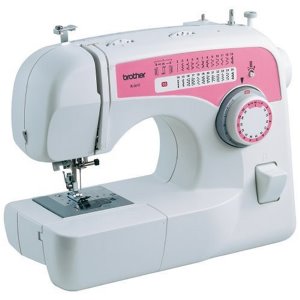 There's no one set age that people learn to sew. While some people learn at a very young age, perhaps sat with their mother or grandmother, others don't learn to sew until they're much older. And while back in the day, sewing was carried out more out of necessity, today a lot of people learn to sew not just through need, but simply because they want to.
Knowing how to sew is a great skill to have under your belt. Not only will you be able to mend clothes with holes and sew on buttons when they come loose, but you'll also have the ability to create some beautiful needlework projects should you wish.
Once you've made the decision to learn to sew, the next step is to find a decent sewing machine in which to do it. Ideally, one that's not too overly complicated, but still has enough features and functions that you're not bored after a few minutes.
Enter the Brother XL2610.
Brother XL2610 Review: Overview
There is hardly anything you need to do upon unpacking the Brother XL2610, which makes it a good choice for just about anyone who's looking to carry out some basic sewing tasks, and doesn't want to spend all afternoon configuring a sewing machine.
Bobbin loading is a task that takes some serious skills if the machine has a poor loading system. Thankfully this sewing machine features a top drop-in bobbin which makes for fast and easy loading. And, it has an automatic winding system which a lot of new users also find quite useful. Another helpful feature this machine has to offer is the transparent bobbin cover that you can monitor the level of your thread through.
Because the machine is aimed more at youngsters and newcomers, everything has been made simple, including the threading of the machine. Both the threading and bobbin loading instructions are etched onto the machine, providing a quick reference guide when you need it most.
And if you do feel you need a little extra guidance, the machine comes with a very good instruction manual that's clear and easy to follow.
Multiple Stitch Options
There are 25 different stitches and 59 stitch functions to be found on the Brother XL2610. They're a complete assortment and include some utility, decorative, quilting, and blind hemstitches. To access the stitch types simply turn the big dial located on the front of the machine to the relevant stitch.  You can also adjust both the stitch width and length up to a maximum of 5mm by way of the dials located on the top of the machine.
When it comes to sewing on buttons, that needn't worry you either as with the Brother XL2610 it's a pretty simple process. A lot of advanced machines these days have a 1-step auto buttonhole function and while these are very good in theory, not all of them work as they should, and you do pay extra for it. This machine does have an auto buttonhole function, but it takes 4-steps. Which is not the end of the world. It still saves you some time but at the same time, enhances your skills.
Ease Your Way in Gently
Learning to sew doesn't have to be difficult or boring. It can be a lot of fun provided you have the right machine to practice with, and the Brother XL2610 is definitely one of those. Specifically designed with beginners in mind, every part of this machine is easy to use.
The first thing to note is that it has an automatic needle threader. It may seem like such a simple task but threading a needle can be very trying at times. So, to help you keep your mind and take away the strain, Brother has included this function on the XL2610. It also has an automatic thread cutter in which to trim those straggling ends.
Related Articles:
The maximum sewing speed on this machine is a modest 800 stitches per minute. While some advanced machinist may not find this speed very fast, it's more than quick enough for someone just starting out. The sewing speed is easily adjustable by the enclosed foot pedal and because it's not too fast, it's easier to control.
You also get a few quality accessories thrown in to help you complete your projects including a variety of presser feet to assist you when quilting, sewing on buttons and zippers, darning, and for sewing buttonholes. There's also a twin needle, needle pack, extra spool pin, a darning plate, a screwdriver, and a neat little pouch in which to put it all in.
Pretty in Pink
Kitted out in a gorgeous pink and white color scheme, this machine is the perfect touch for anyone new to the world of sewing looking for a gentle-looking machine in which to learn the ropes. Young people also tend to find this machine attractive due to both its size and color. Going to sewing class can sometimes be a little daunting if you're on your own, but with a machine like this in tow it would be all the easier.
Brother XL2610 Review: Final Thoughts
If you're looking for an entry-level machine that's portable, functional, and looks great, then the Brother XL2610 is quite possibly the machine for you. With this machine at your beck and all, everyday sewing tasks such as repairing holes, stitching on zippers, or sewing on buttons are such a cinch to do.
It may not be the most heavy-duty Brother machine out there and sewing any material that's too thick, such as leather, will cause it to struggle. But, it's still capable of denim or fleece, so no need to worry there. It's a lightweight and portable machine, and it's pretty reasonably priced. Every single feature and function are simple to use and it looks great too.
So altogether, the Brother XL2610 is a great little starter machine that's fit for just about anyone. And if you're looking for a reliable machine to start you off on the right sewing foot, this is a very good choice.
Related Articles: