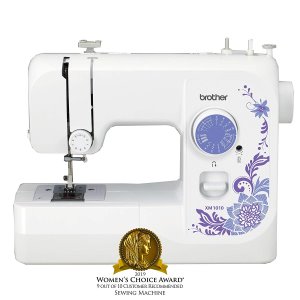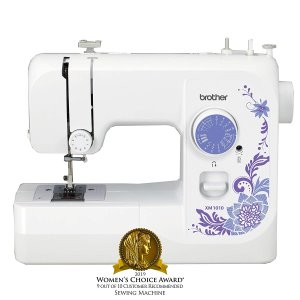 One of the leading names in the industry, Brother is a brand that produces top-quality sewing machines for a variety of purposes and people. So even if you've never even seen a sewing machine up close, you can be sure Brother offers a user-friendly model to suit your needs. One of the companies most popular starter machines out at the moment is the Brother XM1010.
There are many reasons as to why the Brother XM1010 is a great place to start for anyone wanting to learn how to sew. It's not too big, it's easy to use, and its pretty good value for money. There are also enough advanced features on it to make your learning experience worthwhile and fun.
So, what else is on offer with this starter sewing machine? Keep reading to find out.
---
Brother XM1010 Review: Overview
When it comes to looks, the Brother XM1010 is a very pretty looking sewing machine. It's decorated with a colorful but delicate floral design and comes across as a very welcoming machine that's not too difficult to master. The other upside is that it's quite a compact machine, which is another quality that's attractive to those just starting out. There's not too much going on that it seems confusing. Everything is well laid out and looks straightforward to use.  And being just 5.8" x 15.4" x 12.1" in size and weighing just over 10 pounds, it's the perfect size to be transported around should you need to.
So, if you need to sew while on the move, then why not do it in style?
---
Easy to Use
As well as being one of the prettiest machines out there, it's also one of the easiest to master. Learning to use a sewing machine can be daunting if using a machine that's outdated or overly packed with features. But with the Brother XM1010, it has just the right mix. It's quite functional and capable of carrying out a range of tasks. But just as important, it's easy to use.
When just starting out you don't need all the bells and whistles you get on an advanced model. All you need is the basics, and that's just what you get with this sewing machine. There a total of 10 unique built-in stitches to choose from, including some decorative, some utility, and 1 auto-size buttonhole.
Now, while this may not sound like a lot, the ones that are included are the most common and can be used to complete most on-the-go projects. You can pick what stitch you'd like to use via the clearly marked stitch selector knob that's located on the front of the machine. Just turn it to its corresponding picture and away you go.
Related Articles:
Another couple of fantastic features that will appeal to beginners are the jam-resistant, top drop-in bobbin system and the transparent casing that encompasses it. And being fitted with an automatic bobbin winding system takes the hassle away from that too. No hard winding of bobbins here.
Included with the machine are four different presser feet in which to help you with various projects. There's zigzag, zipper, button sewing, and buttonhole feet, all of which are snap-on and are very easy to change. And to help ensure your fabric doesn't bunch up at all, the machine is equipped with an adjustable thread tensioner too.
---
Top Quality Stitching
Being made by Brother, you'd expect nothing else but top-quality stitching. And while it may be petite, but the XM1010 does not disappoint in this area. Whether you're sewing straight or zigzag stitches, this machine keeps things nice and consistent, producing an end result most professionals would be jealous of. Just be careful with the thickness of the material you're sewing with this machine, as anything thicker than say silk, nylon, or cotton, it may struggle.
One of the reasons as to why this Brother machine is capable of producing such high-quality stitching is down to the fact that despite its lightweight nature, it's actually pretty balanced and solid. The exterior is made from rigid plastic and stays put while in use. Another reason is that it has a quick-set drop-in top bobbin system. This ensures your bobbin stays in the correct position allowing more accurate stitching.
---
Advanced Functionality
If you're looking for a sewing machine that's small in size but big in functionality, then you've come to the right place. Even though the Brother XM1010 is more of a starter sewing machine, it's still equipped with various advanced features, one of which is the reverse stitch button. Being able to backstitch on a machine is very important if you want your stitching to look professional. It will also help to prevent fraying,
Another advanced feature this sewing machine has to offer is the one-step buttonhole. While this function is found on a lot of high-end models, it's quite rare to see it on a low-end model such as this. Unfortunately, you won't find an automatic needle threader though.
---
Brother XM1010 Review: Final Thoughts
The Brother XM1010 is another quality sewing machine on offer from one of the most reputable manufacturers in this industry. It may be a little on the small side, but it still offers a sufficient number of features and functions designed to save you time and energy. There's an automatic needle threader, a jam-resistant top drop-in bobbin system and automatic winder, and an adjustable thread tensioner, all of which are very easy to use. It's also a very aesthetically pleasing machine.
Being so compact, the Brother XM1010 is primarily classed as a travel sewing machine with a mix of both decorative and utility stitches in which to carry out most basic sewing tasks and get you out of a sticky situation fast. It's certainly not going to take the place of any advanced machine. But, if you do want a reliable model that's low-cost, handy, and can be moved around with the greatest of ease, then you'll get along just fine with the Brother XM1010.
Related Articles: