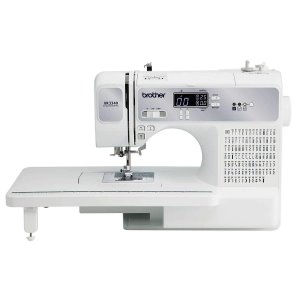 Shopping for a new sewing machine for whatever reason can be tricky unless you know exactly what it is that you're looking for. With so many models featuring different functionality and capabilities, it's hard to know what's going to be the best fit machine for your needs. However, one thing you can be certain of, is that when it comes to sewing machines, Brother is one company who's got it covered.
While the company does offer a selection of specialized sewing machines that focus mainly on one task such as quilting or embroidery, they also have a wide variety of machines that are fit for a range of purposes. And one such machine that's pretty popular right now is the Brother XR3340. Equipped with more than enough features and functions to carry out most sewing and quilting tasks with the greatest of ease, this machine is a true force to be reckoned with.
So, if you're in the market for a reliable machine that's fast, offers a wide range of stitch options, and is equipped with enough bells and whistles to keep even the most advanced machinists entertained, then the Brother XR3340 is definitely an option worth exploring. Keep reading to see just what this amazing machine has to offer.
---
Brother XR3340 Review: Overview
Measuring in at 20.2" x 16" x 14", and weighing just shy of 20 pounds, the Brother XR3340 may not be the biggest of machines in terms of size, but in terms of functionality, it excels.
This is no run-of-the-mill standard sewing machine, let me tell you. Offering 140 built-in stitches, including 55 alphanumeric sewing stitches, there is plenty you can create and customize on this machine. It has stitches for decorative purposes, utility purposes, stitches for sewing quilts, and more. You also have a total of 8 1-step buttonholes to choose from. And with 10 quick-change presser feet to choose from, you get even more versatility with this machine while working on your projects.
Another feature a lot of people find very useful and simply can not live without is the ability to control the machine's speed and tension. The Brother XR3340 has a maximum sewing speed of 85 stitches per minute. And in addition to being pretty quick, it' also capable of producing high-quality and accurate stitching every time it's used.
---
Extra bells and Whistles
As well as offering a wide range of all the basic features and functions, the Brother XR3340 has a lot more to share.
A favorite for many is the machine's variable speed control. This is an important function to have if you want to maintain quality and even stitching regardless of the fabric you're working with and can be accessed by simply flicking the slider that's located on the front of the machine. There's also a stop/start button for easy convenience and position needle up or down. Both of which can be accessed by using the on-board keys.
If you want to try your hand at free-motion sewing, with the Brother XR3340 that's no problem at all. To do this, simply pull the relevant lever located near the needle. This will drop the feed dogs, giving you free-motion to allow more flexibility. Then use the needle to literally sketch your designs onto the fabric.  Perfect for when quilting or when working on other large projects.
The machine is also fitted with a super-bright LED bulb that's positioned strategically over the needle area to give you some extra light when working.
---
Simple Sewing
Although it's fitted with quite a few different features and functions, the Brother XR3340 is still a pretty easy machine to operate. Everything is clearly labeled and within easy reach, and all the available stitches are printed right there on the machine for you for convenience.
No matter how long you've been sewing, you're always grateful for a decent feature that can save you time and make your life easier, and the Brother XR3340 has a few of those on offer. There's an automatic needle threading system that works with the simple press of a lever and an easy-to-use threading system that even a beginner sewer will find enjoyable to work with.
Related Articles:
There's an exclusive Brother quick-set top-loading drop-in bobbin system fitted which makes for easy threading and ensures your bobbin remains in place while you're at work. This helps to provide extra stability for the bobbin, and as a result, you get high quality and even stitching.
It may be a computerized machine, but unlike some technology these days, this machine is very reliable and not overly complicated. The extra-large LCD black back-lit display is a nice touch as quite often on sewing machines you get a very boring blue screen glaring back at you. But the black and white is a much better contrast, making it both super useful and super cool. It very clearly shows what stitch you're using as well as your stitch length and width settings. And will even suggest the best foot to use for the selection you've chosen.
---
Brother XR3340 Review: Final Thoughts
Gone are the days of boring, old, clunky machines that function well but still require a lot of blood, sweat, and tears to operate. Instead, we have modern machines that are not only highly efficient when it comes to getting the job done, but they're super easy to use.
Modern in looks and functionality, the Brother XR3340 is the epitome of the future of sewing. It looks great and runs like a dream. And, it has enough design capabilities to keep most keen sewing and quilting enthusiast busy for a while.
While it may be feature-rich, everything is still relatively easy to use once you know how to. And with all the extra support that's out there including the comprehensive instruction manual, online tutorials, and fantastic customer support, you'll never be stuck for very long.
Whether you need a decent machine to replace an existing model or it's your very first one, the Brother XR3340 is an excellent choice.
Related Articles: