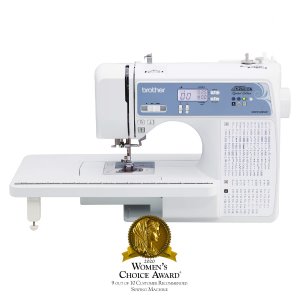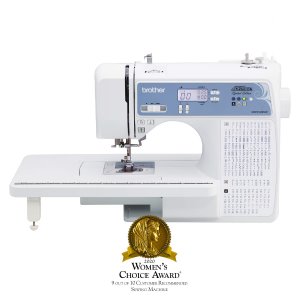 When looking for a new sewing machine to purchase, one name you can be sure to see is Brother. Having been designing and making sewing machines since 1928, those behind the scenes know what they're doing to not only produce quality machines that were made to last but to make them fit for a wide range of purposes.
As strange as it may seem, not everyone uses a sewing machine to sew. Some people use them to embroider, while others use them to make quilts. And thanks, to modern technology, you no longer need to buy multiple machines to carry out more than one task.
Similar in looks to that of the XR3774, but with three times the functionality, the Brother XR9500PRW Project Runway is one of the most popular sewing and quilting machines around – period. Not only is it easy to use, but it also works like a dream, producing the most quality stitching you could expect from any machine.
Is it worthy enough to be your next machine purchase?
---
Brother XR9500PRW Review: Overview
As well as being easy on the eye, with it's subtle but signature brand looks, the Brother XR9500PRW is also easy to use. Printed on the machine itself are clear directions for pretty much every possible adjustment. And the intuitive LCD touchscreen takes very little skill or effort to navigate either. Once you've decided on the stitch you'd like to use, take note of the corresponding number displayed on the key. Then, simply use the arrow keys to input the relevant number into the machine, and you're good to sew.
In addition to being easy to use, it also works extremely well, capable of producing quality and professional looking stitching each and every time. It will sew through a variety of different fabrics, including tougher material such as denim or corduroy and all to a good standard.
The other nice thing about this machine is that there's hardly anything to do in terms of set up other than follow the easy-to-read instructions printed on the machine to thread it. The automatic needle threader takes less than 1 second to carry out its function, then you're ready to sew to your heart's content. And for added convenience, while you're hard at work, located on the side of the machine, is a manual thread cutter.
---
A Step Up from a Starter Machine
It may not be at quite the same level as you'd expect to see from an industrial or commercial machine, but the Brother XR9500PRW is still a great choice to carry out most sewing and quilting tasks.
The motor on this machine is capable of achieving a maximum sewing speed of 850 stitches per minute. So, while it might not be fast enough for a top professional machinist, anyone else using it should have no problems at all. And, at the end of the day, the speed is fully adjustable via the speed controller.
In terms of noise, for a motor that's capable of such speeds, it's relatively quiet, producing just over 66 decibels.
---
Runway by Name, Runaway by Nature
As the name suggests, there is simply no stopping the Brother XR9500PRW.
With 165 built-in stitches to choose from including 110 that are for utility, decorative, and heirloom purposes and 55 alphanumeric stitches, the possibilities you have for going wild and getting creative are endless. There is also a total of 8 presser feet included enabling you to complete additional projects such as sewing on zippers or making quilts. And the good thing about this machine is the digital display will let you know which is the correct one to use for the project you're working on.
Related Articles:
Even though the machine is already a pleasure to work with, there a few automatic features it has to offer to enhance the experience even further. There's an automatic needle threader which makes threading your needle quick and pain-free, while the drop-in top bobbin also ensures you get up and running as fast as possible.
The other great thing about this machine is that weighing less than 10 pounds, it's so very lightweight and portable. And thanks to the protective carry case that comes with it, transporting your machine around from place to place should be a breeze.
---
Extreme Exuberance
One of the most extravagant features on this Brother machine is the fact that it has 8 different styles of auto-size buttonholes which is more than you'll find on most non-commercial models. Another great added extra is that you get 7 different stitch lengths to choose from which stretch right up to 7mm.
In addition to the machine itself, you also get a whole bunch of accessories to make your purchase even better value for money. There are 4 bobbins, 3 spool caps and an extra spool pin, a needle set, seam ripper, a hard carry case and more!
If you do ever have any problems, simply get in touch with Brother's customer service department where the staff is friendly, efficient, and more than happy to help with your concerns. And, just remember, for that added element of protection, there's also a 25-year limited warranty included with your purchase.
---
Brother XR9500PRW Review: Final Thoughts
With quite a lot more to offer than a basic entry-level machine, yet easy enough for a learner to get the hang of, you can see why the Brother XR95000PRW is such a popular model. It's got some excellent and easy-to-use features such as the automatic needle threader, and the fully adjustable speed controller. In terms of design capabilities, this machine enables endless opportunities to create and complete some amazing projects. Whether you want to carry out sewing or quilting tasks everything is so easy to use, and the stitch quality is second-to-none.
Being so feature-rich, you'd expect this machine to be expensive, but it's actually very reasonably priced and therefore excellent value for money. So, if you're looking for a good all-rounder machine that's of good quality and is easy to use, the Brother XR9500PRW is definitely a machine worth looking into.
Related Articles: