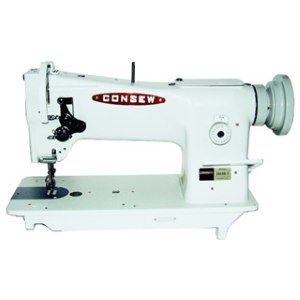 If you sew for a living, be it at home or in a workplace, there's a good chance you've heard of the name Consew. Since 1898, the company has been designing, manufacturing, and supplying reliable machines to those in the sewing industry. They have machines that are fit for sewing tough fabrics such as leather, canvas, tarps, and even sails with precision and consistency that's second-to-none.
While they do have quite an extensive range of sewing machines, one model that's very popular among professionals at the moment is the Consew 206RB 5. There are many reasons as to why this machine is so well-liked, and in this review, I'll go through some of these things in more detail. You'll get the chance to learn a little more about the ins and outs of the machine and what it can do.
Consew 206RB5 Review: Overview
The Consew 206RB 5 is a full-sized table-mounted machine that's packed full of fantastic features to enable you to carry out your sewing to a professional standard. And while it is only a single function machine, that one thing it does, it does exceptionally well, as every single stitch that comes from this machine comes out with precision and accuracy that is nothing short of flawless.
In terms of capability, this machine can sew through a wide range of fabrics including all those tougher materials that standard machines balk at the sight of. Things like denim, upholstery, suede, rubber, and even reptile skin can all be sewn using this machine. So, whether you want to sew things like shoes or luggage, or stitch upholstery for automobiles or boats, this machine has got your back.
The stitch length is fully adjustable on this machine, up to 10mm. To select your required stitch length simply turn the relevant dial located on the machine's column. Underneath this dial, you'll find a large reverse stitch lever for added convivence.
Easy to Use (mostly)
Overall, the Consew 206RB 5 is pretty easy to use considering it's a heavyweight, industrial sewing machine. The extra-large bobbin and heavy-duty walking foot allow you to sew for extended periods of time without the need to stop and change the bobbin.
The only reason I added mostly to the title above is that the setting up of the machine may take a while due to the fact that although there is a manual, it's not very helpful. So, you will be pretty much on your own with minimal guidance when assembling the Consew 206RB 5. But with a little patience and perseverance, you should be just fine.
Related Articles:
There's a centralized lubrication system for easy maintenance and a locking stitch regulator which prevents any changes in your stitch length caused by vibrations. Another bonus is the changeable needle plate and feed dog which enables you to sew a variety of fabrics.
If, however, you want to try your hand at free-motion quilting or sewing, with the Consew 206RB 5 you can do that too. Simply drop the feed dogs down and you have more space to move freely. It also has extra high foot clearance of up to 14mm that's perfect for when working on thicker or multilayered material such as quilts or drapes.
A Little Less Noise
Including the table, the Consew 206RB 5 measures in at 50" x 45" x 20" and weighs around 200lbs. Being such a big machine, you'd kind of expect it to be a little on the loud side. However, thanks to the Servo motor, it's actually really quiet considering its an industrial machine. It's also very stable while in use with very little vibration. So, the stitch quality on this machine is superb, even when at its maximum sewing speed, which is an extremely rapid 3000 stitches per minute.
But don't worry if you're not quite ready to move that fast as the speed of the machine is easily controllable via the enclosed foot pedal. So, while it is capable of stitching at super-fast speeds, you do have the option to slow it down if you so wish.
Accessories and Warranty
There is quite a selection of accessories included with this machine. You get extra bobbins and needles, as well as a spool pin and a knee lifter for everyday use. And there's an oil dispenser to use as needed.
You also get 3 different sized screwdrivers, 2 different sized double-head wrenches, 2 hex keys, and some extra screws for assembling purposes. In addition to the owner's manual and parts manual which you will most likely need when setting up the machine for the first time.
If you do experience any problems with your Consew 206RB 5 sewing machine and there's nothing you, the user manual, or YouTube can do to fix it, at least you have a 90-day labor warranty to fall back on in case of any defects in materials or workmanship. And while it may not be quite as long as some of the other big names out there, the chances of this heavy-duty machine going wrong in the next several years is very slim.
Consew 206RB5 Review: Final Thoughts
It's pretty clear to see that the Consew 206RB 5 is a monster of a machine in terms of both size, and functionality. It moves at eye-watering speeds without so much as a judder from the machine and produces some of the most accurate stitching you could imagine.
While it is a relatively easy machine to operate, it's still not really the best machine for beginners to start on. There would be such a huge learning curve, it just wouldn't be enjoyable. But for any intermediate or advanced machinists out there that know their way around a sewing machine, once you've used this machine, you'll never look back.
So, if you are in need of a heavy-duty industrial sewing machine that will enable you to sew heavy-weight materials with the greatest of ease, the Consew 206RB 5 is definitely a model worth considering.
Related Articles: