Purchasing a sewing machine is no walk in the park, considering the variety of models and brands available in the market depending upon how often you intend to use the device, its features, and the budget. While on the hunt for the perfect sewing machine, you must consider several guidelines and tips.
This post gives a detailed comparison of a cover stitch vs. a serger sewing machine.
Coverstitch Vs Serger Sewing Machines: Overview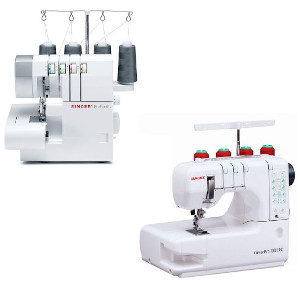 A sewing machine helps to sew and tidy up seams. It produces straight and zigzag stitches in varying lengths and width. If you are into sewing, then a basic sewing machine is a must; however, a specialized tool like a cover stitch or serger is only optional.
Coverstitch Sewing Machine
This is a unique machine that gives a professional touch to seams and hems on any garment or fabric. Attach lace, elastic, and other accessories to your sewing project. The cover stitch tool produces garments and materials with attractive and decorative topstitching effects.
Serger Sewing Machine
A serger is a specialized tool that aims to give garment hems, seams, sleeves, and other sections, a detailed and professional touch similar to that of a cover stitch machine. Also known as overlocker, it trims seams and encases raw edges giving it a clean and smooth finish.
These machines come in different models and brands that are priced differently depending on their features, proficiency, and efficiency.
Using one of these advanced machines will add more finesse to your work. Once you get the hang of these beasts, you would never rely on your regular sewing machine for the detailed finishing on all your sewing projects. So, let us look into the similarities and the differences between the Cover stitch and serger sewing machines.
Coverstitch Vs Serger Sewing Machines: Main Differences
If you are looking to buy a sewing machine, you need to consider the differences between these specialized sewing tools. Most professional sewers tend to purchase both, cover stitch as well as serger in addition to the regular sewing machine.
Fast and Efficient
Serger sewing machines primarily serge the edges of the garment or fabric during the process of trimming them, making the tool extremely fast and efficient as it performs two tasks at a time.
Coverstitch machine creates a double-line stitch that gives a smooth and precise finishing on the garment's hems; however, it is not as efficient or fast as compared to a serger.
Work Area
There is a vast difference in the work areas of cover stitch vs. serger sewing machines. The work area of a cover stitch machine is significantly larger than that of a serger sewing machine. However, today's sergers have extended workspaces.
Stitches
Another difference between a cover stitch and serger sewing devices is in the appearance of the stitches on the garment or fabric. A cover stitch produces a double-lined stitch that gives a neat finish to the hems. A serger trims the seams and encases the edges of the materials in one smooth process.
Spacing of Needle
In a serger sewing machine, there is very little space between the needle and the machine itself, unlike a cover stitch sewing machine.
Number of Loopers
A cover stitch has only one looper, whereas sergers have two loopers for that perfect serge.
Serger Trimmer
A serger machine has two sharp trimmers or blade that trim the edges of the fabric as you stitch, however, a cover stitch has no blade.
Ease of Threading
Cover stitch machine has one looper making it easy to thread this machine as opposed to a serger that has multiple loops.
User-friendliness
It is easier to work on knit garments using a cover stitch device rather than a serger.
Appearance
While comparing the cover stitch vs. serger sewing machine, it is the cover stitch device that looks more like the regular sewing machine.
Coverstitch Vs Serger Sewing Machines: Similarities
Adjustable Settings
In both these sewing machines, there exists a differential feed setting with a control dial that can be adjusted as per the user's requirement.
Needle Specification
The needle specifications for cover stitch and serger devices are different from home sewing machines.
Thread Quality
The threads used in cover stitch sewing machines and sergers need to be strong and of good quality.
Free Arm Feature
Serger and cover stitch sewing devices have a free arm feature that makes it easy for the user to work on sleeves and other small areas of the garment.
Top-rated Sergers and Coverstitch Sewing Machines
Sergers:
Singer Profinish 14CG754
Juki MO654DE
Brother ST4031HD
Singer 14T968DC
Coverstitch Machines:
Janome 1000CPX
Janome Coverpro 900CPX
Juki MCS-1500
Coverstitch Vs Serger sewing machines: Combo Models
If you are looking to buy specialized sewing tools that have the best of both world and does the work of both the cover stitch and serger, then going for the combo models may be a good idea. This machine will do both the jobs for you at a better price. It is also a better option than buying two machines.
P.S. You must be aware that these combination sewing machines would not have the feature of the free arm. Neither will they perform as well as the individual serger or cover stitch sewing machine.
Coverstitch Vs Serger: Final Thoughts
Hence, for beginners, serger sewing machines and cover stitch sewing machines could be an optional tool. If you love sewing and want to pursue your sewing goals by buying specialized tools such as these, but on a limited budget, you could go for the combo model. But if you have the money and space for two separate machines, why not! We hope this post has helped you get over your dilemma over cover stitch vs. serger sewing machines.