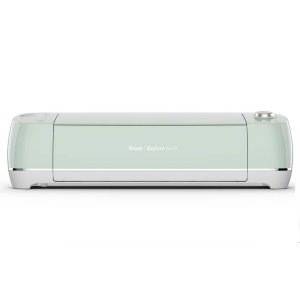 Crafting is a hobby that's enjoyed by millions of people, both young and old, all over the globe. When it comes to crafting, the possibilities of what you can create are only limited to what you can imagine. As any design or idea you can come up with, you can be sure the correct art and craft supplies to help you get the job done are out there just waiting to cater to all those creative juices that are flowing. But with all the best art and best supplies in the world, and all the ideas ever imaginable, you're still missing one vital piece of the puzzle – the tools.
While you can still have fun with arts and crafts without any tools, let's be honest, you're pretty limited as to what you can do.  But with something such as a die-cut machine at your side, you can create all kinds of wonderful crafts. Enter the Cricut Explore Air 2. This model is a DIY cutting machine that's capable of fashioning a range of different materials. It's versatile, looks great, and it's affordable. Interested? Keep reading to find what else this magnificent machine can do.
Cricut Explore Air 2 Review: Overview
With the Cricut Explore Air 2, there is a lot of arts and crafts you can have loads of fun producing including, custom stickers, home-made gifts, personalized home décor, and unique greeting cards. You can connect your PC, phone, or tablet and upload your own designs using Cricut's inclusive design software, Design Space. With this software, you can either upload your own images to use or get instant access to more than 500,000 printable images as well as nearly 1,000 printable patterns.
The machine itself measures in at 24" x 9.5" x 9.5", while the cutting space is around 11.5" x 23.5". So, it may not be the largest area to work with, meaning you are a little limited in what you can create using this machine. However, what it can cut, it cuts extremely well.
As well as being able to cut efficiently, this machine is also very good at writing and has more than 370 fonts to choose from in which to create handwritten cards or projects. In addition to that, thanks to the machine's scoring stylus, it's also capable of creating the perfect fold lines for things like cards, envelopes, and boxes.
One of this machines best selling points is that it's so easy to use. If you've never used a die-cutting machine before, it can be a little daunting. However, thanks to the Cricut Explore Air 2's simplistic design, the few controls this machine does have are all very easy to use. You'll need to adjust the printer's settings when working with different materials. To do this simply use the Smart Set dial to select the correct material and let the machine worry about the rest.
Handles A Wide Variety of Materials
Being a die-cutting machine, the most important aspect is, of course, how capable it is at cutting. And, the Cricut Explore Air 2 does not disappoint. It can easily cut through a wide range of materials, including vinyl, faux leather, adhesive foils, and more.
But just because it's a workhorse, doesn't mean it can't handle the more intricate pieces, either. Quite the opposite, in fact. This machine is very good at creating all those delicate details such as snowflakes or spiderweb designs.
Related Articles:
There are two modes to choose from when using this cutting device. If you want to cut something fast and need to make every second count, put the machine into Fast Mode and watch as the Cricut sets to work cutting your work at warp speeds (or twice as fast as the previous Cricut Explore Air model, to be a little more precise). On the mention of precision, if you want to achieve the most accurate of cuts, then put the machine into Precision Mode instead. This will ensure that every inch of your project is handled with the utmost care and cuts are made more intricately.
A Closer Look at What's Inside
The Cricut Explore Air 2 is a very intricate cutting machine that's made up of some high-quality components. However, it's also a very durable machine, so don't worry too much that it can't handle your project.
One of these components is a double tool holder that keeps both the blade and pen at the ready. So, you can write and cut whenever needed. Another premium component is that of the German Carbide blade. This blade is very powerful and is the main star of the machine. It's capable of cutting a wide range of materials including vinyl, cardstock, and poster boards, and on average, lasts around 3 times longer than a standard blade.
There are also some smart storage facilities to be seen on this machine. The first is on the top left-hand corner of the machine. Here you'll find a nice and convenient tool holder in which to store all your bits and bobs while not in use. The second storage compartment is under the front cover. Here you'll find a further blade and accessory storage space in which to keep all your various Cricut tools, pens, blades, and other accessories until they're needed.
Cricut Explore Air 2 Review: Final Thoughts
If you're looking for a high-quality cutting machine that's capable of handling all those small to medium-sized craft projects, then the Cricut Explore Air 2 is a good choice. It's fast, it's reliable, and it's no one-trick pony either. Being able to cut, score, and write in one machine is a lifesaver for those who do a lot of crafting. You also get the added bonus of having access to Design Space where you can design away to your heart's content and then watch in anticipation as it comes alive in front of you.
All-in-all, the Cricut Explore Air 2 is a fantastic machine, that I would highly recommend to anyone with an interest in crafting.
Related Articles: