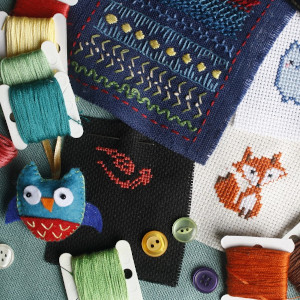 There are lots of easy sewing projects out there. If you are just starting out with sewing, you've gotten yourself a neat little machine, you are loaded with threads, creativity, and an eagerness to get going, then you are ready for some fun and easy sewing projects.
These projects do not require any particular skills. These are little tasks that can help you get the hang of your new sewing machine while learning the basics. Try your hand at any of these great sewing projects and before you know it, you'll have a whole room full of fun and random items that you made with your own two hands. Nothing is more satisfying!
Here are thirteen of the easiest projects to start your sewing journey.
Sewing Projects For Starters
1: Envelope Pillow Cover
Envelope pillow covers are extremely easy. They are four-sided, they don't require a lot of planning, and you can get a lot of free patterns and tutorials all over the internet. You can use any kind of fabric and any size of pillow. Try your hand at one of these just to get you used to sewing fabrics on your machine.
2: Simple Skirt
Try your hand at a simple skirt. There are lots of patterns free online, and you can make pairs very easily. A simple skirt will not require a lot of seams, and you can try your hand at making a fitted waistband. If it's good enough, you can even wear it out of the house.
3: Scarf
Scarves are one of the simplest things to sew. They are also one of the things you will continue to sew as you increase your skills, using different fabrics, different patterns, and different lengths. Scarves really don't take much work, seeing as there are not any special measurements that need to be abided by. You have a lot of freedom when making a scarf and lots of room to make mistakes.
4: Zipper Pouch
A zipper pouch is almost every newbie's introduction to zippers. You can make a handful of these in under an hour just to test your skills, using different patterns, and slowly getting the hang of how stitching zippers works. Plus, zipper pouches are super useful.
5: Simple Quilt
Many people who enjoy sewing actually only enjoy quilting. There is a huge culture of quilting and you can easily get it on it. Within 2 hours you can have yourself a hastily made quilt with a nice patchwork of design patterns.
After you have built your first easy quilt, you are going to be addicted. You can try your hand after at thicker fabrics, more complex designs, and much more.
6: Pencil/Crayon Holder
This one might not be super useful for an adult, but if you have a child you can easily sew them a cute pencil holder/crayon holder that they will love to use. The great thing about this is that you are only sewing straight lines. You will learn how to make thin pockets to hold the pencils or crayons while figuring out how to keep congruent measurements.
7: Children's Bowties
Here is another perhaps impractical item, but a children's bow tie nonetheless is a good starter project. All you need to do is sew some rectangles together and you have an adorable bow tie for your little boy or girl to wear. There are lots of tutorial videos online if you feel overwhelmed.
8: Add Pompoms
Do you have a boring throw pillow lying on one of your couches? Why not add pompoms? This is a fun art project that won't take more than an hour and will test your simple stitching skills. Attach a border of fun pompoms to a pair of throw pillows and add a bit of excitement to your couch.
9: Maxi Dress
Maybe you are not ready to start crafting runway dresses just yet, but the maxi dress only takes a single seam to put together. This is a great beginner project to stretch your legs making clothing. Make it for yourself, for a friend, or for a family member. Everyone loves handmade clothing.
10: Tote Bag
This one is a bit more complicated. However, there are loads of thorough tutorials on how to properly make a tote bag. And while we're on the subject, you can actually make a handful of handy bags. Reusable grocery bags, a simple handbag, or even a fashionable shoulder bag. These are all extremely easy to make, and after your second or third one, you will be a pro.
11: Swaddling Blankets
Swaddling blankets for infants are ideal beginner projects because they are generally thin, not overly ornate, not as big as a normal blanket, and they are used for swaddling babies. Who doesn't want to be involved in a little baby swaddling?
12: Smock
There are a few different kinds of smocks you can make as a beginner project. You can do an art smock or a kitchen smock – basically an apron. Smocks are easy because they don't require any specific fitting. They also don't have sleeves or legs and are pretty straightforward in their design. They are also useful around the house.
13: Knitted Monsters
I have saved the best for last. Knitted monsters are my absolute favorite beginner project. What is a knitted monster? You can find examples of these all over the web, with free printable patterns that teach you how to make unique and unquestionably adorable monsters out of felt.
This is a great starter project for young kids who are learning how to sew or parents who want to introduce their children to sewing. In fact, this is even a great project for an adult interested in sewing who loves making fun creatures.
This project involves making seems, straight stitches and zigzag stitches, overlapping with different colors and different textures for the monsters' faces, and a whole bunch of fun creativity. It may not be a blanket or a scarf, but this is definitely a fun way to introduce yourself and somebody you know to the world of sewing.
If nothing else, you can always attach a string to the top of the monsters and hang them off the Christmas tree. They also make fun toys for cats and dogs. You can fill the monsters with stuffing and catnip, stuffing and bells, or even stuffing and a squeak device to please your dog.