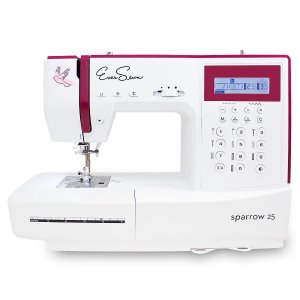 Ever Sewn is a fresh and fun sewing brand that prides itself on being innovative. One of its main focuses is making this art more accessible to a wider audience. And, one of the ways it does this is through the development of modern machines that incorporate emerging trends. The company offers a variety of machines, suitable for pretty much anyone with a slight interest in sewing.
Not everyone who owns a sewing machine has one to make money from it. There are a lot of people out there who genuinely love nothing more than sitting down at their machine and sewing to their heart's content whatever pops into their head. Whatever your reason for wanting to buy a new sewing machine, rest assured Ever Sewn will have some options for you.
One of the company's most popular models available right now is the Sparrow 25. In this review I'll go through some of the main features and functions of this product so you can get a real feel for what's it's all about and whether it could be your next purchase.
EverSewn Sparrow 25 Review: Overview
The Sparrow 25 is a computerized sewing machine that offers a good selection of features and is suitable for projects of all skill levels.
Versatility
When it comes to what this machine can do, the possibilities are pretty extensive. For starters, there are 197 stitch options to choose from when using the Sparrow 25 including a large selection of decorative, utility, and quilting stitches. There are also 2 darning stitches, 1 eyelet stitch, and 1 alphabet stitch to work with. On top of that it also has 7 x 1-step buttonholes. So, as you can see, the design possibilities are very good. If you want to have a look at all the stitch options, simply pull out the overview panel located at the bottom right of the machine for a quick glance.
In terms of portability, the Sparrow 25 measures in at 18" x 10" x 13" and weighs just under 17 pounds. So, you won't have too many problems with carrying it if you do want to take it to a sewing class with you. While it doesn't come with a hard case, there is a dust cover that still provides a small element of protection when not using your machine.
Fast and Proud
The maximum sewing speed on the Sparrow 25 is 850 stitches per minute. If that seems a little too fast for you, thanks to the slide control you can adjust this to a speed that's more suitable. You'll want to sew at slower speeds when working on thicker material anyway as there will be less chance of the needle breaking. Then when sewing thinner fabrics, you can turn it up as much as you like and watch as the needle moves with ease.
Most people who use a sewing machine over long periods tend to use the foot pedal (if it has one) as it means they have more freedom to use their hands. However, if you would prefer not to use the foot pedal, with this machine, you do have the option of using the stop/start button instead.
Feature-Rich
The Sparrow 25 is one feature-rich machine. And considering the cost, it's definitely great value for money. The first feature I want to point out is the adjustable needle position. This is a very useful function when making corners or when having to sew in different directions. Programming the needle to stop in the down position makes it much easier to re-adjust the fabric and start sewing again. You'll also find a reverse stitch button and an auto-lock button near the needle positioning button.
Related Articles:
Another time-saving feature is the thread cutter. It may be manual, but it will save you time in having to hunt for the scissors every five minutes. On the subject of saving time, thanks to the machine's built-in memory, it can also save all your stitch settings so you can instantly get going again after a break.
Sewing with Ease
One of the best things about this machine, other than it's packed full of features, is that everything is so easy to set up and so simple to operate. Featuring a top-loading bobbin and an automatic needle threader, the Sparrow 25 is one of the better machines out there to thread.
Adjusting the settings on this machine is no difficult task either. With just a few clicks of the right buttons you can adjust your stitch length and width and have it all displayed on the LCD screen right in front of you. The stitch length is adjustable up to a maximum of 4.5mm, while the width can be set up to 7mm. Even the LED light is easy to adjust using the relevant button located on the side of the machine.
Ever Sewn Sparrow 25 Review: Final Thoughts
Whether you're a beginner sewist or a professional seamstress, there's something for everyone to get out of using this machine. For those with very little experience in the world of sewing, the Sparrow 25 is a good introductory model. Everything is well laid out. Nothing is hidden. And all the controls are very easy to navigate. It also features a nice and clear LCD display which lets you know your selections at a quick glance. And, there's plenty of stitch options to play around with.
The more advanced user will appreciate this machine as well, but for different reasons. While it's maximum stitch speed of 850 stitches per minute isn't exactly rapid, the quality of the stitching soon makes up for it. The machine is solid so there's excessive movement causing the skipping of stitches. And so even when working at it's fastest, the quality of the stitching prevails.
So, if you are on the hunt for a top-quality, low price, versatile machine to see you through years of fun sewing projects, the Ever Sewn Sparrow 25 is definitely a match for you.
Related Articles: