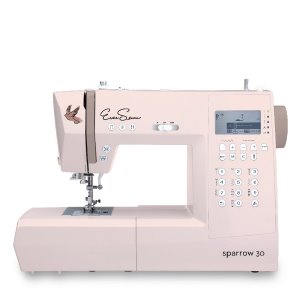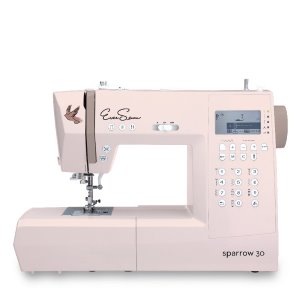 Buying a new sewing machine can be a slow and difficult process if you're not at least a little bit prepared. And, it's not through lack of choice. There are plenty of good quality machines out there that are fit for a whole range of purposes. But finding one that's durable and well-made, functional, and affordable get's a little trickier.
While a lot of the bigger name brands out there like Brother and Janome have an extensive range of machines to choose from, that do all kinds of fun and fabulous things, not all of them are affordable. Some users rely on other less expensive quality brands to step in, one of which is Ever Sewn.
Ever Sewn was born with the belief that all sewing machines should be modernized and developed with emerging trends in mind. It's a very up and coming company looking to bring more than just affordable functionality to people's sewing lives. It's looking to a sprinkle of fun too.
One of the company's top-selling models for both beginner and advanced machinists is the Sparrow 30. And in this review, you'll get a chance to see why that is.
EverSewn Sparrow 30 Review: Overview
If you're someone who loves nothing more than creating their own designs and watching them come alive as they sew, the Sparrow 30 is a great machine for you. With more than 300 different stitch patterns to work with, including 84 decorative, and 32 utility stitches, the design possibilities are endless with this machine!
You even have two different fonts for the alphabet, enabling you to create a plethora of personalized items. And selecting a stitch couldn't be easier. Just scroll through the options on the LCD screen. From here you can select your stitch type, length, and width all in a matter of seconds. The stitch tension is also easy to adjust by turning the relevant dial to a tautness that suits.
And best of all there's a built-in memory function that allows you to save your stitch settings should you ever want to use them again.
Modern in Looks and Functionality
Adorned in a subtle pink with just a solitary logo featured on the machine's arm, the Sparrow 30 is appealing to quite a wide audience. The machine's basic appearance entices those new to the world of sewing, as it gives the impression that it's an easy model to use (and it is). It's soft color scheme also gives advanced users the confidence that they're using a professional machine.
Included with the machine itself you get 7 different presser feet to help you complete various sewing tasks. There's a standard foot, a zipper foot, a buttonhole foot, an overcast foot, a blind hem foot, a satin stitch foot, and a button sewing foot. It also has a good size extension table which is very useful when working on bigger projects such as quilts or drapes.
To help save you time when sewing, another great feature the Sparrow 30 has to offer is the automatic thread cutter. Simply push a button and your thread is snipped conveniently for you. There's also an automatic needle threader in which to save you eye strain.
User-Friendly
The Sparrow 30 has a wide range of features and functions to adore, all of which are easy to use and will enhance your sewing experience ten-fold. When it comes to the threading of the machine, this takes very little effort and can be done in a matter of minutes if you just follow the thread guide that's in the comprehensive instruction manual. After doing it a couple of times with the guide, you'll soon learn the path and be doing it with your eyes closed.
Related Articles:
The drop-in bobbin system is also easy to use and simple to find. There's a clear transparent covering so you know when you need to change it and, if there are any issues with snagging, it can be accessed immediately.
Another great feature this machine has to offer is the automatic stop/lock button. This is perfect for securing or locking stitches in place to ensure a perfect finish. And there's also a stop/start button for anyone who doesn't like using a foot pedal.
Sew Like a Pro
It may not be the fastest machine on the market, but with a maximum achievable sewing speed of 850 stitches per minute, it's no slow coach either. If, however, you prefer to take the slow and steady approach to sewing, that's just fine too. With the simple flick of a switch you can adjust the sewing speed on the Sparrow 30 to suit your requirements.
To help enhance your sewing experience that little bit more, the Sparrow 30 comes with quite a range of accessors including a seam ripper, a spool pin felt, a spool holder, a screwdriver, and more. While there's no hard case in which to protect your machine while on the move, it does come with a soft cover to at least keep the dust at bay.
Ever Sewn Sparrow 30 Review: Final Thoughts
It doesn't matter whether you've been sewing since you were knee-high to a grasshopper or you've never seen a sewing machine in real life, with this user-friendly machine, everyone's a winner. All the controls are easy to use, and the LCD screen is nice and clear. Ever Sewn Sparrow 30 is equipped with enough features and functions to be able to complete a wide number of tasks and has enough built-in stitch options for a newcomer to build their skills.  It's also a very affordable machine that would easily give some of the more well-known brands a run for their money.
So, if you are on the lookout for an all-around good quality sewing machine that's functional, fast, and easy to use and don't want to spend a fortune then the Ever Sewn Sparrow 30 is an excellent choice. It's simple to set up and will brighten up just about any workspace. What more could you want?
Related Articles: