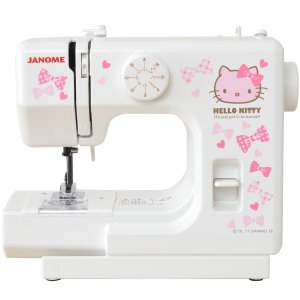 Who doesn't want a Hello Kitty sewing machine, whether secretly or otherwise? It is no surprise that Janome, the masters of making high-quality, reliable, well-designed sewing machines, have decided to produce their Hello Kitty Compact Sewing Machine KT-W Model.
And while this may look like a children's toy, it is anything but. The Hello Kitty Sewing Machine from Janome can complete a wide array of sewing tasks and is the perfect gift for a small child or young teen interested in sewing.
The sewing unit comes with foot control, giving youngsters the feel of a classical sewing machine. It also has an easy-to-use dial for eight different line choices, five types of straight lines, and three types of zig-zags.
Great for at home, for taking away on business, as a gift, or as a novelty, the Hello Kitty compact sewing machine from Janome has something everyone can appreciate.
Janome Hello Kitty Review: Overview
I personally love the Hello Kitty Sewing Machine. Janome did a fantastic job with this unit. It can sew, it can Hello Kitty, it can do everything.
The machine itself is white and pink, perfect for lovers of Hello Kitty. Equipped with pink bowties and little hearts, any Hello Kitty fan will love sitting for hours in front of their new sewing machine, working hard on their own Hello Kitty apparel.
The machine does all the basics. It is clearly not a massively robust sewing machine designed for industrial-grade jobs. This is a fun unit, meant to be enjoyed. It works great for more leisurely projects like hats, shirts, and sneakers.
A Great Gift
Even if you don't consider yourself a Hello Kitty fan, you likely know somebody who does. And if they enjoy sewing or have expressed an interest in sewing, what better gift to get this person than a starter Hello Kitty sewing machine? I know a few people who would certainly enjoy it.
The Hello Kitty Sewing Machine is also a great gift idea for youngsters. Even if they are not crazed fans of the cute little kitty, they will appreciate the adorable, compact, and lightweight sewing unit.
It is safe for children, has minimal features, very few settings, and can be learned easily. You can spend the day with your child showing them the ropes, bringing a smile to their face as they complete their first pair of shorts or socks. They will love being able to sew their own clothing!
For casual sewers, this is also a great gift idea. Maybe you know someone who has always talked about sewing but didn't want to buy a big expensive machine. The Hello Kitty Sewing Machine is the perfect solution. It is affordable, can be used straight out of the box, and is an excellent learning tool for a beginner seamstress.
Useable Features
Just because the Hello Kitty Sewing Machine has pink hearts and bowties on it does not mean it can't be used to do some serious sewing. It can! You can hem pants, stitch denim, patch together a blanket, embroider cute designs on a pair of shoes. Surprisingly, this unit can do a lot.
The main feature on the Hello Kitty Sewing Machine is its adjustment knob, which can be used to adjust your sewing to one of eight different patterns. You get a very convenient five types of straight lines, plus an additional three types of zig-zag lines. The dial turns effortlessly to suit your mood.
Related Articles:
With the included foot control, you can work the Hello Kitty Sewing Machine hands-free. The foot control is small and fits incredibly well with a child's foot. This makes it great for kids who need both hands while sewing.
There is a lever on the face of the machine used for switching from normal into reverse. You can stop sewing, switch the large button down, then begin reverse sewing. The machine also comes with two needles and a bobbin, making it a complete kit. You can set the machine and start sewing in minutes.
Quality with a Trusted Name
No, the Hello Kitty Sewing Machine is not the end-all of sewing machines. It is not computerized. It does not come with a bucket of accessories. It is probably not an ideal unit for sewing thick quilts and fleeces. It is, however, fun to use. And it is built to be strong.
With the Janome name attached to it, this sewing machine promises to hold up for the long run. It is built with a durable housing, has strong, functional parts, and is unlikely to malfunction anytime in the near future after your purchase.
You can rest assured knowing the machine is safe to use thanks to Janome and their famous reputation for designing and manufacturing exceptionally safe and very reliable products. Nobody wants to buy a cheap piece of junk from some unknown brand, right? And what brand is more reliable in the world of sewing than Janome?
Plus, you have Hello Kitty's name right on the face of the machine! There is no arguing the facts. This is a well-made machine that can sew with the best of them.
Hello Kitty Sewing Machine: Final Thoughts
I've already said it: I love this sewing machine! It is simply adorable. As the number one icon of cuteness the world over, worth billions of dollars, the simplicity of Hello Kitty never ceases to amaze me. This sewing machine is well-designed and fitted with the most loved cat in the universe. What more could you need?
The Hello Kitty Sewing Machine has enough basic features to get you through any sewing task. It has a reversible stitch, five choices of straight lines, three choices of zig-zag lines, an integrated footswitch, and quality internal parts. It is slim, compact, and portable. It truly has everything you need.
As a gift, this sewing machine works wonders for children, sewing fanatics, or Hello Kitty fans. It is a versatile piece of equipment with more charm than your normal sewing machine. Did I mention you can get this exact model made by Janome at a reasonable price?
Related Articles: