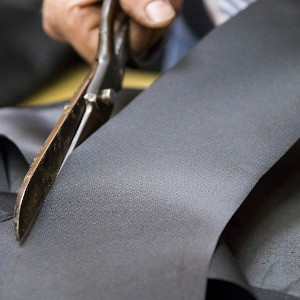 Sewing will definitely need a lot of exciting learning for beginners, from choosing the right fabric, cutting it accurately, to measuring the fabric, and many more.
It is important to take note of some basic tips and tricks to ensure faster sewing. An improper fabric cut can make your garment look shabby. Hence, make sure to master the technique of cutting fabric straight before using it with your sewing machine.
Before digging into the cutting methods, you must be aware of the fabric types. Also, research thoroughly to get the right tools for these types of fabric. By using the right tools, you can ensure the straight cutting of any fabric.
Cutting Masters At Your Rescue!
Scissors, rotary cutter, a cutting mat, a quilting ruler will be saving your day. Rotary cutters use a sharp blade to cut through layers of fabric without hurting your hands swiftly. A 45mm Rotary Cutter will work best for cutting through one or two layers of fabric. If you intend to cut through several fabric pieces at one go, choose a 60mm rotary cutter. A self-healing cutting mat is a necessary item you need to have if using a rotary cutter. A 12"x18" double-sided cutting mat will work correctly for all kinds of quilt work.
How To Cut Fabric Straight?
Follow these steps to learn how to cut fabric straight, and avoid any mistakes that beginners usually make.
Step 1: Wash and iron the fabric
This is done to remove creases from the fabric. To get accurate measurements of the fabric, it must be ironed flat to release wrinkles in them due to folding. Knitted and non-woven fabric can be used without ironing.
Step 2: Assemble your working tools
You need to find yourself a clean and big area to start working with the fabric. Preferably a well-lit place where you can have enough space. Make sure to get all tools ready in one place along with the fabric. Do not work on a carpeted floor. Set things on a table or a flat surface.
Step 3: Find or create a selvage edge
Check your fabric to get a perfectly straight self-finished edge. If you think it is not straight, cut it off, and you will get a straight edge to start your work from.
Step 4: Go for the Cut!
Place your fabric on the cutting mat in a manageable position along the edge of the table if you have a large piece of fabric folded into a usable size before it is cut. With the help of a clear ruler, hold your fabric for cutting. Cut straight along the edge of the ruler with a rotary cutter. If the fabric has many layers, you might have to repeat the Cut.
How To Cut Fabric Without A Rotary Cutter? 
The Thread pulling method
You do not need many tools for this method. Place the fabric on the table and look for the frayed edge perpendicular to selvages. You need to pull out the thread from the frayed edge, which will cause the fabric to gather a bit. Repeat the process after straightening the fabric until a visible gap line can be observed. Just move your scissors along this line. Choose another thread to pull out and cut along the line until you reach the salvage. This way, you will get a perfectly straight line.
Folding Method 
This method can be used if you cut in the middle of the fabric. Just fold the fabric into half, aligning the selvages. Smoothen from the top to ensure there are no wrinkles. The folded line will turn out to be straight enough to cut.
Using a quilting ruler
You can either match the fabric with the edge of a square table or use a quilting ruler and take measurements. You could alternatively use a straight-edged object and draw a line before cutting.
Now, you will have a 90-degree corner and two straight edges to start measuring preferable size for cutting.
For e.g., if you intend to cut a 15-inch square, hold the quilting ruler on the fabric against the right edge and mark 15 inches to the left. Then move the ruler a few inches up, maintaining with the edge of the fabric. Now, measure it again before beginning to cut until you get the desired measurement.
In this way, you can cut fabric straight to make a square or triangular shape. Once you have made one square-shaped fabric, you can use it as a template to cut the opposite edge of the fabric.
Different Fabrics Need A Different Approach
Faux Fur
Faux fur should always be cut from the backside to avoid cutting into the fur. To do so, just flip the faux fur, draw the required pattern, move scissors through the lines, and cut through the back of the fur.
Leather
Place the leather keeping the ride side up and follow the desired paper pattern on top. Do not pin the design on the leather. Use paperclips to secure the pattern on the fabric. Then, use a rotary cutter to cut along the pattern.
Chiffon
Chiffon is a slippery fabric and must be allowed to soak in water. Then, place the paper pattern on top using paper clips and cut around the design. Avoid using a marker pen to make markings on the wet chiffon; the ink will spread. Instead, use damp chalk to make markings.
How To Cut Fabric Straight: Quick Tips
It is important to wash the fabric before sewing. It helps in checking shrinkage and color bleeding. It will also remove any unwanted chemicals used during its manufacturing. So, do not skip this step.
Most fabrics can be air-dried after washing. Except for knits, they will be laid out flat to dry, so they do not stretch and change shape. Avoid using the dryer to prevent shrinkage of the fabric.
Once the fabric is dried, a gentle press will ease the creases.
If you are not in a hurry to start sewing, you can leave the fabric free for a day after washing and pressing.
While placing the fabric on a table, make sure to get all of them on the table, and nothing is hanging out.
Sewing is an interesting work to do when you have the correct tools and techniques to do things correctly. However, before heading to cut it, you have to prepare your fabric; otherwise, the final product will be a disaster. These pre-washing and pressing steps cannot be avoided.