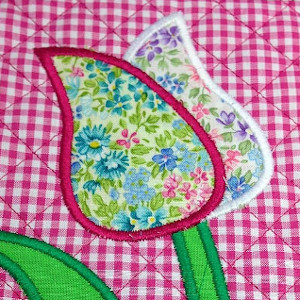 Embroidery machines are used to stitch monograms and artistic patterns on various fabrics. But have you ever thought of giving quilting fabrics a shot? If you have not yet, go try it. This machine can give you amazing results with beautiful finesse. If you are good at embroidery, you should definitely give it a try.
Embroidery is all about playing with your imagination and craftsmanship. You can set your own goals and difficulty levels. There are trillions of patterns and designs to choose your template from. The fabric, color, and pattern of embroidery, everything can be according to your choice and preference. This makes it easier to coordinate it with the interiors of your home.
How To Quilt With An Embroidery Machine
Quilting with an embroidery machine may seem tedious, but it is a pretty simple method compared to using long arm quilting machines. Such traditional machines take up a lot of space and are not suitable for domestic usage.
Basting Comes First
Basting is an essential step before making any pattern on your fabric. It makes your layers safe and secure. Embroidering without basting will increase your chances of getting loose layers. Needless to say, all your hard work will go in vain.
Magnetic Hoop Is A Must
Magnetic hoops are very helpful for batting the fabric layers at the time of stitching. It also prevents any hooping marks on the fabric. Some projects might require multiple hooping. In such cases, magnetic hoops come very handily.
Know About The Perfect Hoop
Different projects require different hoop sizes. Approximately 180mmX220mm hoops are used in most cases. Small quilts might require lesser dimensions of hoops.
Check The Thread Tension
Quilting fabrics require perfect stitches that will look the same from both sides. To make this happen, you have to be very careful about the tension of the thread. Adjust it in such a way so that it stays balanced at the top and the bobbin thread region. For multi-needle machines, quilting can be done with one color of thread at a time.
3 Methods Of Quilting With An Embroidery Machine
Quilting Blocks Or Small Regions
In this method, you stitch up small areas of the layered fabrics to make your complete quilt. You can choose a color pattern or design of your own and create a quilt with a running stitch if you have some unfinished fabrics.
Embroidering And Quilting At The Same Time
Similar to the previous method, you work block by block here as well but, you make patterns on a stretch of fabric first. Next, you layer those designed portions to create the quilt. Designing one block and joining that with the previous one is done seamlessly.
The Traditional Embroidery Way
This is a conventional method of intricate works and designs. Here you hoop the stabilizer and fabric first. This is followed by finishing the embroidery work. After this, you start the batting and backing of the quilt by stitching all the layers. No shortcuts, no blocks, just sheer passion for embroidery.
Trim Blocks After The Design Is Complete
Embroidering blocks can be rough sometimes. To have clean and precise blocks, take more significant surface areas at the beginning. Cut your desired region after the embroidery is complete. This is also a pro tip for supreme quality finished products.
Trim The Excess Threads Manually
We know that trimming threads is a hectic task, and most of the machines come with different automatic mechanisms for this purpose. But it is always better to trim the threads manually. This brings precision and finesse in your work.
Quilting Shapes And Patterns
You might consider quilting as a complicated method involving thread-dense intricate work. Well, I suppose you might be wrong. You can easily make artsy swirls, geometric patterns, and shapes like hexagons and circles on your quilts with minimum effort. Select a design and let the machine do the magic. It will give your finished product a unique structure and character.
Quilting With Continuous Lines
If you are an expert in quilting, continuous line stitching is a perfect fit for you. You can use a specific template to align all the hoops. After this, you just follow the pattern and stitch continuously to embellish the perfect design.
Usage Of Precut Fabrics And Patterns
Many stores sell different precut fabrics and shapes for quilting. You can use these, as it takes less time to stitch these into the layers. Designing these shapes individually will take longer durations. But, If you are a beginner, you should opt for this hack.
Keep The Blocks Manageable
Do not use big blocks during quilting. If you take big blocks, the embroidery becomes complex, and it won't be easy to layer them.
Disadvantages Of Embroidery Dependent Quilting
Although this method is quite popular, it does come with two drawbacks. First is managing the tension between needle and bobbin thread. The process might seem easy, but for beginners, it becomes incredibly tricky to control it properly. Also, to figure out the perfect amount so that the bobbin does not slip is a major task.
The second drawback is the thread tails. You can manually cut the threads, but that will be very tough and time-consuming. Automatic trimmers will keep 2-7 inches of thread at every ending point. Leaving the trails will make it unaesthetic. Cutting every thread manually is not a practical solution for this.
How To Quilt With An Embroidery Machine: Final Thoughts
The reason behind using embroidery machines for quilting is its on-point precision and perfection. This method also gets the job done faster compared to all other quilting techniques. Although you need to give attention to finer details like; hoop size and thread tension, the end product will definitely bring a smile on your face. If you are a beginner in this field, this method is a great place to start with. Also, you can create stunning aesthetic designs by just sitting and chilling at your home. Embroidery machines are quite compact and small, and they can easily fit into any corner of your house. With only a few downsides, quilting with embroidery machines is worth a shot for all embroidery enthusiasts.