Sewing is an art. It takes many hours of practice, motivation, and positive endeavor to be a master of this art. If you are sewing for the first time, you might feel it to be unattainable without a doubt. Even the machine looks intimidating, and on top of that sewing, a straight line might seem an impossible mission to you. Once you get familiar with the machine and learn some simple tricks and tips, it becomes easy to sew almost everything out of your imagination.
How To Sew In A Straight Line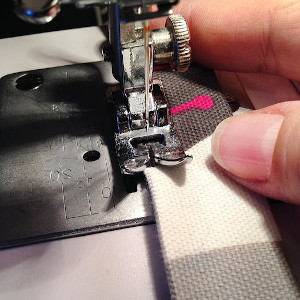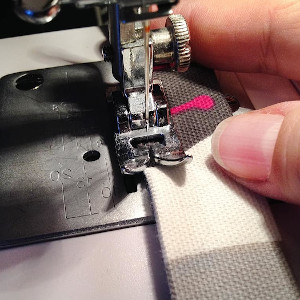 To master every art form, you have to be dedicated and regular and need to learn the basics. That is why we will be talking about a few basic sewing lessons. Sewing in a straight line is considered as the most basic hurdle in this regard. Let us discuss the required tips and tricks.
Focus On The Guide Of Your Machine
The first thing which you should do is to train your brain and your eyes by focusing on the guide of the machine. Looking at the needle will not give you straight line sewing. The seam guide does not move, unlike the needle. Hence focusing on it will enable you to sew in straight lines.
Control Your Speed
Keeping a speed-check every time you sew increases your precision. If you are a beginner, it is better to use the machine without any thread or fabric to get familiar with the speed control. It is one of the essential aspects of stitching. Modern-day machines come with variable speed settings. You can set the speed according to your expertise. If you have an old machine, you can use a hack. You can keep a small piece of metal or wood (which has some weight) beneath the foot pedal. At the time of running the machine, the pedal will not get pressed completely. This will train your mind regarding the speed.
Your Sitting Posture Matters
Sewing in a straight line is also dependent on your perspective of sewing. It is directly connected to your sitting posture. By sitting straight, you can avoid parallax errors. Parallax errors occur due to imperfect sitting positions, which change the sewing angles by altering the perspective or plane.
Align The Needle
Before you begin to sew, it is necessary to bring the needle right down on the fabric with no gaps. In older machines, you can use the handwheel to perform this action. Newer machines have up and down mechanized switches for the same. After touching the fabric, you should be able to see about 1 inch. Also, check the alignment or the thread. If it looks good, you may proceed with it.
Read The User Manual Of Your Machine
Every machine is different. Each of them has different settings, automation systems, gears, etc. Knowledge of all these small aspects is very important before starting sewing. Hence, a thorough reading of the user manual is required to bring perfection to your sewing skills.
Following The Seam Allowance Line
Every machine these days comes with markers on their footplates, which allows you to learn about the seam allowance. Seam allowance is the maximum allotted space between the raw edge of your fabric and the stitching of it. Following this line will aid you to sew in a straight line. In other words, you can take the allowance line as your guide.
Using Chalk Or A Removable Marker
This is a pro tip for sewing in desired straight lines. Tailors across the world follow this rule. You can use a removable marker or chalk to draw a straight line on the fabric. Following the line, you are supposed to run the needle accordingly. This gives you perfect lines without having to worry about it. After completion of the work, you can simply erase it.
Position The Fabric
It is vital to learn the perfect position of your fabric on your workstation. Do not keep the fabric on a particular side. It might fall off the surface. Also, it is better not to keep the fabric on your lap. It might cause irritation and loss of focus.
Do Not Pull The Fabric Of The Machine
Sewing is a gentle technique. You do not have to put force on the fabric to get it sewed. It would be best if you had loose hands that could guide your fabric through the needle and be sewn automatically. So be gentle, do not rush.
Use Tape For A Better Guideline
In some cases, you cannot see the footplate marking line. This can make you directionless, and all our hard work can possibly go in vain. Hence, it is better to use washi tape. You can paste the tape on the seam allowance line. You can choose the color of your choice for the tape. It is removable as well. Once you become a pro at this game, you can easily remove it and believe in your skills.
Use A Professional Seam Guide Tool
There are many seam guiding tools available in the market. As a beginner, you might find sewing in a straight line really difficult, as discussed earlier. Hence, going for a seam guide tool will save your efforts and time. Try a magnetic seam guide. No matter what kind of fabric you are using, magnetic seam guide tools are perfect for mastering your craft.
How To Sew In A Straight Line: Final Thoughts
Becoming a master at sewing is pretty tough. You have to put a lot of hard work and practice into it. It needs your improving dedication and knowledge about the craft. Sewing in straight lines is every sewing enthusiast's dream. If you follow the steps as mentioned above and know your machine from every aspect, you can master this technique with ease. Many people lose hope after giving it a try for a week. You have to learn from your failures to become perfect in this craft, and one day you will surely excel at sewing. So keep up with the excellent work and be positive!