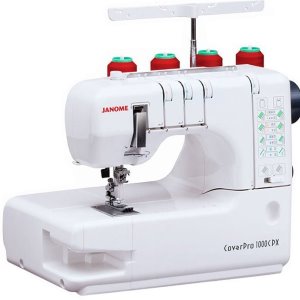 Many thousands of years ago when the art of sewing was first invented, there was no fancy machine to help mend or make clothes or drapes or other pieces of craftwork. Everything was done painstakingly by hand. And, as you can imagine, this was quite often a very lengthy process. Nowadays, there's a mechanical or computerized machine fit for pretty much any sewing, quilting, or embroidering purpose.
Coverstitching is a way of sewing professional-looking hems onto garments. While you can sew a hem with a regular sewing machine, it will never have the same quality finish as you'll get from using a coverstitch machine. Don't be fooled into thinking these machines are just for sewing hems though, as they have a lot more to offer than that. Many coverstitch machines have a wide range of features, including this fantastic model on offer from Janome.
Finding a good quality machine that allows you to carry out coverstitching is no simple feat, yet Janome seems to have cracked it seemingly with the 1000CPX. It's easy to use, it's not overly big, and it offers a whole bunch of exciting features that you wouldn't usually find in a coverstitch machine.
Janome 1000CPX Review: Overview
While it's nothing too over the top or in your face, the Janome 1000CPX is a pretty good-looking machine. Much of the machine is adorned in that same neutral and professional off-white color you find most Janome machines painted in. But, with a splash of color on some of the dials and function keys.
At first glance, it does look a little like a serger with the four thread spindles and extension rod. However, the worktable suggests that it's more comparable to that of a sewing machine. Really, it's a combination of them both.
Functionality
The Janome 1000CPX works with one to three needles and up to a maximum of four spools of thread. The three stitch options are 1 needle, 2 thread chain stitch; 2 needles, 3 thread chain stitch; or 3 needles, 4 thread triple cover stitch.
The overall measurements of the machine are 19.5" x 16.5" x 14.5", and it weighs just short of 20 pounds. So, as you can see, it's quite a compact machine, and won't cause you too much trouble if you do need to take it anywhere. And there's an extra-large workspace (4" x 5.5") that's perfect for both topstitching and coverstitching mid-garment.
It's got a free arm! While it may sound simple it's actually a rare achievement. Janome is one of the only companies to develop a coverstitch machine that has a free arm. And it does not disappoint. With the free arm, you can add that professional finish to all those hard to reach places such as cuffs and collars.
Another fantastic attribute this machine has to offer is its exclusive Seam Tightening System or STS for short. This is Janome's own trademark invention that uses a spring opposed to the looper tension dial in which to create tight and accurate stitching.
Very User-Friendly
Thanks to the machine's easy to read graphics and clearly labeled dials, executing stitches on the Janome 1000CPX is like a dream come true. Everything is smooth-moving and within easy reach. So, whether you're new to coverstitching or just new to this machine, don't worry as with these easy to handle controls you'll be sewing like a pro in no time.
On the inside looper and on the front of the machine, is a color-coded threading and set up guide that makes easy work of setting it up. In addition to showing you how to thread the machine, these guides demonstrate how to set needle positions for certain functions and how to adjust the tension dials too.
Related Articles:
There's not much this machine won't sew through in terms of your lighter/medium fabrics. It has no problem with knits, canvas, or upholstery either. However, those materials you should avoid when using the Janome 1000CPX is fur, leather, and plastic. The machine will struggle to try to sew these materials. Therefore, to avoid lasting damage to your coverstitch machine, just don't try it.
The differential feed is variable between 0.5 and 2.25 and easily controlled via the relevant dials on the front of the machine. While the built-in thread cutter makes light work of snipping the thread for you.
Added Extras
You get all the usual accessories to help you achieve the perfect result included with the Janome 1000CPX. There is an adjustable seam guide and a hemming guide to help with all your precision needs; elastic gathering attachments which help with adding tape around waists and cuffs; and a range of other tools.
It also comes with 3 different presser feet. There's a center guide foot for sewing in the middle of material; a clear coverstitch foot for a greater viewing capacity; and a tape binder for when attaching the tape to the fabric.  In addition to all of that you also get an accessory box in which to store everything and a handy DVD that lets you know how to use it all.
As with all Janome products, another bonus from purchasing this product is that it comes with a good, solid warranty (not that you'll probably ever need it). But just in case, it covers 25 years on mechanical parts, 2 years on electrical components, and 1 year for labor.
Janome 1000CPX Review: Final Thoughts
The Janome 1000CPX is a coverstitch machine that was specifically designed for the home user. But it offers the many of the same qualities you'd expect to see in a professional machine. As well as being highly functional in what it can do, it's also extremely accurate with its stitching. It's equipped with enough modern features that it will keep the more advanced user happy, while it's easy enough to use for someone with a little less experience under their belt. And, it doesn't cost the Earth either.
So, if you are in need of a new machine and want to buy from a name you can trust, be sure to check out the Janome 1000CPX. It's a top-quality coverstitch machine that truly is a cut above the rest.
Related Articles: