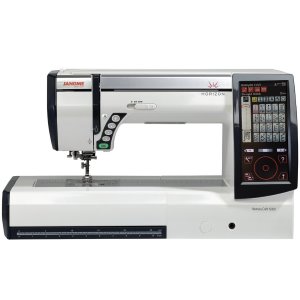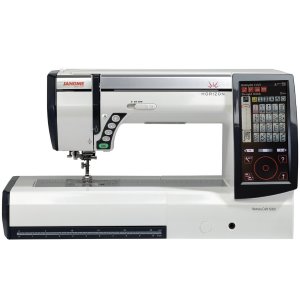 The Janome brand has been supplying the general public with good quality sewing and embroidering machines since the 1930s as Janome. Throughout its time in the industry, the company has spent a great amount of time and effort in evaluating both the market and its potential customers. And, it's paid off. Today, Janome is responsible for producing some of the best and most popular sewing machines in existence currently, giving its customers exactly what they want at a price they can afford.
But, it's not all about sewing. Embroidery has also become a very popular craft over the past few years. And with the rise in this interest, comes the need for a top-quality machine to cater for it. Hence the development and release of the Janome 12000. This machine is super versatile and offers some amazing qualities. But even though it's fitted with a large number of advanced features to enjoy, it's still very user-friendly.
So, let's see what else this fabulous machine has to offer, shall we?
Janome 12000 Review: Overview
For anyone wanting to purchase a traditional-looking sewing machine to place in their serene sewing room, this is not the model for you. If, however, you're looking for a machine that looks like it fell off the back of a spaceship, you're in the right place.
Shying away from the classical Janome appearance, the 12000 focuses more on being sleek and shiny as opposed to subtle and tranquil, and it's a look that works very well, particularly among the younger generation of sewers and embroiderers out there.
On the top of the machine, you'll find a stitch selection guide for easy reference, as well as the threading and bobbin winding mechanism. But on the face of the machine is where it all happens. This is where the majority of the controls can be found. On the left-hand side of the machine, near the needle is where you can activate the start/stop function, kick the machine into reverse stitch mode, move the needle up/down, and more.
Over on the right-hand side of the machine is where you'll find the large LCD touchscreen, which will be looked at a little closer in the next section.
Advanced Computer Capabilities
While it may look complicated when you first clasp eyes on it, the large LCD touchscreen is actually very easy to operate. It even has built-in tutorials in which to guide you through its many features and functions. Via this touchscreen is where you select all your stitch options including your stitch type and thread tension.
The best part is it even has the ability to hook up to a laptop should you wish. In doing this you can view your stitch selections in an even larger capacity, getting to see more clearly the fine details of your design. And while being connected via a laptop, you can go crazy and create your own designs then download them straight to the machine. How cool is that?
For the More Serious of Stitches
Not for the faint-hearted, the Janome 12000 embroidery and sewing machine is simply amazing in so many ways. In addition to its sleek, futuristic appearance it's also got quite a lot of functionality to offer.
The first thing you may notice upon closer scrutiny of this machine is that just above the needle sits a magnifying glass. This is a simple yet effective feature that saves you from squinting and straining your eyes every time you want to get a closer look.
Related Articles:
Another great feature the Janome 12000 has to offer is its extra-large workspace which is super handy when working on those bigger projects. Under this area lies the fabulous free arm, again also very useful. But mainly for when sewing more intricate pieces.
Stepping it up a notch, this machine also features 10 integrated LED lights, an automatic needle threader, and an auto-declutch bobbin winder. Add that to the automatic thread cutter with built-in memory and the one-step needle plate converter, you get an amazing model that's very hard to beat.
This Way, That Way, Any Which Way
If you're looking for a machine that has a wide variety of stitches to work with, then you've come to the right place. The Janome 12000 has a staggering 425 built-in stitches to choose from, including 338 for embroidery, and 13 one-step buttonholes.  You also have 91 needle positions to choose from.
To help ensure a smooth feed of your fabric while quilting, this machine is fitted with an advanced Acufeed system and an automatic pressure height adjuster. While the former is responsible for the actual feeding of the material, the latter ensures nothing is too tight which may cause the material to snag or bunch.
There are 4 embroidery hoops included with your purchase, one of which is the largest kind available for home use. In addition to these, you also get 20 presser feet to enable you to complete various tasks.
And to top it all off, you get a plethora of useful accessories to enhance your sewing experience and a semi-hard cover in which to help protect your machine.
Janome 12000 Review: Final Thoughts
While the Janome 12000 is definitely one of the higher-priced sewing and embroidery machines out there, it offers a level of functionality that's rarely seen in a machine of this caliber. It's got one of the largest collections of stitch options to be seen in a machine designed for home use and holds some great attributes you will love including the trusty automated needle threader and thread cutter.
As well as being equipped with some of the most advanced features you can expect to see from a sewing machine, it also offers some of the best qualities ever to be seen in an embroidery machine, including the extra-large hoop.
There's no denying that this a great machine to work with that can handle just about anything. And while it may not be the best machine for a beginner to learn on, any experienced machinist will absolutely love it.
So, if you are looking for a top-spec, modern machine to cater for all your sewing and embroidery needs, the Janome 12000 comes highly recommended.
Related Articles: