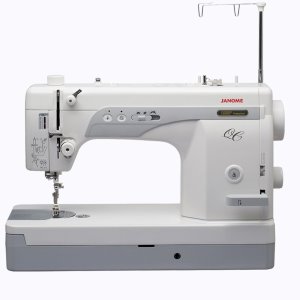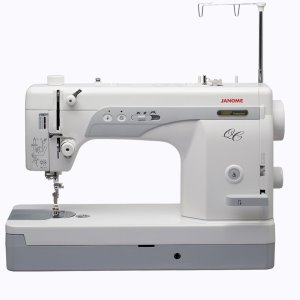 Finding a new sewing machine can be exhausting with all the makes and models available today. However, if you're looking for a good quality machine that's built to last and made by a reputable company that's been in the industry a while, your choices become a little narrower.
Janome is one of the leading brands in the sewing industry today and has been for quite some time. Not only does it supply tough and hardcore industrial machines to various commercial companies out there, but it also prides itself on providing reliable and easy-to-use models to the home sewer as well.
While the company has a wide range of sewing machines under its big umbrella, one model, in particular, that's done quite well for itself is the Janome 1600P-QC. It's an intermediate/advanced sewing machine that offers fast speeds and a good range of functionality.
In this review, I'll go through a little more about what this fantastic machine has to offer. Then you'll have the chance to evaluate its best features and functions to see if it could be the next model for you.
Janome 1600P Review: Overview
It may be a semi-industrial sewing machine, but it's still relatively easy to use. All the controls are smooth operating and within easy reach, and there's no complicated computer to try and figure out. There's a forwards and backward paddle that allows you to quickly through the machine in reverse to reinforce those stitches. And it has an automatic thread cutter in which to trim all those straggling ends for you.
The stitch length is adjustable to anywhere between 0 and 6mm and can be easily adjusted using the relevant dial located on the side of the machine. While the foot pressure can also be changed to suit the type of material you're working with. Set the dial to 1 when sewing extra-fine fabrics such as satin or silk, 2 for when working on fabrics a little thicker but still delicate such as synthetics or elastics, and 3 for regular sewing. Presser foot settings 4 and 5 are generally only used when working on really heavyweight fabrics or material of multiple layers.
Strong but Fine Stitching
The Janome 1600P-QC is a straight stitch only machine, meaning it can only do one kind of stitch. However, that one stitch it can do, it does very well. It's a heavy-duty sewing machine that's made up mostly of metal and is very stable when in use, even when sewing at top speeds. But then that's kind of to be expected as it is considered a semi-industrial machine.
Because of the tough and solid frame, there's no vibration when sewing, meaning you get a professional, and accurate finish for your stitching.
Super-fast Sewing Speeds
One of the Janome 1600P-QC's top-selling points is that it's capable of a maximum sewing speed of 1600 stitches per minute. Being able to move this rapid makes it one of the fastest machines on the market – period. However, there are a couple of downsides to this. First, because it sews so fast, a normal sewing needle just won't cut it. This machine uses special HLx5 needles. With these needles in situ, this machine can sew through pretty much anything.
The second slight downside is that being a semi-industrial machine it is a little on the loud side. So, you may want to keep it away from any wall you share with the neighbor.
Read More: What is the best mid-range sewing machine?
To give you better control over your sewing speed, there's a maximum speed control slider on the front of the machine, while the programmable needle/up-down button enables you to decide where you want the needle to stop when you stop sewing.
Good Functionality
While it might be a one-trick pony in terms of the type of stitching that's on offer with the Janome 1600P-QC, there's still plenty of other great features to make use of, one of which is the separate bobbin winding motor and thread path. With this kind of system in place, you never need to un-thread the machine or even stop sewing when a new bobbin needs to be wound on.
It's not the most featureful machine out there, but there are still a number of advanced functions to enjoy, such as the automatic needle threader. With this in place, never again will you suffer from eye strain from trying to thread a needle. Just line it up and let the machine do it all for you.
Related Articles:
While you do get a few different presser feet to work with on the Janome 1600P-QC, the ¼" foot is probably the one you'll use most. You also get a walking foot and adjustable zipper foot to work with, all of which are well made and easy to change. One of the things a lot of people love about this machine is its 9" long arm. Combine this with the included extension table and tasks such as making quilts or sewing curtains suddenly become a breeze.
Janome 1600P-QC Review: Final Thoughts
Janome 1600P-QC is definitely not a sewing machine for the faint-hearted, or those completely new to the world of sewing. But, for anyone who knows the basics and can navigate their way around a sewing machine, it's an absolute dream to work with. While you don't have hundreds of stitch options to choose from as it is a straight-stitch only machine, the accuracy of the stitching it does produce is second-to-none.
You've got just the right number of time-saving features to use, such as the automatic needle threader, the programmable needle, and the thread cutter for it to be a useful machine. Not too many that the quality of the stitching begins to suffer, and not too few that it takes forever to do anything.
It may be more of an industrial type machine, than a pretty home user, machine, but if you're looking for a reliable workhorse that's tough yet accurate, then the Janome 1600P-QC is the perfect machine for you.
Related Articles: