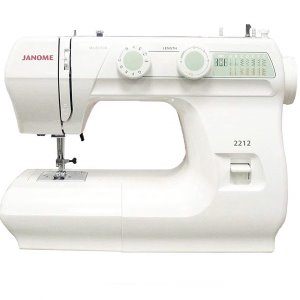 One of the leading brands in the sewing industry, Janome is a Japanese company formed almost 100 years ago. Since the release of its first sewing machine, it's gone from strength to strength developing and producing great quality products that the general public can afford. In 1979 Janome produced the world's first programmable sewing machine. And in the year 2000, they developed and launched the MC 10000. Equipped with a USB drive, this was the Janome's first delve into the world of computerized sewing.
Over the past couple of decades, the company has continued to grow with operations now spanning all across the world. But wherever they are, one thing remains consistent, and that is the quality of their machines. This brings me on to the Janome 2212. This machine is a great beginner machine that's well-made, functional, and affordable. There are no fancy bells and whistles on it, but then it's also extremely easy to operate.
So, if you're looking for a full-sized machine to allow you to learn all that the wonderful world of sewing has to offer, you've come to the right place.
Janome 2212 Review: Overview
If you're looking for a machine that's easy to use and is functional enough to carry out most everyday sewing tasks, then the Janome 2212 is a good choice.
It's got 12 built-in stitches to work with, including a straight stitch, a buttonhole stitch, a decorative stitch, and a zigzag stitch. There's a handy stitch reference chart next to the dial, so when you're ready to make your stitch selection all you need to do is turn it to the corresponding stitch. Then, you're ready to sew.
The buttonhole function is done in 4 steps. And while a 4-step buttonhole might seem quite laborious to some of the more advanced users out there, for someone quite new to sewing, it's a good learning curve. There's also a handy thread cutter in which to trim those loose threads, and it has a light in which to help you see when it's not too light where you're working.
Easy to Use
Whether you're a seasoned pro or just starting out in the world of sewing, a machine that's easy to use is beneficial to everyone. And that's one of the good things about the Janome 2212. There's no complicated computer to figure out or intricate components. Everything is nicely laid out and moves as a starter machine should.
Both the stitch width and length are adjustable by the simple turn of a dial located on the front of the machine, as is the stitch type. And there's a reverse stitch function to use when you want to strengthen your stitch. To use this, simply flick the big switch on the front right of the machine and pedal away. The tension control is also easy to adjust by turning the relevant dial.
Another useful feature that's really useful for beginners is the front-loading bobbin system and its auto-winding mechanism.
Different presser feet are used to carry out various tasks. Included with the Janome 2212 are 4 presser feet. They are a multi-purpose foot for carrying out most everyday sewing tasks, a zipper foot for sewing on zippers, a sliding buttonhole foot for when darning buttonholes, and a blind hem foot for when sewing skirts or pants, all of which are of the snap-on variety, meaning they can be changed over in a matter of seconds.
Strong Build and Long Warranty
The Janome 2212 may be considered an entry-level machine, but it's still built with the same level of care and quality you'd expect from a high-end machine. All the components are made from robust materials. The needle plate is strong and durable, and it's capable of handling a range of fabrics, including heavier material such as knits, some synthetics, and upholstery fabric. You could even get away with sewing a small quilt with this machine. However, it is more of a medium-duty machine opposed to heavy-duty, so with that in mind, you may want to avoid anything like leather, fur, or rubber.
Related Articles:
In terms of performance, the maximum sewing speed on this machine is 1000 stitches per minute, which is actually pretty high for an entry-level machine. But even when moving at these speeds the machine stays strong and sturdy ensuring the quality of your stitching is not compromised in any way.
Don't worry if you'd prefer to move at a slower pace as the speed of the machine is fully controllable by the enclosed foot pedal.  And, in the very rare event you should have any problems, the company provides a 25-year warranty with your purchase.
Compact But Storage Space Is Included
The Janome 2212 measures in at approx. 17" x 9" x 13.5", and it weighs 160 pounds. So, while it is a starter machine, it's still full-sized and functional enough to carry out a wide range of tasks. For example, the free arm on the machine is there to enable the user to sew hard to reach areas such as collars and cuffs. But, remove the cover, and it doubles up as a handy storage facility in which to put all your much need accessories.
Janome 2212 Review: Final Thoughts
The available stitch options may be limited, and it may not feature some of the advanced functionality you get from some other machines out there, but all that the Janome 2212 does have to offer is top quality. While it has a pretty rapid maximum sewing speed, the fact that's it's made so well, ensures everything stays secure and in place while you're sewing. All the dials are within reach and each to use, and it looks pretty also.
If you are looking for more advanced features such as an LCD screen or an automatic needle threader, then sadly, this is not the model for you. But, if you're looking for a robust, easy to use, learner machine to hone your skills on then the Janome 2212 is a very good choice indeed.
Related Articles: