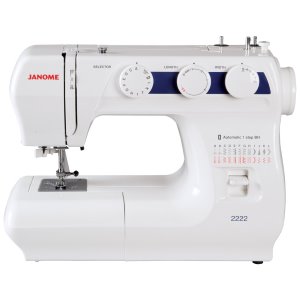 As one of the leading names in the sewing industry, Janome has invested a huge amount of time and money into developing high-quality sewing machines for people of all ages and skill levels. And, it's paid off as the company now has annual net income that's several million dollars per year.
While there are many fabulous sewing machines under the Janome umbrella, one that's extremely popular right now, especially amongst those new to the fabulous world sewing, is the Janome 2222. It's an entry-level manual machine that's simple to use, easy on the eye, and functions well. All the components are made from high-quality materials helping to ensure everything stays put while in use. You've got a good selection of stitches available to work with, and it's affordable.
So, without further ado, let's take a closer look at just what this machine has to offer.
Janome 2222 Review: Overview
Love the look. Love the functionality. The Janome 2222 is a humble sewing machine designed for those with very little or no previous experience in this area.
It may not be the wildest and vibrant looking sewing machine on the market, but it's a simple model that's suitable for practically anyone. Measuring in at 6" x 15.2" x 11.6" and weighing just over 16 pounds, it's not too big and clunky that it deters newcomers from using it. Quite the opposite. Its smooth white design with just a splash of color to accentuate the dials is pleasing on the eye, making it appear simple, yet welcoming.
With 22 stitch options to choose from anyone new to sewing will have more than enough to get started and have plenty of variation to experiment with. Simply turn the relevant dial to the corresponding stitch type and you're good to go. And if you want to reinforce your stitching, there's also a large reverse stitch button located on the face of the machine, towards the lower right-hand corner.
The maximum sewing speed it's capable of is 860 stitches per minute, which may be slow in comparison to some more advanced models out there but is perfectly acceptable for a beginner model. It also features a 5-piece feed dog system that works wonders at feeding your material through nice and even.
Automatic Functioning  
It may be more of a beginner machine than one you're likely to see on a factory floor, but the Janome 2222 still has one or two automatic features hiding under its cover.
Firstly, there's the automatic needle threader which lightens your load a little by threading your needle, so you don't have to.
And, there's also a 1-step automatic buttonhole function which is an excellent time-saving feature that you will be so thankful for upon using.
Easy to Adjust, Easy to Use
One of the things that's nice about a manual machine is everything you need to choose and adjust your stitch settings, is on view and within reach.
Using the clearly labeled dials located on the front of the machine, both the stitch width and stitch length can be adjusted. The stitch width to a maximum of 5mm and the stitch length to a maximum of 4mm. You can also adjust the thread tension in the same manner. The Janome 2222 also features a push-pull bobbin winder and a front-loading bobbin. While this feature is easy to use, it does have one drawback, and that is that you have to remove the accessory storage compartment in order to get to the housing.
Related Articles:
In addition to the easy-to-handle bobbins, the 6 included presser feet are easy to change too. Simply pull one of them gently off and snap on the next. Those that come included with the machine are an overedge foot for preventing unraveling, a zig-zag foot for most general-purpose sewing, a buttonhole foot for making buttonholes, a zipper foot for sewing on zippers, a satin stitch foot for sewing on decorative stitching, and a rolled hem foot for sewing very narrow hems.
Another useful feature to help out those just starting out is the clearly defined thread guides that run along both sides of the needle plate.
High-Quality Stitching
Just because it's a starter machine, don't think that this affects the quality of the stitch, as it doesn't. The Janome 2222 offers an amazing stitch quality once you've got the tension setting right, which may take some fiddling around. However, once that's in place the machine produces tight and secure stitching with each and every move.
The extra-high presser foot lift is also very good, enabling you to stitch multiple layers. This is accessed by manually raising the presser foot lever and keeping it in the highest position. It takes a while to get used to as you need to continually hold the lifter while you sew. But once you've had a few practices, it's a really useful feature to have and be able to use.
A lot of how well the stitching turns out is down to the build quality of the machine, but that's of no real concern here as the Janome 2222 has one tough motor that's capable of sewing a range of different fabrics including denim.
Janome 2222 Review: Final Thoughts
If you're looking for an entry-level machine, that's easy to use and packed with more than enough features to get you started in the world of sewing, then the Janome 2222 is a perfect match. It may not be the fastest sewing machine out there, and it may not feature all the bells and whistles that some of the more advanced models do. But in terms of offering high-quality stitching at a decent price, it certainly does that.
It's a great machine for beginners as it's not too big and there's nothing overly complicated about it. And anything you can't figure out, you can be sure there's an online tutorial for. So for anyone in need of a machine that will ease them in gently into the world of sewing, the Janome 2222 is a good choice.
Related Articles: