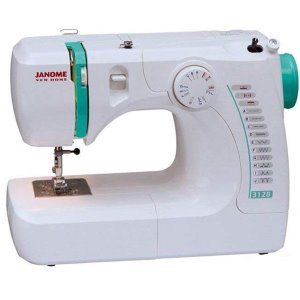 Janome has been one of the leaders in the sewing industry for a very long time. During that time the company has produced a whole plethora of machines suitable for a wide range of purposes and people. While some of their machines are better fit for commercial use, they have a huge selection of sewing machines available for the individual. These range from sewing machines apt for those with very advanced skills, to models designed especially for those who have never even seen a sewing machine before. So, whatever your sewing need, you can be sure Janome has it covered.
The Janome 3128 is a great machine to learn to sew on. It's not computerized, which takes away an extra element to learn. It also allows the user to get to grips better with all the functionality of the machine and the way in which it works. All the components are sturdy and well-made, and it's affordable.
Janome 3128 Review: Overview
Everything on the Janome 3128 sewing machine is very easy to use. It's a mechanical machine so there's no computer in which to input your stitch selection or adjustment measurements. Everything you want to be done, you do it manually.
With this machine, you get 8 built-in stretch and utility stitches to work with. Simply turn the dial to your required stitch, and watch your handiwork evolve in front of you. If you're not quite sure what type of stitch you're looking for, the machine has a handy little stitch reference guide located on the face of it.
Both the stitch length and width can be adjusted manually using their corresponding dials too. The stitch length to a maximum of 4mm, and the stitch width to a maximum of 5mm. And the tension is also set in the same way via its dial located above the needle.
You actually get a few added accessories with the Janome 3128 that you wouldn't normally see with a machine of this budget. In addition to the usual seam ripper and needle set that comes with most sewing machines, you also get a felt cushion and 10 bobbins. And as an added bonus, it comes with 3 packs of size 12 needles, which is pretty cool and should keep you going for a while.
Easy-to-Use
When you're first learning to sew, it can be very daunting. The very first time you sit down at a sewing machine will stick with you forever. And the last thing you want stuck in your mind is a traumatic experience, being faced with a machine with so many bells and whistles it may as well be making the coffee. Thankfully, the Janome 3128 is nothing like that. This is the gentlest machine to work with to get you used to sewing in your own time.
The maximum sewing speed on the Janome 3128 is just 650 stitches per minute, which is pretty tame in comparison to some of the brand's other models out there. Having a machine that runs a little slower is ideal for a learner as it gives them more time to concentrate on getting used to the actual functioning of it, opposed to just getting the job done quickly.
Related Articles:
Changing the presser feet is no hard feat either as they simply snap on and snap off allowing you to change them fast and often with minimum disruption to your sewing.  Included with the machine are a ¼ inch seam foot which is used for most everyday sewing tasks and a sliding buttonhole foot for creating perfectly aligned buttonholes using the machine's 4-step buttonhole function.
A Helping Hand
To help get you started there's an easy thread guide that runs along the machine in which to guide you and your thread. And on either side of the needle plate, you'll find seam allowance marks to help you measure more accurately your seams. There's also an extra-high presser foot lifter and a 3-piece feed dog system that enables you to work on bulkier projects such as fleeces or quilt sandwiches. You can do free arm sewing with this machine by simply removing the storage compartment. And if you want to reinforce your stitches at all, just use the reverse stitch function.
It also has a handy little incandescent electric lamp in which to light your way when sewing in less than ideal conditions.
Lightweight and Portable
With just a splash of color in all the right places, the Janome 3128 is inviting for pretty much everyone. And at 12.8" x 10.1" x 5.6", it's just the right size as well. Not too big that you can't store it anywhere, and not too small that it's impractical to use. It only weighs just over 12 pounds too, which is pretty lightweight for a full-sized machine. So, if you do need to take it to a sewing class, or anywhere else for that matter, you won't struggle too much. And, luckily, one of the enclosed accessories is a vinyl dust cover to help protect your machine while not in use.
Janome 3128 Review: Final Thoughts
While it might not be a machine that's suitable for an advanced user, the Janome 3128 is a nice, little machine for anyone to learn the ropes and get to grips with all there is to know about sewing. All the functions are manual, so they're easy to use and easy to find. And everything is made from high-quality components so there's no excessive movement while you're working.
There's not much to do in terms of set up. The thread guide runs along the machine to ensure you don't get confused and the thread tension is controllable manually via one of the dials located on the front of the machine. So, even though there's no automatic needle threader or billions of stitch options to choose from, what the Janome 3128 does have to offer is a first-class starter machine that's functional and overall, great value for money.
Related Articles: