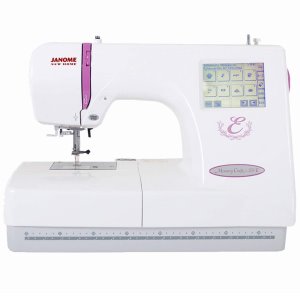 The Janome 350e Memory Craft Embroidery Machine is a fully functional embroidery machine designed specifically for embroidery and nothing else. That means no sewing. This powerful unit is going to work for you in every embroidery situation, allowing you to even upload your own embroidery patterns into the machine using a flash drive.
In my Janome 350e Review, discover what makes this embroidery machine such a great fit for any hobbyist or embroidery enthusiast. The machine is sturdy, well-made, smartly designed, rich with features, and easy to use. The flash drive system is fantastic. Plus, it even comes with a whole pile of patterns already uploaded into it.
If you are already a fan of Janome sewing machines, you are going to love the 350e. This model offers unlimited fun with embroidery. It is easy to master for beginners or casual enthusiasts. Let's take a deeper look.
Janome 350e Review: Overview
The Janome 350e Memory Craft Embroidery Machine does not come short of features. This is a high-grade sewing machine with an impressive LCD touchscreen and USB transfer capabilities. You get three fonts that you can use for monogramming and 100 designs built into the machine's internal memory.
The unit is also quite compact. The Janome 350e may look large in the pictures, but it's not. This machine can easily be carried on the passenger seat of your car, then effortlessly set up in your office, at a friend's house, or at the sewing group. Once set up, get ready for hours of embroidery fun.
Embroidery Designs
The Janome 350e shines thanks to its internal memory. I'm talking about unlimited designs stored inside of the machine that you can select from. Straight out of the box, you get 100 custom designs. That's right – 100! Your biggest problem is going to be finding the time to use them all.
While some of the included designs may not be overtly fancy, there is definitely a large enough selection to appease the fussiest embroiderer. Pillowcases, blouses, hats, travel pouches, notebooks, canvas sneakers. You can literally embroider anything with a simplistic, eye-catching design.
In terms of what comes included in the premade designs, you can expect to find butterflies, daisies, roses, flower baskets, pieces of fruit, and even household items. Plus, the borders! You get tons of very adorable border designs integrated into the machine's memory, ready to use out of the box.
For your own designs, the process could not be simpler. All you need is a USB drive and you are good to go. Plug the USB into your computer, transfer the embroidery designs into the USB, plug the USB into the Janome 350e, then get embroidering. There are no annoying tricks, no upload specifications. Just plug in the USB drive and get to work.
Functionality
Another major bonus when buying the Janome 350e Memory Craft Embroidery Machine is that you know it is going to work. Plain and simple. There is nothing worse than ordering an embroidery machine only to get stuck on the phone with customer support for seven and a half hours. With the 350e, it comes functional out of the box. No hassle, no fuss.
The bobbin winder that comes included is incredibly fast and works beautifully. So does the automatic needle threader, which threads your needle for you in a matter of seconds. And it always works! How rare is that?
The 350e will warn you whenever you begin to run low on the bobbin thread. If you happen to miss the warning or continue and run out of thread anyway, the machine has a thread counter and special arrows that allow you to retrace your steps, going right back to the spot where your thread ran out. This is a key feature if your thread ever breaks, as you can find your spot easily and continue with the work.
And while the machine is famous for its ability to seamlessly follow designs, you can use it in free mode to stitch whatever you want without having to stick to a design.
Professional Embroidery
Sure, there may be fancier, more expensive machines out there, but you aren't going to find another machine with this amount of value and features for such a low price. The Janome 350e does it all, and it does it with a professional flare. As a stand-alone machine capable of importing personalized designs, the 350e is an invaluable piece of machinery.
Free-standing lace, hand towels, monograms, and pillowcases are all going to look clean and professionally embroidered when you use the 350e. This is true even for a beginner. Garments and accessories will be a breeze with the 4x4mm and 5.5×7.9mm hoops that come included with the machine.
Related Articles:
The editing tools are incredibly accurate, the USB system works flawlessly, the internal microprocessor is lightning fast, and the automatic thread cutter works like a dream. You can even make and save your own designs when using the embroidery machine. Everything about it screams professional, especially the finished product.
And how about the way it looks? There is no bulk, there are no silly external attachments to slow you down. The machine is clean, off-white, very sleek, and everything you're doing can be monitored via the backlit LCD screen. The screen is touch-sensitive, too.
Janome 350e Review: Final Thoughts
Let's get down to the facts. If you are looking for an affordable, high-quality embroidery machine to embroider clothing, home décor, monograms, or even hats, the Janome 350e Memory Craft Embroidery Machine is your dream tool.
This baby comes with 100 built-in designs, a massive LCD touchscreen, large and standard hoops, and a mountain of other features. You can upload your own designs from your computer, make your own personalized designs, and implement them all with utter perfection.
The machine is small, compact, streamlined, and easy to maintain. It offers countless hours of fun doing what you love: embroidery. Considering the shockingly low price of the Janome 350e, especially when compared to the competition, you really can't say no. It's too good of a deal. The only thing you are going to be upset about is the fact that you hadn't bought it sooner!
Related Articles: