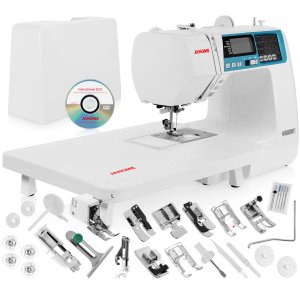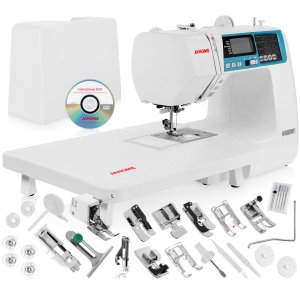 Welcome to the future of sewing. Welcome to the Janome 4120QDC Computerized Sewing Machine. Are you looking for a fully equipped sewing machine that can do literally everything? Do you want a sewing machine that comes with a hard case, a 1/4" seam foot, an overedge foot, a zig-zag foot, a buttonhole foot, and even more?
Then you need to read my Janome 4120QDC Review. In this review I am going to tell you about how this computerized sewing machine will make your life easier, your sewing more enjoyable, and your final product more professional. You don't want to miss out.
Consider the Janome 4120QDC one of the most all-inclusive sewing machines on the market, coming with so many accessories that you won't know what to do with them all. I'm talking about all the custom feet you can handle. A spool handle, a lint brush, a seam ripper – the list goes on.
Janome 4120QDC Review: Overview
You and I are about to take a deep dive into the Janome 4120QDC, the best computerized sewing machine you can get your hands on today. This hot piece of machinery is great for people who enjoy everyday sewing around the house, who are interested in fashion, or who just want to have fun making some home décor, maybe some Christmas decorations.
Because the Janome 4120QDC comes with a built-in 120 stitches, its range is optimal. That means patchworks, quilts, blankets, jeans, all of them. You have never seen such a feature-filled sewing machine. Where do I even start?
Feature Packed Sewing
I'll start with the features. Hold your hat because there are a lot. First, we have 120 sewing stitches built straight into the machine. Maximum customizability without having to ever leave your spot. Did I mention there is an alphabet built-in also? The alphabet is ideal for sewing labels and personalizing baby clothes.
The machine, like other Janome's, comes with an automatic needle threader, saving you time and strain with your eyes and fingers. It has an LCD control panel, a top-loading bobbin system, and a one-touch thread cutter. Oh, and the bobbin system is jam-proof. Plus, the thread cutter will cut the top and bottom.
With the Janome 4120QDC, you get reverse stitching capabilities to better reinforce your stitch. You can also lock your stitch, great so that you don't finish with only half of the stitch pattern. Both these features work with one push of a button.
There is also a button for bringing the needle up or down manually. The sewing machine even starts by pushing a single button. And you know what that means, don't you? No foot control! You can use one, but it's not necessary. The Janome 4120QDC will work without any foot control.
Accessories
Everyone loves accessories. What is the use of having a high-quality sewing machine if it doesn't come with a gift basket full of accessories? Well, luckily for you, the Janome 4120QDC comes included with more useful accessories than you'll ever need.
Starting with the feet, we have a zig-zag sewing foot, an overedge sewing foot, a zipper sewing foot, a satin stitch sewing foot, blind hem sewing feet, a 1/4" seam sewing foot with a guide, a zig-zag F2 sewing foot, and an automatic buttonhole sewing foot. Had enough yet?
Moving into the other useful accessories, we have a hard cover, an extension table, a set of assorted needles, small and large spool holders, and an extra spool pin, bobbins, a lint brush, a screwdriver, a seam ripper, and stitch chart.
To top it all off, the Janome 4120QDC comes included with an instructional DVD and an instruction book. Considering you may have a hard time finding something to play the DVD on, the instruction book is handy. It has all the information you need to better use this incredible sewing machine.
When you look at all the great accessories that are included, plus the massive array of features, it is hard to believe this sewing machine comes at such a low, everyday price.
Everything for Everyone
The Janome 4120QDC is a professional and stylish machine that anyone can use, including small children who want to learn how to sew and older folks who have been sewing since the invention of the internet. You and your whole family are going to love the quality and simplicity of the Janome 4120QDC.
The stitching of this machine is perfect. This is true for quilts, shirts, blankets, and even rugs. In fact, the machine was designed to handle any task you can throw at it. That is why it comes included with 120 stitches, seven of which are buttonholes. You have the maximum range for every imaginable task.
Related Articles:
The control panel is super easy to use, even if you may be a little blind. The LCD screen is ultra-bright, that way you can have full visibility of your settings, changing the stitching at will with very fine adjustments. Additionally, the tension dial allows for quick and precise adjustments to the tension.
Finally, everyone will appreciate the incredible speed of the Janome 4120QDC. I'm talking an outstanding 820 stitches per minute. In order to control this amazing speed, the machine offers a plethora of built-in features, all of which are controllable with a single push of a button.
Janome 4120QDC Review: Final Thoughts
It doesn't get much better than the Janome 4120QDC. As an all-around quality computerized sewing machine, this is it. Great for the whole family, easy to use for beginners, and packed with enough features to keep experts busy for hours, this sewing unit has it all.
The Janome 4120QDC comes with dozens of critical accessories to make sewing a cinch, it works with countless different fabrics and handles itself professionally in every situation. You can also control how many stitches there are per minute, allowing for precision sewing.
The needle threads automatically, the thread cutter is integrated to trim threads in a split second, and you can quickly pivot on sharp corners using the up and down feature to position the needle.
Nothing speaks louder about the quality of the Janome 4120QDC than the online reviews from buyers. Don't believe me? Go ahead, take a look! This is going to be the last sewing machine you ever need to buy.
Related Articles: