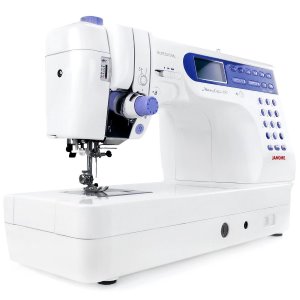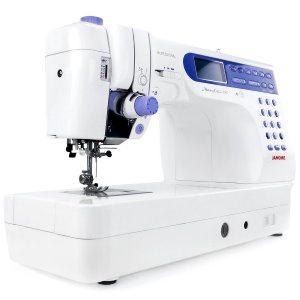 When it comes to offering top-quality sewing machines at affordable prices, trusted manufacturers are few and far between. However, one company that always has its customer's needs in mind and works hard to cater to their needs is Janome.
Founded back in the late 1800s, Janome is a Japanese company that specializes in sewing machines, among other things. However, back then the choice was a little limited and there were certainly no computerized models to choose from. Thankfully, it's come a long way since then and is now in operation all over the globe. Today, there is a massive range of sewing machines that produced under the Janome brand, including the 6500P.
The Janome 6500P is by far, one of the company's most advanced, non-industrial sewing machines. It offers a wide range of functionality at a fast speed, while at all times maintaining precise and accurate stitching. And as with any other Janome machine, it exhumes quality both inside and out.
Janome 6500P Review: Overview
The Janome 6500P is a fantastic machine that offers a wide range of functionality. One of the first things to note is that it has a top-load bobbin system. This is a feature that machinists of all skill levels appreciate as it allows them to change their thread nice and quick. Another great feature involving the bobbin system is that it has an independent winding function, meaning less work for you.
In terms of choice, there are more than 100 stitches to work with on this machine, including 2 alphabets. So, whether you're darning clothes, sewing on buttons, or designing some new drapes, this machine is more than capable of catering for that. You also get a total of 13 different presser feet to assist.
Due to the machine's large 9" x 5" throat space, the Janome 6500P is quite a popular choice amongst quilters. Other features that may appeal to quilters include the 5 integrated blanket stitches, the hand-look quilt stitch, and a knee presser foot lift to make hands-free sewing possible.
Because of its tough build, sewing thicker materials such as fleece or leather are made much easier. The fabric stays securely in place and is fed through nice and even thanks to the 5-piece feed dog system. However, one thing to be aware of is that this machine is heavy. Weighing in at a whopping 36.4 pounds, it's not really the ideal machine for anyone needing to move it around a lot. If you are just starting out in the world of sewing, this machine will help you home your skills, no doubt. But, it's not very practical for transporting. In which case you may want to reconsider this machine or buy a more lightweight backup to take out with you.
Nothing Short of a Powerhouse
When it comes to quality, Janome has it covered at every angle with this machine. With a maximum sewing speed of 1000 stitches per minute to offer, this machine is a beast, even for the most advanced machinists out there. The only thing it does lack in this area is a stop/start button in which to control the machine. However, the enclosed foot pedal is very sturdy and when used alongside the sliding speed button, you'll soon find the right setting to suit you.
Related Articles:
Not only does it have a powerful 1amp motor under its super sleek exterior, but it also features a solid, heavy-duty metal frame, allowing you to sew pretty much anything with the greatest of ease. Leather, canvas, multiple layers of thick fabric. You name it, and there's a good chance that this machine can sew it.
Computers At Their Best
There's a good reason why this machine is dubbed the "Memory Craft", and that's down to the innovative on-board computer. While there are a lot of computerized sewing machines on the market today, not many of them feature a computer that's so high-end yet easy to navigate. But that's exactly what you get with the Janome 6500P. The quality of the screen is clear and it's easy to follow. Here you can view all of your stitch options in use. If you want to adjust any of them simply use the navigation keys next to the display.
To help you get started on the Janome 6500P there's a very helpful thread guide printed right on the machine. Once the machine's been threaded and the bobbin is securely in place, you're ready to select your stitch via the on-board computer. To help you decide which stitch to use there's a convenient stitch reference board attached to the machine.
Super Sleek And Sexy
If you're looking for a high-quality sewing machine that not only functions well but looks amazing too, then the Janome 6500P may be just the thing for you. Kitted out in a nice contrasting purple against a white base, this machine is one classy looking model.
As well as having all the looks of a professional machine, it's also a model that produces high-quality, accurate stitching. This is partly achievable through the help of the sturdy exterior, and partly through the help of the high-quality feed dog system.
Janome 6500P Review: Final Thoughts
There's no doubt about it, this is a professional level machine. While I'm sure some learners may be just fine on it, they will be in for a steep learning curve with all the various features and functions this machine has to offer. For all you advanced machinists, using the Janome 6500P will be an absolute dream. It's a fast-moving machine that's built from high-quality components that were made to last. There's also a huge range of stitch selections to work with whether you're sewing or quilting.
It may not be the cheapest machine on the market, but in terms of both accurate stitching, and overall functionality, it's by far, one of the best. So, for anyone on the lookout for a top-quality machine that's both efficient and reliable, be sure to get a good look at the Janome 6500P before making any purchase.
Related Articles: