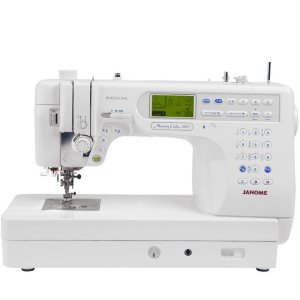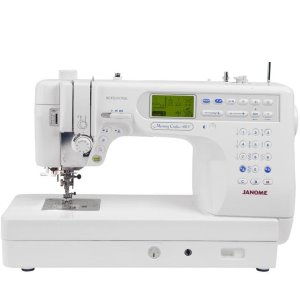 With around 100 years of experience under its belt, selling to countries across the globe, Janome is one of the world's leading sewing machine manufacturers. Catering for both the consumer and industrial market, Janome has a wide range of sewing machines to offer. While some machines are aimed more at those with very little prior knowledge of sewing. Others are better equipped for the more advanced machinists out there, which is the type of machine you'll be reading more about here.
The Janome 6600P is a top-spec sewing machine designed with the professional sewer in mind. It's bursting with more features and functions you could imagine, and everything runs like clockwork. It also has more than 150 different stitch options to work with. This high-class machine is capable of sewing through a wide range of fabrics and materials of different thicknesses with ease and produces a quality of stitching that's second-to-none.
Janome 6600P Review: Overview
For anyone unfamiliar with the Janome line of sewing machines, the P in the 6600P stands for professional, and you can see that rings true from the moment you clasp eyes on it. And you don't need to be a pro yourself to achieve this level of quality as the machine practically does it all for you. All you need to do is set it up and guide it in the right direction.
Janome sewing machines are well known for two things especially: the quality of the stitching they produce and the sturdiness of the machine doing it. And I can tell you, the 6600P doesn't disappoint in either of these areas.
Capable of sewing at speeds of up to 1000 stitches per minute, you'd think there would be some excessive movement when working at its maximum. But with its heavy-duty solid frame and durable plastic cover, the Janome 6600P stays strong and stays still at all times, ensuring your stitching remains nothing short of flawless.
As well as being a fantastically accurate machine for sewing with, the Janome 6600P is also very good when it comes to quilting and applique works. Along with the machine itself, you get 14 presser feet, including some that cater specifically to these areas.
User-Friendly
Despite the fact that the machine looks a little daunting, with so many buttons and dials staring back at you, it's actually a really easy machine to use once you get to grips with all the various controls.
The 163 available stitches are all displayed on a mounted reference guide which doubles up as a very comprehensive and detailed threading guide on the reverse. This sits just above the machine head and is super handy when needing just a quick glance. All 163 stitches are easily accessed via the on-board computer and are split into 4 categories for convenience: direct, quilt, utility, and monogramming. You also get 7 different 1-step buttonholes to work with.
Related Articles:
Getting set up on the Janome 6600P is hassle-free and can be done in a matter of minutes. The top-loading drop-in bobbin is uncomplicated, and the auto declutch winding mechanism winds the bobbin for you as you sew. Threading is no problem either with the help of the thread guide. Once that's been done it's just a case of choosing your stitch type and you're pretty much good to go.
To select your stitch type simply use the numerical pad to punch in the corresponding number of your chosen stitch. Once you've input the type of stitch you want to use, the screen will display the correct presser foot to use. It will even assist you if you want to adjust the stitch width and length.
Advanced Functionality
There are so many fabulous features on this machine, it's hard to know where to start!
One of the key features of the Janome 6600P is that it has an advanced AcuFeed System. This is the company's own flagship design and is essentially a layered fabric feeding system that makes super light work of sewing thick material. It also has a 7-piece feed dog system and an extra high presser foot lift for further help when sewing though heavier pieces of fabric.
There's also an automatic needle threader to save you time and prevent you from getting eye strain; an automatic thread tension control that chooses the optimal level for you; and a programmable needle that lets you decide what position it sits in when you stop sewing.  Other fantastic features include an easy to activate reverse stitch for when you want to reinforce your stitching and an automatic thread cutter for trimming all those edges.
In addition to being nice and clear, the large backlit screen is also easy to navigate. Using the clearly labeled buttons located on the upper right-hand side of the machine, you can select all your stitch requirements and watch as it's displayed clearly on the screen in front of you.
And, it's equipped with not 1, but 2 super bright LED sewing lights in which to illuminate your workspace.
Janome 6600P Review: Final Thoughts
So, as you can see, the Janome 6600P is not a machine to be underestimated. It's a model that's high-powered and fast. And while I'm sure with enough practice, anyone could get to grips with its easy-to-use controls, it's probably better off in the hands of a professional. With this machine in tow, almost anything is possible in the realms of sewing, and absolutely everything is completed to a very high standard.
The automatic needle threader works well saving you time and effort, while the top-loading drop-in bobbin ensures you get going fast. It can handle pretty much any material you throw at it thanks to the high-quality components and integrated AcuFeed System. And, it's computerized, which will also save you a lot of hassle when setting your stitch requirements.
All-in-all, if you're looking for a sewing machine that's packed full of features, produces precise stitching 100% of the time, and is super reliable, then the Janome 6600P is definitely a model to consider.
Related Articles: