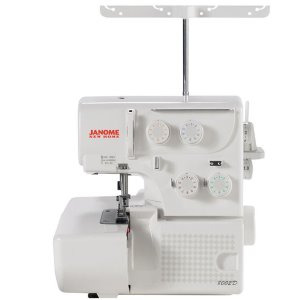 If you've been sewing for a while, or have used a variety of different machines, the chances are that you will have come across the Janome Brand. Founded in Japan, back in 1921, the company is now one of the leading manufacturers of sewing machines in the whole world. As well as supplying those in the trade with big, industrial machines, Janome also supplies the general public with good quality machines at great prices. Among these machines on offer are those fit for a combination of sewing, embroidery, and quilting tasks and others that are more specialized in what they can do, such as a serger.
A serger machine is often referred to as an overlock machine and is primarily used for creating professional-looking hems. While they do vary in functionality, most basic features are the same across the board. One of Janome's best-selling serger machine is the 8002D. It's a good little machine that's fast, reliable, and offers enough functionality to get the job done to a high standard.
Janome 8002D Review: Overview
Working at a super-fast sewing speed isn't always the best option, especially when working on something that's delicate. However, when you're faced with a large sewing task (or several) it can be a real blessing. The Janome 8002D Serger can sew up to a maximum of 1,300 stitches per minute, which is pretty impressive. If you sew for a living, it's a great tool to help you get the job quickly. And although it's fast, the quality doesn't suffer in any way. You still end up with a smooth, professional finished stitch.
In terms of size, it's a pretty compact machine, measuring in at just 15" x 13.5" x 14.5", and weighs less than 15 pounds. So, if you do need to travel and sew, this is a good machine to do it with. Or, if you simply lack a lot of space at home, it can easily slide neatly into a corner somewhere.
Adjustment Options Aplenty  
Sewing using a machine that's limited in both features and functionality is no good to anyone. And while the Janome 8002D isn't the most featureful machine out there, what it does offer in terms of stitch options makes up for it. With this machine you have the choice of sewing with either 2, 3, or 4 threads. You also get various stitch types to work with including some for chain stitching, flat locking, cover hems, and rolled hems.
The width of the fabric can be adjusted to anywhere between 3.1 to 7.3 mm using a simple dial on the side of the machine. Another dial to take note of is the differential feed dial. Adjusting the differential feed will help to prevent the occurrence of bunching or stretching, which is quite common when working with stretchy or thin material. On the Janome 8002D, the ratio ranges from 0.5 to 2.25, so you have plenty of scope in which to choose.
While it's in no way an advanced machine, it does offer a couple of features that will attract the more advanced or professional user. One of which is the built-in rolled hem feature. This will enable you to create the perfect finish. The way it works is by a hemmer rolling the fabric over itself in order to hide the edge of the fabric. While in this rolled position, the roll is sewn, providing you with a professional-looking hem.
User-Friendliness
One of the reasons this serger is so popular across the board, is that's it's so easy to use. There aren't too many advanced functions on this machine, so it gives those with very little experience a better chance to learn the basics. The layout of the Janome 8002D is simple. All the controls are within easy reach and well labeled. Being a mechanical machine means there's no computer to get to grips with. What you see is what you get.
Drilling it down a little, the color-coded threading chart makes for easy threading while the rolled hem conversion allows you to switch between regular and rolled hem mode, without even having to remove the needle plate. It also has the same easy to use snap-on presser feet that you'll find in most good sewing and serger machines these days.
Related Articles:
If for any reason, you do get stuck, the machine comes with a handy instructional DVD that will walk you through various processes and help you get to grips with your new machine. Have a little play with a few scraps of fabric and within no time at all, you'll be sewing like a pro.
Another attractive attribute this machine has to offer is the fact that it's very low maintenance. Apart from giving the race hook and feed dog a quick wipe down after each use, there's very little you need to do to keep this machine running in tip-top condition. Every now and then it may also benefit from having its head wiped over with a soft cloth. Do not oil the machine unless it really needs it as overoiling can cause major problems.
Janome 8002D Serger Review: Final Thoughts
If you're on the market for a new serger machine that's easy to use, affordable, and offers enough functionality to complete most tasks, then the Janome 8002D is a good choice. It's more an entry-level machine opposed to that of an advanced one. But, that's only really in terms of attributes. When it comes to the quality of the end result, there are certainly no complaints as this machine produces a professional-looking stitch each and every time. There are no complicated features to figure out and everything moves as it should, when it should. It's one solid machine.
So, whether you're new to the world of sewing or you're a professional needing a machine to use alongside your everyday workhorse, the Janome 8002D will suffice. It's fast, it's affordable, and most of all, it won't let you down.
Related Articles: