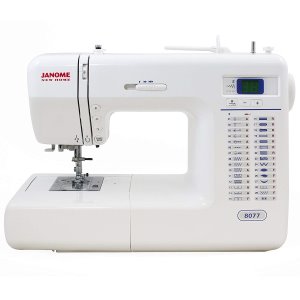 The Janome 8077 Computerized Sewing Machine with 30 Built-In Stitches is the automatic sewing machine of your dreams. I'm talking quality. Automatic needle threader, bright LED screen, easily compatible with foot control, reverse stitching, an auto-declutch bobbin winder – the whole nine yards.
In my Janome 8077 review, I am going to explain to you why this fantastic sewing machine is so great to use in a variety of applications. It comes with the necessary features to keep you sewing. Whether at home or at your place of work – wherever you may roam, the Janome 8077 will run smoothly while providing you a whole heap of stitching options.
No matter how fussy of a tailor or seamstress you may be, the Janome 8077 has the functionality to keep you going. The price is great, the unit is sturdy and reliable, everything is easy to set up, and you can even sew through layers. What more could you ask for?
Janome 8077 Review: Overview
It is not easy to find a quality sewing machine, never mind a quality computerized sewing machine. Lucky for you, there is the Janome 8077. This beautiful, lightweight unit combines some of your favorite features to make it one of the most impressive machines on the market. Plus, it's affordable.
One of the key things that makes a computerized sewing machine so valuable is its ease of access. For the Janome 8077, I'm talking about the convenient front panel with its well-labeled stitching options and bright LED screen. No more mucking about with the old, out-dated models. The 8077 unit brings technology to an age-old art.
Sewing
Let's talk about the stitches. The Janome 8077 comes with 30 perfectly selected stitches, including six one-step buttonhole stitches that you can use for sewing buttonholes to your exact specifications. Now that's thinking of everything.
What's more? How about an automatic needle threader? Stop fumbling with thread holes, straining your eyes, and stressing yourself out. The automatic needle threader takes care of the annoying work for you, keeping you focused on sewing. And speaking of sewing, the Janome 8077 allows you to effortlessly adjust the length and width of the stitch by pressing a single button.
There is also a unique start/stop button that lets you sew without having to use a foot control and a button for switching immediately into reverse stitch. Whatever you need to do with this awesome machine, it can be accomplished by simply pushing a button.
More sewing features include the automatic declutch bobbin winder, a superb feeding system, and the drop feed capabilities. And even though this unit can be used without a foot control, it is fully compatible with a huge range of foot controls, including those for low-shank machines.
All of these sewing features make the Janome 8077 one of the most versatile units on the market today.
Simplicity and Convenience
One thing you are always looking for in a sewing machine is convenience, ease of access. The Janome 8077 breathes simplicity. This awesome machine may not come with the plethora of buttons and settings that you'll get with super high-end models, but it has exactly what you need to get the job done.
Because of its simplicity, this is one of the best sewing machines to use for beginners, amateurs, or intermediates. The Janome 8077's LED screen is super bright and gives immediate visibility of the length and width of your current stitch.
The screen is also going to display the exact number of your stitch. To adjust these settings, simply press the plus or minus button located under the display. You will find all thirty of your stitching options located beneath the plus and minus buttons on the face of the machine, making it literally effortless to choose.
Another method of simplicity is the machine's feeding system, which features Janome's unique 7-feed teeth box. And let's not forget the automatic needle threader. I think this is one of the nicest features. Simply pull the needle threader down, place your thread inside the hook and in front of your needle, then pull back and that's it – the needle is perfectly threaded.
Features, Features, and More Features
What are you looking to sew? Costumes, fleece, denim, quilts? Well, you can sew it all with the Janome 8077. Thanks to the specialized precision tension dial, you can easily fix your tension without worrying about it moving. This creates a sewing experience more enjoyable for everyone.
The machine comes with a transparent bobbin cover, allowing you to clearly see when you start to run out of thread. No more guessing. Plus, this machine is jam-proof. You don't need to stress if you sew off the fabric's edge. The drop-feed system makes darning and free motion quilting a breeze, while the free arm features make shirt sleeves and pant legs easy even for beginners.
Related Articles:
Let me tell you about all the handy buttons. Reverse, a full pattern stop, adjustability for the needle to move up or down, plus a start/stop button to sew without having to use an archaic foot control.
In terms of inclusion, when you buy the Janome 8077 you are getting a lot. It comes fully included with needles, a seam ripper, an extra spool pin, a satin stitch foot, a screwdriver, a buttonhole foot, a zipper foot, felt, and even spool caps. For anyone just starting out in sewing, this machine comes as a full setup.
Janome 8077 Review: Final Thoughts
Would I sew using the Janome 8077? Absolutely, yes. The bottom line is that this machine has it all. It is easy to use for anyone, it has a simplistic design, and it's portable. You can easily transport the computerized sewing machine from home to the office. Sewing at breaktime, anyone?
You get all thirty of the most popular stitches built right into the machine, it comes with a whole goodie basket worth of additions, and it can take on the toughest tasks. Janome 8077 has an automatic needle threader, adjustable width, and length of the stitch, and a long list of buttons to make your sewing life easier. Things couldn't get any better.
As an amateur or a newbie to the sewing world, you definitely want to pick up this model of sewing machine. It is not so complicated that you will feel overwhelmed and it has enough features to keep you engaged and always learning.
Related Articles: