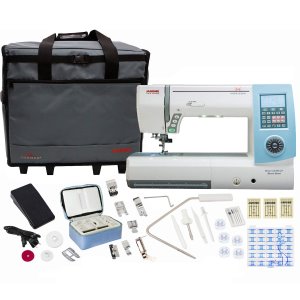 Janome is a leading name in the world of sewing, quilting, and embroidery. It's renowned for producing reliable, high-quality machines at affordable prices and to date have sold more than 50 million sewing machines worldwide. And the trouble now lies not in which manufacturer to turn to, but in which model to choose.
There are many top-quality sewing machines out there. There are also a good few decent quilting machines available. But very rarely do you find a machine that excels in both. And that's what makes the Janome 8900QCP so special. This machine is the ultimate sewing and quilting machine.
Whether you're a professional seamstress looking for your next workhorse, or you simply want to broaden your sewing skills and have a go at quilting, the Janome 8900QCP is a fantastic machine that's sure to cater for all circumstances.
Janome 8900 Review: Overview
Measuring in at 20.4" x 9.1" x 12.4", and weighing almost 60 pounds, the Janome 8900QCP is not a good machine for moving around. So if you are looking for a portable sewing machine to take to a sewing or quilting class, you're definitely barking up the wrong tree. But, if you're looking for a well-built and solid machine that's going to sit happily at a workstation or in the corner of a room, then you may have found your next toy.
While the downsides of having such a large machine are of course space and portability issues, the upside is that it's one heavy-duty piece of equipment that's not far off an industrial machine in terms of what it can handle.
The Janome 8900QCP has a maximum sewing speed of 1000 stitches per minute, and a motor that goes like a steam train. So, whatever you intend to sew, whether it's silk, leather, fleece, or something thicker, you can be confident to know that this machine will handle it all.
As well as being a fantastic sewing machine, the Janome 8900QCP also has amazing quilting capabilities. One of the reasons for this is the machine's 11" throat. With a throat this size there is tons of room to work on bulkier projects. In addition to this, you also get an acrylic extension table as one of your accessories, increasing your workspace even further.
Futuristic Functionality
While a lot of modern sewing machines feature LCD screens that display clearly for you your chosen stitch and stitch measurements, not all of them consist of an innovative and highly functional touchscreen like the Janome 8900QCP.
If you're someone who loves technology, then you're going to love this machine. And even if you're not particularly tech-savvy, you soon will be after playing with this machine for a few sessions. The thing that's most likable about this touchscreen is that it's so very clear and easy to use. Everything can be selected within seconds, seamlessly, and without any issues.
Being one of the more advanced sewing and quilting machines out there, the Janome 8900QCP has quite a lot of features and functions to offer, including several that will save you a great deal of time. When setting up the machine, there's a built-in needle threader and a top-loading, full rotary hook bobbin system for a quick start.
Related Articles:
It has a handy speed control slider in which to better manage your speed and an easy to operate reverse button for when you need to reinforce your stitches. And, the automatic thread cutter's helpful for trimming frayed edges while the auto declutch bobbin makes the winding of your bobbin care-free.
Every decent machine comes with some kind of lighting system that illuminates the sewing path before you, and as you'd expect the Janome 8900QCP easily complies. But opposed to having just 1 or 2 little lights shining brightly before you, this machine has 5 LEDs irradiating your work area. So never again will you need to sew in the dark with this machine by your side.
Choices, Choices, Choices
With a total of 270 built-in stitches to choose from, the Janome 8900QCP offers one of the best collections of stitch types you can find in a non-industrial sewing machine. The maximum stitch width is adjustable up to 9mm while the maximum stitch length is 5mm, which is again, more generous than most competitor machines.
When it comes to auto buttonholes, it doesn't fall short there either, offering no less than 11 different styles, which is also more than you'll find on most similar priced models.
Another option you get to make with this machine is whether to use the start/stop button to control it or the foot pedal. While most advanced users probably prefer to use the foot pedal as it gives them the opportunity to work hands-free, not everyone likes sewing this way. And so, it's nice to have the choice.
As you can probably imagine, like a lot of top-spec models, you get a huge bundle of accessories when you purchase the Janome 8900QCP. You get a wide range of presser feet, including some used for everyday sewing, some used for decorating purposes, and others used when quilting. In addition to this, there's a cloth guide, extension table, needle plate, machine cover, and loads more.
Janome 8900 Review: Final Thoughts
While it might not be the best machine for beginners to start learning on, the Janome 8900QCP is by far, one of the best combined sewing and quilting machines around currently. It has all the features and functions a professional sewer is likely to need, and nothing is over-complicated, even the touchscreen computer.
The stitch selection is extensive and the automatic functions work like a charm, especially the multiple 1-step buttonholes. With a maximum sewing speed of 1000 stitches per minute, it's plenty fast enough to complete your projects in post-haste time. And to the same level of perfection, we've all come to expect from a Janome sewing machine.
So, if you are on the lookout for a fantastically featureful sewing machine that would make even the most advanced user blush, the Janome 8900QCP is right up your street and definitely worth exploring further!
Related Articles: