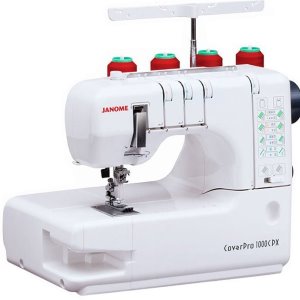 Newer Model
Extra Features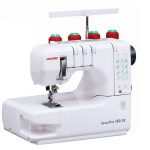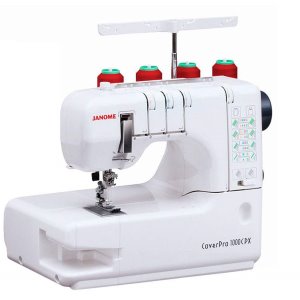 1000 Stitches Per Minute
Cheaper Price
Are you in need of the best coverstitch machine? Today we will find out which is the best: Janome CoverPro 900CPX vs 1000CPX. Both coverstitch machines are made by Janome, and both of them are very similar. However, one definitely offers more features and is a better bundle than the other.
If you are looking to achieve the most professional finish possible with your sewing projects, you need a coverstitch machine. A coverstitch machine is quick, heavy-duty, and operates just like an ordinary sewing machine to give you the best hems, the strongest seams, and the best possible finish on all kinds of different projects.
Janome ensures all their coverstitch machines are included with the newest technology, the best seam tightening system, the most advanced features, and the best overall functions. Both the Janome 900CPX and the Janome 1000CPX are built to provide you long-lasting functionality.
---
Janome CoverPro 1000CPX Coverstitch Machine Review
The Janome CoverPro 1000CPX Coverstitch Machine is an extremely professional cover hem machine that offers loads of features and functionality. This machine is industrial strength, it has an incredible stitches-per-minute count, it comes with an exclusive free arm configuration, and it makes the best cover hemstitches.
Dedication
If you are looking for a sewing machine that is dedicated to making great hems without having to use any kind of specialty serge machine, overlock machine, or rolled hem machine, this is it. When you use the CoverPro 1000CPX, you never have to worry about the material being cut as you are sewing. It is fully dedicated to being a cover hem stitch machine.
Convenient at Home
Even though this unit is industrial strength, it is fabulous for use at home. The machine is small and compact, yet powerful with high speeds, a long arm, and an extremely heavy-duty design. In fact, this might be the most advanced cover hem machine ever made.
As a bonus bundle, this machine comes with a special adjustable seam guide, a needle threader, and two packs of needles that are size 14. It may not be much, but it is enough to get you stitching.
---
Janome CoverPro 900CPX Coverstitch Machine Review
The Janome CoverPro 900CPX Coverstitch Machine is a flawless unit that comes with the ability to use two needles. It boasts speeds up to an incredible 1000 stitches per minute, it has an extremely large bed space, a differential feed ratio of between 0.5 to 2.25, and included needles and a needle threader.
Seam Tightening System
Many different machines claim they have a specialized system for stitching, but nothing compares to Janome's unique seam tightening system, which is a proprietary way of tightening seams so that your stitches are crisp and sturdy every single time. This is done by reducing the slack normally found in the looper thread, thereby ensuring all seams are 100% perfect.
Clean Machine
One of the things I love about the CoverPro 900CPX is its design. The machine looks slick. All of the important buttons and dials are located on the front of the machine in a clean and concise way. There is also a quick reference guide on the front, so you don't get lost.
Even if this is your first ever coverstitch machine, there is no way you can get confused. After a couple of hours playing around, you will already be addicted to the CoverPro. Some people claim this is the best beginner coverstitch machine, and I agree!
---
Janome CoverPro 900CPX vs 1000CPX: Main Product Differences
I think it is fairly obvious that both machines are nearly identical. The Janome 1000CPX is simply the newer version of the 900CPX. Because of that, there are not many product differences. Both machines come with exactly 1,000 stitches per minute, they both coverstitch with immaculate precision, and they both work wonderfully.
However, there are a few key differences.
More Needles
When using the Janome 900CPX, you can use either one or two needles. When you upgrade to the CoverPro 1000CPX, you can use one needle, two needles, or three needles. This extra needle allows you to upgrade your stitch width to a maximum of 6 millimeters.
A wider stitch means a sturdier seam or a stronger hem. The extra needle also gives you the unique ability to triple coverstitch, adding a whole additional layer of strength to your stitches. Think of triple coverstitching as an extra chain in the link keeping your seams and lines sturdy.
More of the Same
Other than the 1000CPX having an additional needle and an additional few dollars on its price tag, there are no other differences. The 900 and the 1000 are excellent coverstitch machines, each with a differential feed setting from between 0.5 and 2.25, 1,000 stitches per minute, an included softcover, and an extra-large bed space.
Both machines offer stitch quick reference, vertical needle drop, Janome's unique seam tightening system, flawless chain stitches, and a stitch length of between 1mm and 4mm. If the extra needle doesn't matter to you, avoid the larger price tag and go with the 900CPX.
Janome CoverPro 900CPX vs 1000CPX: Final Thoughts
It is finally time for the verdict you have come here for. You want to know which CoverPro is the best, and I am here to tell you it is definitely the Janome 1000CPX. Why? I mean, the Janome 900CPX is definitely a great coverstitch machine that goes above and beyond to finish your projects with unparalleled precision, but the 900CPX is only an older version of the 1000CPX.
What I'm trying to say is that the 1000 CPX has all the same features of the 900CPX, but it is newer and more improved. The CPX1000 has an extra needle, a super large bed space, 1,000 stitches per minute, fast stitch reference, a free arm, a vertical needle drop, chain stitch capabilities, the seam tightening system, and an improved stitch width of 6mm.
If you have been searching for an advanced way to finish your home projects, you can't do better than with the convenient CoverPro 1000CPX from Janome.