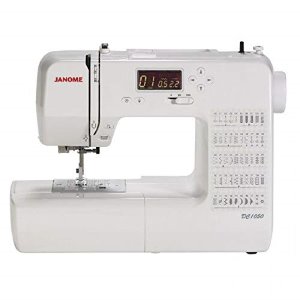 Unless you sew for a living and require it for your work, a sewing machine is not a necessity. We've only really been using these machines since the start of the 20th century. Prior to that, everything that needed to be sewn was done so by hand. And while most everyday sewing tasks such as sewing on a button or darning a holey sock can be done quite easily by hand, it's a lot more fun to use a machine. And a lot quicker too. If you were to sew a quilt by hand it would take a very long time. Sew it using a modern sewing machine, and it'll be done in a jiffy.
Janome is one of the leading brands seen in the sewing industry today. Founded in Japan back in 1921, the company has come a long way in terms of the kinds of sewing machines it produced then, and those that it sells today. But underneath, all the nuts and bolts, the company's mantra remains the same – to provide high-quality sewing machines for home use. And here in this review, I'll be exploring in more detail one of the company's bestselling models around currently – the DC 1050.
Janome DC 1050 Review: Overview
If you're new to the world of sewing or you need a basic, little machine to help you complete all those everyday sewing tasks, the Janome DC 1050 is the perfect aide to have by your side. It's a computerized model that's very simple to use and a nice way to ease your way in gently. All the functions are easy to use with buttons that are within easy reach. There's a start/stop button that enables you to sew without using the foot pedal; a locking stitch button that ties off the end of the thread for you; and an easy reverse button that allows you to reinforce your stitches.
When it comes to loading the bobbin, that's hassle-free too thanks to the machine's drop-in top loading system. The backlit LCD screen ensures you always see your stitch options, while the navigation buttons adjacent to it allow you to adjust your stitch type, length (up to a maximum of 5mm) or stitch width (up to a maximum of 7mm) in a matter of seconds.
Another bonus is its size. Measuring in at just 19" x 11" x 14", and weighing little more than 10 pounds, the Janome DC 1050 is the perfect sized machine to use while on the move or to take to sewing class. It also makes storing the machine away very easy too.
Good Selection of Stitch Options
Whether you're a beginner or a pro, the Janome DC 1050 has a decent number of stitch options that will allow you to complete most basic tasks. It has 50 built-in stitches, including 3 x 1-step buttonholes to work with, allowing you to complete various projects. There's also an easy-to-reach manual tension control that gives you better control at your fingertips and it also has a speed slider in which to control how fast you sew.
Another helpful feature this machine has to offer is that of the memorized needle up/down function. With this, you can choose whether to have the needle stop in either the up or down position when you stop sewing. This is particularly useful when working on heavyweight material or fabrics of multiple layers, such as quilts. It also has an automatic tensioner which ensures your stitches all remain tight, regardless of the fabric you're using.
Related Articles:
As well as a good selection of stitch options, you also get a ton of handy accessories including 3 different presser feet (a buttonhole foot, a satin foot, and a zipper foot), an assorted needle set, a foot control, a spool holder and spool stand, a lint brush, seam ripper, and a screw key.
Quality Stitching at a Quality Price
One of the things that make this machine so popular is the fact that its such great value for money. With the Janome DC 1050, you get a great quality machine that's both affordable and capable of producing flawless stitching with very little effort, regardless of the stitch selection or the fabric.
It's a heavy-duty machine that's capable of sewing a wide range of fabrics including tougher material like denim. The only thing you might want to refrain from sewing on this machine is anything that's too thick or consists of multiple layers.
The maximum stitch speed on this machine is 820 stitches per minute. And while it may not be the most rapid machine out there, for beginners, or for those just looking for a quick-fix machine, it's perfect. And thanks to the machine's solid structure, there's no excessive movement while in use. Therefore, there's no skipping of stitches. And because of the machine's top-quality 7-piece feed dog system, there's no bunching of fabric either.
Janome DC1050 Review: Final Thoughts
As you can see, the Janome DC 1050 is not an advanced sewing machine in any way, shape, or form. While it does have some fantastic qualities and offer some great features, it just doesn't have the speed or stamina that's needed for a professional type machine. If, however, you're new to the world of sewing or you're simply in need of a basic machine to enable you to carry out those minor repairs, this is a good machine for you.
I love the fact that it's so easy to use. For beginners, this is great as they won't feel frustrated trying to learn something that's overly complicated. For the more advanced user, it's also good as being easy to use, which means it's equipped with some great time-saving features, like the automatic needle threader and needle programming function.
Everything you need to get you started is included with the machine, and it's all made to the highest standard. So, if you can't stand to look at that ever-increasing sewing pile and need a quick fix solution, the Janome DC 1050 is a great solution.
Related Articles: