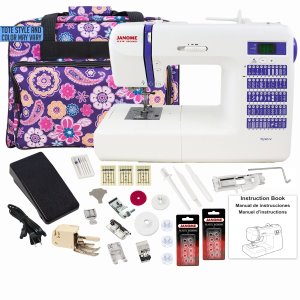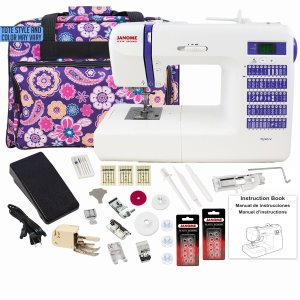 Sewing is a craft that's practiced by millions of people across the world. While once upon a time, everything that was to be sewn, had to be done by hand, nowadays we have a wide range of modern sewing machines available to help complete the task. Not only do these machines enable us to get a more accurate finish than what can be achieved by hand, but they also help us get the job done much quicker.
When sewing machines were first introduced to the home user, they were quite expensive and only those with deep pockets would be lucky enough to own one. Nowadays, nearly every other home in America has one. One of the brands to help make home sewing machines such a success was Janome. For several decades now the company has been providing the general public with fantastic and affordable sewing machines suitable for home use, and in this review, I'm going to go through the ins and outs of one of their top-selling models – the DC 2014.
Janome DC 2014 Review: Overview
The Janome DC 2014 is a highly versatile computerized sewing machine that's an absolute joy to work with. As well as offering a fresh and funky feel, with a splash of gorgeous purple in all the right places, this machine offers some fantastic features and functions.
Whether you're a highly trained professional or this is to be the first sewing machine you've ever owned, one feature everyone loves on this machine is the automatic needle threader. In just 4 easy steps you are ready to sew without the worry of any eye strain. Just be aware that this function only works with needle sizes #11 to #16. You can use other sizes, but these must be threaded manually.
You get 50 different built-in stitches and 3 buttonholes to play around with. You also get various presser feet to help you complete a variety of projects. There's a blind hem foot for creating those more subtle hems; an overedge foot that's good for preventing unraveling; a statin stitch foot for creating decorative stitching; an even feed foot for preventing bunching when working with heavy fabrics or those with multiple layers; ¼ seam foot to use when sewing patchwork; a zipper foot for inserting zippers; and an automatic buttonhole foot for creating perfectly sized buttonholes.
Easy to Use
Getting started on the Janome DC 2014 is quick and pain-free provided you follow the instructions. The top drop-in bobbin system is nice and simple to work with and is a great help for anyone new to sewing. It also features an auto-declutch bobbin winder system to speed up that process.
One of the things I love so much about this machine, in addition to its great look, is that it's so very user-friendly. And for a computerized machine, that's quite surprising. Quite often you'll find that the onboard computers on modern sewing machines are very poor quality and hard to navigate around. With the Janome DC 2014, you have neither of these issues. Everything is perfectly clear and easy to use. All your stitch selections can be made with the touch of a few buttons, including both the stitch length and width.
There's a simple push-button control for you to use when deciding where the needle should sit when you stop sewing, and it also benefits from a reverse stitch button for you to be able to reinforce your stitching. The maximum sewing speed on this machine is 860 stitches per minute. However, thanks to the handy speed control you can choose a speed that's comfortable for you. And, the free arm makes for the easy sewing of things like sleeves, cuffs, and collars.
Perfect Stitch Quality
The Janome Dc 2014 is quite a heavy-duty machine that weighs in at just over 27 pounds. So, it's not really the best machine to use on the move. On the plus side, its solid frame which means it's super stable when in use. It also features a Superior Feed System that consists of 7-piece feed dogs to ensure your stitching remains accurate and even.
In terms of what materials you can sew using this machine, there's no real limit other than maybe stretchy materials such as rubber or super heavyweight fabrics such as canvas. Thick materials or those with multiple layers pose no real problem to this machine. This is partly down to the extra high presser foot lift, and also partly down to the amazing feed system mentioned above.
Related Articles:
There's very little you need to do in the way of maintenance with this machine other than giving it a quick wipe down with a dry cloth or brush after each use to ensure no loose fabric is stuck anywhere it shouldn't be. Then, simply add a drop of oil as and when needed.
To help give you that added peace of mind (not that you should need it with this machine), Janome also includes a 25-year warranty with this machine. Any electrical components are covered for up to 5 years, and general labor if free of charge for 1 year also.
Janome DC2014 Review: Final Thoughts
If you're looking for an entry-level, computerized sewing machine that's easy to use, easy on the eye, and affordable, I strongly recommend the Janome DC 2014. Even for those that are a little more experienced, this machine offers a good range of functionality offering many great features including an auto-declutch bobbin winder system, an automatic needle threader, and a plentiful assortment of stitches to choose from. It's also a pretty durable machine that's capable of handling a number of different fabrics.
So, whatever your reason for needing a new sewing machine, and regardless of your skill level, the Janome DC 2014 is a good choice. It's a reliable model that will enable you to complete most everyday sewing tasks and will brighten up your room while doing so.
Related Articles: