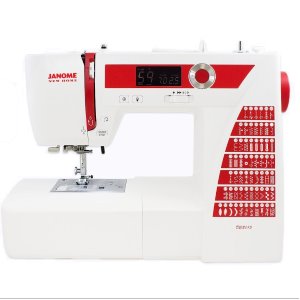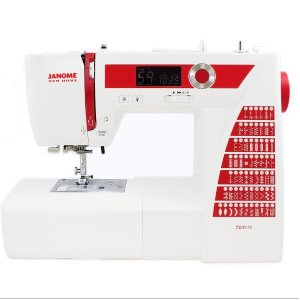 Janome is one of the leading brands in the sewing industry and has been for a very long time. Founded in Japan almost 100 years ago, the company has worked hard to get where it is. Today, Janome sewing machines are sold in more than 100 countries across the world. But it's not just famous for the number of sales it achieved, the company has also had many accolades to date, including being the first in the world to develop a computerized sewing machine for the home user, back in 1979.
Since then, there have been quite a few different computerized models added to the Janome range, including that of the Janome DC2015 which I'm going to give you the lowdown on in this review. As a quick introduction to the machine, the Janome DC2015 was released to the public back in 2015 and has been a solid seller since then. As well as being simple to use, and easy on the eye, it also offers a good selection of stitch options and is therefore suitable for both the beginner and advanced user.
Janome DC2015 Review: Overview
The Janome DC2015 is a very solid and well-made machine that's capable of sewing at a maximum sewing speed of up to 860 stitches per minute. Despite its powerful motor, this machine stays put when in use, producing top quality stitching as a result. In addition to being able to sew at lightning speeds, it's also very good at handling fabrics of different thicknesses.
I would say this machine is probably more of a basic model than an advanced one. But don't let that deter you as it still has many a great feature to offer. Firstly, with 60 built-in stitches to choose from, including 6 x 1-step buttonholes, there isn't much in the way of everyday sewing tasks that this machine can't do. You also get a range of presser feet in which to assist, including a blind hem foot, an overedge foot, a satin stitch foot F, a satin stitch foot Open Toe, a zigzag foot, and a zipper foot.
In addition to that, it also has some impressive features hidden up its sleeve including an easy reverse stitch button, an auto-lock function, and a speed control slider. There's also a handy thread cutter to trim all those loose ends for you.
User-Friendly
The Janome DC2015 is a fully-fledged, computerized sewing machine that's functional and user-friendly. While some modern sewing machines are packed full of so many added extras, they become difficult to use, the Janome DC2015 remains simple throughout. There's a handy stitch guide located on the front of the machine where you can quickly locate the type of stitch you want to use. Underneath each stitch is a picture of the recommended foot to utilize.
When you've decided on your stitch options, it's time to input them into the machine, which is actually very easy. The LED screen is large and controllable by the touch-ring located next to it. From here is where you make all your stitch selections, including your stitch length and width. Once you've made all your selections, they will be displayed on the screen in front of you.
Related Articles:
When it comes to getting started, there's nothing too taxing to learn on this machine. The top-loading bobbin system and built-in needle threader both ensure you get ready fast. While the actual threading of this machine is also quick and pain-free.
Measuring in at 18.9" x 16.2" x 11.6" and weighing just short of 20 pounds, it's also a very good machine to use if you plan on going to a sewing class or need to travel to sew. It even comes with a hardcover to help protect your machine while being transported.
Adjustability
One of the nice things about owning your own sewing machine is that you can set it up exactly how you want it. Sure, there are going to be certain things that will change often, such as the stitch width and stitch length, which can be adjusted to 7mm and 5mm respectively. And the stitch tension, which may also differ depending on the type of fabric you're working with.
But things like where you want your needle to be positioned when you stop sewing and the maximum speed you can sew at are equally important. And with the Janome DC2015 can be altered in a matter of seconds. In regards to the needle position, there are 15 different positions to choose to have it stop, while the speed control slider allows you better control over how fast you sew. You can even use a twin needle should you wish.
Added Extras
In addition to a fantastic machine, there are a few bonus items you get when you purchase the Janome DC2015. There's a hard case to keep your machine safe when not in use; 2 x packs of 10 Janome bobbins; 2 x packs of size 14 needles; a screwdriver; a seam ripper; a spool pin holder and additional spool pin; a lint brush; felt; a foot control; and a user manual. You also get a 25-year limited warranty should you experience any issues with your machine.
Janome DC2015 Review: Final Thoughts
All-in-all, the Janome DC2015 is a good quality machine that's capable of completing a wide range of sewing tasks. It has a stable frame, so there's no excessive movement when in action, even when sewing at its maximum sewing speed. In terms of usability, it's a rather simple machine that even those with very little prior knowledge of sewing should be absolutely fine with. The computer is easy to navigate, and all the manual controls move nice and smooth.
The stitch library isn't huge but is adequate enough to get all your basic sewing projects done. And, it comes with a good bundle of extras to help you out along the way too. So, whether you're new to the world of sewing and want an easy machine to learn the ropes or just need a simple machine to help get that sewing pile down, the Janome DC2015 is a good tool to choose.
Related Articles: