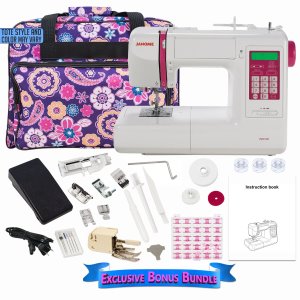 For thousands upon thousands of years, people all across the globe have practiced the art of sewing. And not just out of necessity either. Sure, it may have originally been developed as a way of simply mending clothes, but it's also done for more decorative reasons too. Other craftworks such as quilting and embroidery have also stemmed from the likes of sewing and are now to very popular hobbies enjoyed by a large number of people.
Sewing by hand isn't particularly difficult once you know what you're doing. It just takes a while to see any real results. And, as careful as you are, the hand will never be as accurate as a sewing machine.
The very first sewing machine designed for the home user was produced by Janome in 1979. Back then, although they were computerized, they were still pretty basic machines, Nowadays, a good quality, computerized sewing machine comes equipped with a whole myriad of bells and whistles to make the most of. And one fine example of this is the Janome DC5100.
Janome DC5100 Review: Overview
The Janome DC5100 has 167 unique stitches built-in and offers 215 stitch functions in total. Among these stitches are various utility, decorative, heirloom, embroidery, and quilting stitches. It also has 5 x 1-step buttonholes to make use of. The stitch length is adjustable up to a maximum of 5mm, while the stitch width can be adjusted up to a maximum of 7mm.
Another benefit this machine has to offer when it comes to stitching options is its programable memory. With this function, you can save up to 50 different stitch patterns which is ideal if you're working on something big and need to take a break. At least you can relax knowing that your stitch options will be exactly as you want them when you return. And, it's not just stitching patterns you can program in. The machine also features a programmable needle that you can choose to have rest in either the up or down position when you stop sewing.
In addition to a wide collection of built-in stitches, you also get a total of 10 different presser feet to work with. There's a ¼" seam foot, an adjustable blind hem foot, a darning foot, an overedge foot, a satin stitch foot, a straight stitch foot, a walking foot, a zigzag foot, a zipper foot, and the one-step buttonholer foot.
Easy, Easy, Easy
As well as being easy on the eye with a splash of bright pink in all the right colors, the Janome DC5100 is also very easy to operate. Getting started on this machine is a breeze thanks to jam-resistant drop-in horizontal loading bobbin, and a super-fast automatic declutch bobbin winding system.
Being a computerized model, all your stitch selections are made using the navigation buttons next to the LCD screen. It's a pretty easy computer to work with that's well laid out and user-friendly. You'll find three different settings under the main menu to help you find your stitch quicker: utility, decorative, and alphanumeric.
Related Articles:
Another great feature to be seen here is the adjustable light on the LCD screen. The light in a room at 1:30 am compared to the light in a room at 1:30 pm is very different and being able to adjust the screen brightness to accommodate that is a big plus in my book.
The Janome DC5100 is a very good model to use for those just learning to sew. Both the setting up and using this machine is simple. Once you've chosen your stitch, the machine will tell you what foot to use with it. And when you're in motion, the variable speed control slider allows you to work at your own pace. There's a locking stitch button that handles back tacking, and the tension is automatically adjusted for you.
Strong and Tough
Sewing multiple layers – no problem. Want to sew through some thicker fabrics such as canvas or leather – sure, why not?  Don't let the fact that's it's pink fool you, as this sewing machine is one tough cookie.
It has a strong motor and solid frame and stays perfectly still when in use, even when sewing at its maximum sewing speed of 820 stitches per minute. The feed dogs and other internal components are also durable and well-made and work wonders at feeding the fabric through the machine, regardless of its thickness.
And despite all of that, it's actually one of the quieter sewing machines out there today.
Professional Finish
It may not have the biggest collection of features to work with, but what the Janome DC5100 lacks in advanced functionality, it certainly makes up for in quality. The stitch quality produced by this machine is second-to-none and is perfect for anyone wanting to add a professional touch to their work. There's no skipping of stitches or bunching of fabric. Instead, you get a smooth, and accurate stitch, each and every time.
Janome DC5100 Review: Final Thoughts
The Janome DC5100 is a great little machine for just about anyone. It's good for those who are just learning to sew as is extremely user friendly. The drop-in horizontal loading bobbin system is jam-resistant and nice and easy to use, while the threading of the machine is also really simple. All the manual controls are within easy reach and also work like a charm.
For the more advanced user, the Janome DC5100 offers a few advanced functions like the built-in needle threader, automatic tension control, and programmable needle. In addition to those, it offers a quality of stitching that's flawless in every way.
So, whether you're looking for a new sewing machine to learn the ropes or you're simply looking for a replacement model to help you get those mounting tasks done, the Janome DC5100 is a good option to go for that's not going to let you down.
Related Articles: