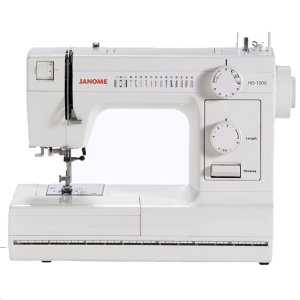 Janome is a highly respectable company well known within the sewing industry. Having been in operation since 1921, the company has designed, developed, and sold millions of sewing machines to people all over the world in both the commercial and consumer sectors. Any company that's been in business for that long is sure to have picked up a lot of valuable skills and knowledge in that time, and that rings true the moment you get your hands on a Janome sewing machine.
The Janome HD1000 is one of the company's heavy-duty sewing machines. It's what the HD stands for in HD1000, and from the moment you clasp eyes on it you can see that's certainly no mistake. This machine made of solid aluminum both inside and out and is one of the most durable machines of its kind out there. And, as well as being as 'strong as an ox', it's also super simple to operate. So not only will it please all those hardcore machinists out there, but it's also appealing to the less experienced sewer too.
Janome HD1000 Review: Overview
Whether you're a talented seamstress or you're new to the world of sewing, there is something for everyone to benefit from when using this machine. It's a nice machine for beginners to learn the ropes as it's equipped with easy to use controls. And on the flip side, it also has enough advanced attributes to cater for those with a little more experience.
Some sewing machines are a right pain to set up and even more difficult to use. Thankfully, the Janome HD1000 is none of those things. For starters, it features a front-loading, vertical, oscillating bobbin. While the front-loading aspect makes changing your bobbin super simple, the oscillating feature makes light work of sewing through heavier fabric.
Selecting your stitch is a cinch on this machine and can be done by simply turning the relevant dial located on the front. The length is also fully adjustable using the dial underneath up to a maximum of 4mm, while the width is set to a standard zigzag width (5mm). If you need to reinforce your stitching simply press on the reverse lever located on the front and the machine will move in the opposite direction.
It also features an integrated thread cutter to trim up those edges and a built-in needle threader to help save you time and reduce the eye strain.
Threading this machine is a little trickier than some learner machines, but it does come with a comprehensive manual in which to assist, and there's always plenty of tutorials that can be found online if need be. However, after a few times of doing it, you'll soon get the hang of it. Just remember that the Janome HD1000 is unlike most other sewing machines as the thread goes from left to right opposed to the standard right to left.
Modest Stitch Selection
It may not have the biggest range of stitches to work with, but there's enough to carry out most everyday sewing tasks or for someone just to familiarize themselves with the art of sewing. The 14 built-in stitches that are included are a combination of basic, fashion, quilting, and décor stitches. These are all easily selectable by the simple turn of a dial and will help you complete a variety of projects.
There's also a 4-step buttonhole included. And while this selection may be a little underwhelming for any advanced machinists out there, it's still a good range and provides enough coverage to complete most basic sewing tasks.
Added Extras
Another useful feature the Janome HD1000 has to offer is the removable free arm. When attached it's a great help when sewing things like collars and cuffs. And when it's removed you have access to the integrated storage compartment which is useful for storing all the accessories that come with the machine. As part of the package, you get a high presser foot lift to help when sewing bulky fabrics; various presser feet; a seam/buttonhole ripper; extra needles, and more. It even comes equipped with a soft cover in which to keep it free from dust when not in use.
One Heavy-Duty Workhorse
While the Janome HD1000 might not win any awards for its looks, one thing it can be proud to promote is its robustness. The body of this sewing machine is made from cast aluminum and is tougher than "old boots". While underneath the strong exterior lies a hearty 1.0 amp that's capable of achieving a maximum sewing speed of 840 stitches per minute.
But don't worry, as thanks to the sturdy frame and fabulous 3-piece feed dog system, there's very little excess movement. So, while the system enables your material to glide through like a charm, the feed dogs grip it just enough so that there's no bouncing and you end up with a professional and accurate looking stitch each and every time.
Related Articles:
It may be a heavy-duty machine, that's durable and made to last. But, weighing in at just 17 pounds, it's actually pretty lightweight. So, if you do plan on taking it to a sewing class or using it on the move it won't be too difficult to move around.
And in the rare event that you do experience any mechanical breakdown issues with your machine, there's a 25-year limited warranty to help cover any losses.
Janome HD1000 Review: Final Thoughts
It's a very versatile sewing machine that's fit for just about anyone. With a basic set up and simple functionality, it appeals nicely to those new to sewing. However, it still has enough automatic features to satisfy those with a little more experience.  With a maximum sewing speed of 840 stitches per minute, it's not the fastest machine out there, but in terms of quality, it would be hard to beat.
So, if you're looking for a sewing machine that's heavy-duty, simple in operation, and consistent in performance, then the Janome HD1000 is an excellent choice.
Related Articles: