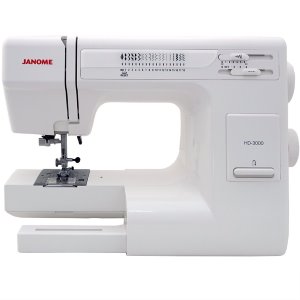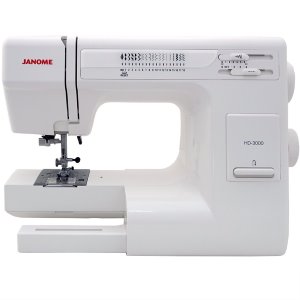 Finding a good quality sewing machine that's capable of handling thick or heavy materials can be frustrating, regardless of how much you know about them. Not because there aren't many to choose from, quite the opposite. There are a huge number of sewing machines available on the market today. The problem is that not all of them are any good.
Quite often you'll find a really nice-looking model that lights up the room but go to use it and it crumbles like a cookie at the first attempt of sewing something with a little density. Thankfully, there are a handful of decent sewing machine manufacturers out there that know exactly what a quality machine should and shouldn't do. And these are the ones you know you can rely on. One of which being Janome.
The Janome HD3000 is another fine example from the company's "heavy-duty" range. It might not look too exciting, but it offers a reasonable amount of functionality, is super durable, and is pretty well priced. So, without further hesitation, let's delve a little deeper to see just what this machine has to offer.
Janome HD3000 Review: Overview
One of the most prominent aspects of this machine is not all the attributes it has to offer, but rather it's strong and sturdy frame. While the outer body of the Janome HD3000 is plastic, all of the machine's internal components are made of high-quality metal.
Measuring in at 16" x 11.4" x 7.3" and weighing nearly 18 pounds it's not the most portable machine out there. But if you're simply looking for a new addition to be used within your home or workplace it's an excellent choice.
Being a heavy-duty sewing machine, the Janome HD3000 is capable of sewing through a range of different fabrics including multiple layers of denim and canvas. All of which is made possible not only through the help of the rigid frame but also the machine's hefty 1.0-amp motor. It's also capable of kicking out up to 860 stitches per minute, which is also only doable because of the machine's rigidness.
User-Friendly
While it may not be a computerized machine, it's still very easy to operate thanks to the clearly marked and adequately sized dials. You can choose any of the 21 built-in stitches as well as amend the stitch type, length, and width with just a quick turn of the knob.
Out of those built-in stitches there is also 1 x 1-step buttonhole in which to make this process quick and pain-free. And, there's a big reverse stitch button on the front machine too ready to reinforce your stitching any make fraying less likely.
Another time-saving and user-friendly feature found on this model is the jam-proof, full-rotary hook bobbin system. It's top-loading so less likely to cause any issues and is quick to access. There's also a transparent bobbin cover that allows you to keep a careful eye on your thread levels and an easy bobbin winding system which makes changing the bobbin a piece of cake.
There are 7 different presser feet included with the Janome HD3000: a blind hem stitch foot, a buttonhole foot, an overedge foot, a rolled hem foot, a sewing foot, a zigzag foot, and a zipper foot. These are all of the snap-on variety and can be changed easily within a matter of seconds.
Minimal But Effective Features
If you're looking for a sewing machine that's equipped with all the latest gadgets and gizmos, then this probably isn't the right match for you. But even though it's not the most advanced machine out there, the Janome HD3000 still has some quality features to offer.
For anyone who's been sewing for a while they'll be grateful to know there's an integrated needle threader in which to help make threading the needle pain-free. While threading a needle isn't exactly a hard task to do, once you've done it a million and one times, you're very appreciative to come across a machine that does it all for you. It also features a built-in thread cutter for easy trimming of the end thread.
Related Articles:
The machine's 5-piece feed dog system is very effective at moving the material smoothly. There's no bunching at all, even when working with thicker pieces or multiple layers of fabric. The needle plate is also very well made and has seam guides etched into it for easy reference.
There's a free arm in which to make light work of sewing things like pant legs and shirt cuffs. And the integrated storage compartment is a really good size giving you plenty of room to stash all those essential accessories.
Good Quality Stitching
Thanks to the sturdy frame and solid components which make up the Janome HD3000, the stitch quality on this machine is highly accurate, even at maximum speed. It can sew through a wide range of tough fabrics including leather, corduroy, and canvas. And still, it produces top-quality, professional stitching every time, demonstrating the perfect balance of power and precision.
Janome HD3000 Review: Final Thoughts
The Janome HD3000 is a good, basic sewing machine that's durable, efficient, and easy to use. It may not be the fastest machine out there, and it may not have a massive stitch selection to choose from. But what it does offer in terms of functionality works very well. The stitch precision on this machine is amazing and it's equipped with just the right number of features. Not too many that you feel overwhelmed when using it and not too few that it takes you forever to do anything.
Being a non-computerized sewing machine, all the controls are visible, within easy reach, and very simple to operate. And because it's made with such high-quality components, you get a high-quality finish.
So, whether you're someone who's just starting out in the world of sewing, or you've been doing it for many years, the Janome HD3000 is a great machine to assist in getting the job done, and getting it done well.
Related Articles: