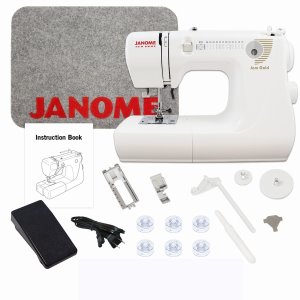 It's lightweight, has a simple design, yet still offers enough functionality to complete most everyday sewing tasks. The Janome Jem Gold 660 is the ideal solution if you need a portable machine to use on the move, or you want a basic/intermediate machine to learn the ropes on.
Measuring in at 10" x 10" x 7.5", and weighing just 12 pounds, the Janome Jem Gold 660 is actually classed as a ¾ size machine. But, don't worry as its size has no impact on the quality of the stitching it produces and is even equipped for making quilts. So, if you're looking for a trusty little machine to take to a sewing or quilting class, this is the perfect model.
It's a mechanical machine, so all the controls are manual and within plain eyesight. There's no having to fumble around with a computer to set your stitch selections.
And, it's not a bad price, either. Intrigued? Keep reading….
Janome Jem Gold 660 Review: Overview
There's a total of 8 built-in stitches to choose from when working on this machine, including 2 stretch stitches and 1 built-in buttonhole stitch, which we'll get to later.
One thing that's a little surprising, is there's nowhere to adjust the stitch length or width on this sewing machine. Instead, the optimal settings are built-in to the stitch pattern selector. While some people may see this as a drawback, beginners may find it to be a pretty useful feature as it's one less thing to worry about. Stitch #1 is considered a small straight stitch, stitch #2 a regular size straight stitch, and #3 a basting size straight stitch.
You also have two sizes of zigzag stitch available to choose from. One is of a standard size that's suitable for typical zigzag sewing, while the other is a much smaller and narrower zigzag which is useful for machine appliquéing.
The built-in buttonhole function is a 4-step process. And while this may seem long-winded for any seasoned pros out there, it's actually a nice function to work with. Yes, it might involve a few extra steps to that of the more advanced sewing machines out there, but that's not what this is. And at the end of the day, it still makes sewing buttons a breeze compared with what's involved manually.
Added for Ease
Everyone likes an easy life. And the Janome Jem Gold 660 helps you achieve that equilibrium.
With features such as a jam-proof drop-in bobbin and an automatic needle threader, this machine works well at pleasing just about everyone, not just beginners. There's also an auto declutch bobbin winder which secures the needle in place while the thread is being wound onto the bobbin.
You also get 3 snap-on sewing feet with the Janome Jem Gold 660: an overedge foot, a zigzag foot, and a sliding buttonhole foot. The zigzag foot is your general-purpose foot and can be used for pretty much anything. You've got an overedge foot that's used in conjunction with the overcasting stitch, and a buttonhole foot for when using the 4-step buttonhole function. All of which are super easy to change and can literally be done in a matter of seconds.
Top-Quality Components, Top-Quality Stitching
The quality of the end stitch is dependent on the quality of the machine producing it. Thankfully, with the Janome Jem Gold 660, you don't need to worry about that as this machine is built to a high standard using strong and durable components.
With a sewing speed of 650 stitches per minute, it's not going to win any speed contests any time soon, But if it's quality, opposed to speed you're after, then the Janome Jem Gold 660 could well be the machine for you. While it may not have a huge collection of stitches to choose from, those that are on offer are produced with excellent stitch quality.
Related Articles:
In the rare event that you do have any mechanical issues with your machine, Janome provides a 25-year limited warranty with your purchase. As mentioned, all the parts on this machine are very well made and of the highest quality, so the chances of you needing to use are pretty slim. But, at least it's there for added peace of mind and gives the buyer confidence that they're purchasing a good, solid product.
A Quilters Paradise
An added little bonus to be enjoyed with this machine is the fact that it comes with a complete quilting kit. There's a ¼" foot, a walking foot, and a free-motion foot as well as a right-hand guide bar to help to line up your stitching, and darning plate in which to cover the feed dogs.  All of which should be sufficient enough to satisfy all your quilting needs.
So, if you are new to the world of sewing, not only can you learn the basics of everyday sewing, but you can learn how to make beautiful quilts too. It's quiet enough that if you do take it to class you won't be the noisiest one there, and it's easy enough to learn if you just want to sit down and work it yourself.
Janome Jem Gold 660 Review: Final Thoughts
The Janome Jem Gold 660 is a good all-round machine that isn't packed full of advanced features and functions but where it lacks in this department it makes up for in quality. As well as being a very sturdy and durable machine, the quality of the stitches it produces is second-to-none.
While it may only have the ability to carry out your everyday sewing tasks, those that it can do, it does very well. The 4-step buttonhole is easy to use, it moves at an acceptable speed, and you still get an automatic needle threader to play with.
So, if you're on the prowl for a great intermediate level machine to enable you to carry out all your essential sewing tasks and have a little fun with quilts should you wish, then the Janome Jem Gold is an excellent choice.
Related Articles: