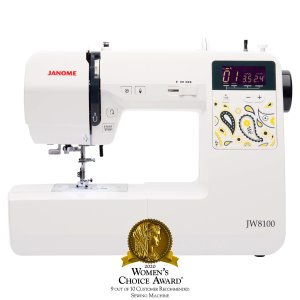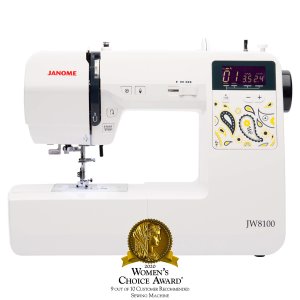 Sewing doesn't have to be something that's only done for a purpose. It's a valuable skill that people of all ages can enjoy and use as they wish, whether it be to mend and sew clothes or to create ornate quilts and other pretty home crafts. To help more people have the opportunity to sew using a quality machine, Janome is a company that's developed a wide range of products aimed at a wide range of users. So, whether you've got thousands of dollars to spend but no experience or you're a seasoned pro on a tight budget, you can be sure Janome has a machine that fits your needs.
Now, if you're looking for a top-quality, computerized sewing machine that's very well made, easy to use, and has more stitch options than you know what to do with, then you're in the right place. Not for the faint-hearted, the Janome JW8100 is a machine that's probably better suited to those with some previous experience of sewing machines. However, if you're a keen learner, then what have you got to lose?
Janome JW8100 Review: Overview
With help from a very intuitive computer, there a total of 100 stitches in which to choose from on the Janome JW8100. So, there isn't much you can't do with this machine in terms of utility or decorative stitching. Out of all of those stitches, 20 are of the basic variety for completing everyday sewing tasks, 28 are home décor stitches, and 7 are auto buttonhole stitches. In addition to all of those, you also get 27 heirloom patterns and 18 quilting patterns.
The computer's built-in memory function allows you to save the type of stitch pattern being used later on. While the LCD display is clear to read and easy to use. Not only does it exhibit the chosen stitch type, length, and width, it also suggests the kind of presser foot you should be using. Included as part of the package you get a variety of presser feet including a standard foot for basic stitching, a ¼" foot for quilting, a satin stitch foot for decorative sewing, and a zipper foot for inserting zippers.
And, the thread tension is fully adjustable and can be done by rotating the relevant dial situated above the needle. The maximum stitch width is 7mm, while the maximum stitch length is 5mm.
Advanced Features
As you've probably already gathered, the Janome JW8100 is one high-tech machine with a wide range of features and functions to explore.
The maximum sewing speed on this machine is a very ample 1000 stitches per minute. However, not everyone likes sewing with a foot pedal, and thanks to the handy stop/start button featured on this machine, you don't have to. And to control the speed at which you sew when not using the foot pedal, simply use the speed control slider located on the front of the machine.
Related Articles:
One of the most prominent features the Janome JW8100 has to offer for many people is the fact that it has 7 types of auto buttonholes, all of which are created with extreme precision in just one single step. And, it has a memorized needle up/down function that you can program to stop in whichever position you'd like when you stop sewing.
There's a reverse lever for when you want to reinforce your stitches, and what advanced machine would be complete without an automatic needle threader in which to save you time and stress.
Super Strong
The Janome JW8100 measures in at 16" x 7" x 12" and weighs around 20 pounds, so it's not the lightest machine around. However, the reason it's a little on the heavy side is that it's so solid and well made. With an interior metal frame and solid plastic housing, this machine is tough and more than capable of handling bulkier fabrics such as leather or canvas, with ease. And the fact that it has a 7-piece feed dog system helps to ensure your material is feed through nice and even.
Bumper Pack of Extras
While most sewing machines include at least a couple of accessories, with the Janome JW8100 you get 22 in which to assist you with all your sewing projects! This includes extra bobbins, needles, spool holders, and much more.
One of the most useful added extras you get with this machine, in my opinion, is the extension table which is 16" x 11". With this in tow, sewing larger items such as gowns, quilts, or curtains is a breeze. And, it has measurements imprinted directly on it to saves you having to hunt for a ruler in mid-flow.
And the free arm also doubles up as an accessory storage compartment to give you somewhere to keep it all.
Another nice added extra that not a huge number of machines come with these days is the hardcover. As well as using it as an effective dust cover when not in use, it also provides a great deal of protection for your machine if/when you do need to take it anywhere. And the integrated handle makes it much easier also.
Janome JW8100 Review: Final Thoughts
If you're looking for a sewing machine that's strong, fast, and has enough bells and whistles to keep even the most advanced machinist entertained for hours, then the Janome JW8100 is a good match. It may not be the cheapest model out there, but what you do get for your money, is nothing short of amazing. While it offers pretty much every innovative feature and function under the sun, it's all so easy to use. The automatic threader works like a charm, the feed dogs run super smooth, and the buttonhole feature is one of the best I've ever seen.
Using cutting-edge technology and a fantastic design team, Janome has created one amazing sewing machine that's highly recommendable to just about anyone with an interest. So, whatever your need and whatever your skill level, the Janome JW8100 is definitely a machine to consider investing in.
Related Articles: