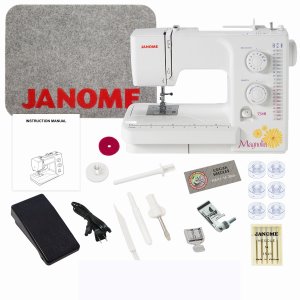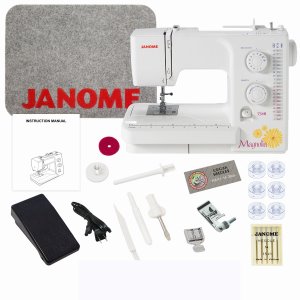 Learning to sew can be such an exhilarating experience. Having the freedom to design and create your own clothes and crafts is great fun, provided you have a good sewing machine to help. While sewing was of course originally done by hand, and still is in some cases, it's much quicker and less painful with the help of a modern sewing machine.
Finding the right machine to learn on can be tricky when you don't know what you're looking for. Thankfully, there are some really good quality machines out there that have been designed for beginners and these are usually labeled as entry-level machines. They're usually pretty basic in functionality but are very simple to operate and provide a great starting ground for those new to sewing.
One such machine that's quite a hot seller is the Janome Magnolia 7318, and in this review, I'm going to tell you all about it.
Janome Magnolia 7318 Review: Overview
The Janome Magnolia 7318 is an entry-level machine designed to accommodate anyone with very little (or no) experience in sewing. One of the first things you may notice upon looking at this machine is that there's no complicated computer to have to figure out. Everything you need to complete your sewing tasks is right there in front of you.
All 18 available stitches are displayed on the front of the machine and can be chosen using the stitch selector dial. Just underneath this is where you can select the stitch length – up to a maximum of 4mm. The stitch width can be adjusted using the dial located on the top of the machine – up to a maximum of 5mm.
For a highly skilled professional machinist who sews for a living, 18 stitches may seem pretty inadequate. But for anyone new to the world of sewing or who just wants a 'quick-fix' machine, it's perfect. There's also a 4-step buttonhole. And again, for the more advanced user, this may seem a little under par compared to the 1-step buttonhole function found on a lot of modern machines. But for the beginner, it's a great way to ease your way in gently. Too many will just be overwhelming. With these available stitches, you can still sew a wide range of garments, quilts, and decorative crafts.
Another bonus for beginners is the setting up of this machine is nice and simple. It has a top-loading jam-proof bobbin system that's easy to use and very efficient. And while you do have to thread your own needle on this machine, it's easy to do and is good practice for learners. The bobbin cover itself is transparent, allowing you to keep a close eye on your thread supply.
Quality Throughout
The Janome Magnolia 7318 measures in at 19" x 10.5" x 15" and weighs just over 17 pounds, meaning it's a great little machine for sewing on the move or taking to class with you. It even features a built-in carrying handle to allow for easy transporting.
And while the Janome Magnolia 7318 may be an entry-level machine, it still exudes high build quality. Even when sewing at its maximum speed of 830 stitches per minute, the machine remains stable. As a result of this machine being so solid, all the stitches produced are accurate and precise.
In terms of noise, it's also one of the quieter mechanical machines out there, peaking at around 65 decibels, which is slightly louder than normal conversation level. So if you do feel the urge to get up and do some sewing in the middle of the night, at least you know you won't wake the neighbors.
Added Extras
Being an entry-level model, you won't find tons of bells and whistles to play around with on this machine. Pretty much what you see, is what you get. However, it does have a few added extras you may not have noticed upon first glance.
Firstly, it's equipped with a super-bright work light that will illuminate your work spectacularly for you. Another added bonus is you also get a few accessories in which to help you complete your sewing projects. There are bobbins, needles, a darning plate, a foot controller, and a screwdriver. So not hordes of extras, but at least it's something.
Related Articles:
While the Janome Magnolia 7318 does feature a thread cutter, it is manual, I'm afraid.
If anything should go wrong with your machine, at least you can have peace of mind knowing that it's backed by a 25-year warranty. This includes 1-year free labor and accessory components, 2 years for circuit boards and other digital components, and a substantial 25 years for the chassis.
Janome Magnolia 7318 Review: Final Thoughts
I hope you enjoyed the above article and are now one step closer to owning your dream machine. If you weren't already convinced of how wonderful the Janome Magnolia 7318 was, then maybe you are now?
The Janome Magnolia 7318 was definitely designed with the novice in mind. It has a small (but adequate) stitch selection, and it's not the most featureful machine out there. But it takes seconds to set up, is so smooth when in use, and it's totally affordable. If you are a beginner and need a portable machine to take to class, the 7318 fits the bill. If you need a cheap machine to use on the fly – the 7318's got your back.
Because it's made from Janome, you can also rest assured that you are investing in a top-quality product. Despite it being a basic model, it's still very well made and capable of sewing up to 830 stitches per minute without so much as a shudder. It also looks great too.
So, all-in-all, the Janome Magnolia 7318 is a fantastic little machine that's suitable for just about anyone.
Related Articles: