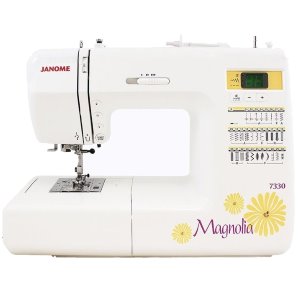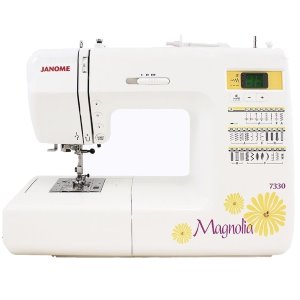 Janome is a Japanese company that was founded in Tokyo back in 1921, which specializes in the manufacturing of sewing machines. For nearly 100 years the company has continued to develop a wide range of top-quality sewing machines fit for both the industrial and home user.
While the basic concept of these devices remains unchanged, the overall design, and various features and functions they have, may have altered slightly, especially since the development of the company's first computerized sewing machine, in 1979 – the Memory 7.
For its time, the Memory 7 was a marvel. Nowadays, probably not so much. But thankfully, Janome isn't a company that likes to stand still. Since then, it's developed a plethora of different sewing machines fit for people of all skill sets and for all budgets.
In this review, I'm going to be exploring one of Janome's top-selling models – the Magnolia 7730. Hopefully, by the end, you should have a much better idea as to what this machine has to offer, and if it's a suitable choice for you.
Janome Magnolia 7330 Review: Overview
The Janome Magnolia 7330 is a solid intermediate level sewing machine that's both featureful and easy to use. You get a mixture of 30 utility and decorative stitches to work with on this machine, including 6 x 1-step buttonholes, which is quite a lot for a machine of this caliber.
Getting started on this machine is a breeze thanks to the top load, drop-in rotary hook bobbin. Simply lift the transparent lid, drop in your bobbin, and close the lid. There's also an automatic needle threader to make light work of that also. Threading is nice and simple too, thanks to the thread guides printed on the machine.
One of the things I like most about this machine is that you can use it with or without the foot pedal. Instead, you can simply use the start/stop button located near the needle and the speed control slider in which to set how fast or slow you sew. Another of my favorite functions to be found on this machine is the automatic thread cutter. It may be a simple little feature, but it will save you hours upon hours in searching for scissors.
A Pretty Little Number
When it comes to looks, the Janome Magnolia 7330 has it covered. With a splash of bright yellow in all the right places and a few nice floral decals to brighten it up, this has to be one of the most calming machines ever to work with. Because of its simple appearance, it appeals to a wide audience including newbies, young people, and professionals alike.
Measuring in at 22.25" x 15.5" x 12.4", and weighing just over 20 pounds, it's not the most compact machine out there, but it is well proportioned with every control within easy reach. One of the reasons as to why it's so heavy is that it's built using an aluminum frame that's strong and tough and quite capable of handling even those thicker fabrics such as denim and corduroy.
It also features a Superior Feed System (SFS) that's there to ensure your fabric is fed through smoothly. This system consists of a 7-point feed dog and works exceptionally well whether sewing with lightweight fabrics such as silk, or more heavyweight material such as denim.
Easy Adjustments
Whether it's via the on-board computer or it's a manual dial, everything is so easy to adjust on this machine.
Navigating the LCD screen is done via the use of the three buttons located underneath. Using these controls, you can select your stitch type in a matter of seconds. Simply find the stitch you'd like to use from the handy stitch guide that's printed on the front of the machine. Then use the navigation buttons to input the corresponding number into the computer.
Related Articles:
Underneath your stitch selection will be a letter. This corresponds to the type of presser foot you should use with it. There are 4 different presser feet in total: a general-purpose foot; a zipper foot; a satin stitch foot; and an automatic buttonhole foot. All of which will help you complete your sewing tasks to a high standard.
The stitch width and length can be adjusted to a maximum of 7mm and 5mm respectively. And there's a reverse stitch button in which to reinforce your stitches to prevent fraying. Another great feature Janome Magnolia 7330 has to offer is that you can program the needle to stop in 1 of 3 positions, which is a great help when free-motion sewing.
Added Extras
In addition to this fabulous machine, you also get a good selection of accessories included with your purchase. You get: 4 bobbins, 3 packs of needles, 2 spool holders (small and large), an additional spool pin and a spool stand, felt, a seam ripper, and a screwdriver.
Two other benefits to be seen from this machine are that it has a very good lighting system and it's whisper-quiet even when running at its top speed. Both of which will enable you to keep your sewing whatever time, day or night.
Janome Magnolia 7330 Review: Final Thoughts
Well, I hope you found the above article helpful and are now one stitch closer to bagging the best machine to suit your needs. Just to summarize it for you, the Janome Magnolia 7330 is a fantastic machine that's suitable for users of all skill levels. While it is more of an intermediate level machine than an entry-level one, it's so easy to use that even those with very little, or even no, prior knowledge will get along just fine with.
With just 30 different stitch options to choose from, the more advanced user may feel a little disappointed. But, at the end of the day, most people only ever end up using a handful of them, so is there really a need for so many?
It's easy to use, produces a flawless finish, and won't break the bank. What more could you ask for from a Janome sewing machine?
Related Articles: