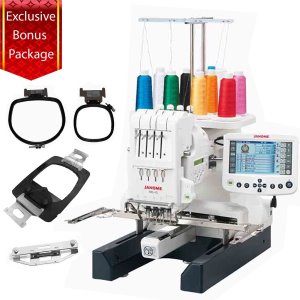 Embroidery is a hobby for thousands of people across the world and for a good few more, it's their career. And while the art of embroidery has been around since around 30,000 B.C, that we know of, the whole process has changed somewhat. Much of which is due to the introduction of the modern embroidery machine. These new, electronic machines bought in a whole new era for those involved in sewing and embroidery. No longer was embroidery a long-winded and sometimes painful process. It was now something that could be enjoyed by the masses.
With a wide range of machines available to choose from, many of which are specifically for embroidery purposes, Janome is one of the few companies that helped propel this industry into what it is today. And in this review, I'll go through the ins and outs of one of the company's flagship embroidery machines – the Janome MB4-S. It's a computerized 4-needle machine that can do just about anything when it comes to the art of embroidery. There are tons of design capabilities and it's a very well-made piece of kit. What else does it have to offer? Keep reading to find out.
Janome MB4 Review: Overview
When it comes to the durability of this machine, you have zilch to worry about. The Janome MB4-S is a stone's throw away from being a commercial machine. It's heavy-duty, extremely well made, and it runs like a dream. So, in terms of how accurate the stitching is, again, you need not have any concerns. There's no vibrating when in use, and it's been designed with the professional user in mind. It's very functional and produces a professional quality stitch every time.
In terms of speed, the MB4-S has a maximum embroidery speed of 800 stitched per minute. And while that may be pretty average for a sewing machine, for an embroidery machine that's lightning speed. In fact, you would struggle to find a faster machine designed for home use.
Enhanced Capability
There's no denying that the Janome MB4-S is one solid piece of machinery. While it is marketed as a home machine, there are many traits of this machine that make it appear more of an industrial model. For example, not many home embroidery machines have four needles. The benefit of this being you can use four different color threads at once without having to stop sewing, allowing you to create the most beautiful embroidery in such a short space of time.
One of the machine's most prominent features is that of the remote screen control (RCS). With this function you get complete control over your embroidery right from the 5.7" screen. Here you can select your embroidery speed, pattern, and so on. It's easy to use and can save you a great deal of time when using it for work purposes.
Related Articles:
Another great feature this machine has to offer is the built-in LED light. And while this isn't usually something I'd home about, it's so bright and provides so much illumination in all the right places that I'm confident you could sew in the pitch dark if you really wanted to.
The embroidery area on this machine measures in at 9.4" x 7.9", which is pretty big for a home machine. So, if you are looking to embroider (or do already) for a living and need to be able to create various projects of different sizes, this is a great machine to have at your disposal.
Options, Options, Options
When it comes to design capability, the MB4-S is not too bad in terms of what's already on offer. It comes with 50 built-in embroidery designs to help get you started. Or, if you'd prefer, simply upload your own design via the handy USB port and modify or complete it as you wish. It even has a memory capacity to store up to 100 of your own designs to be used whenever you need them. You also get 10 monogramming fonts to add some more creativity to your work. These are great for adding people's initial to things like towels, or bathrobes.
Extra Bells and Whistles
There are so many fantastic attributes integrated into this machine, it's hard to know where to start in telling you them all. However, one feature that outshines the rest (in my opinion) is the dedicated bobbin winding motor, so let's begin with that. This is something that's quite unique to this model and that you won't find on any professional machine. With this feature, new bobbins can be wound on even while the machine is in full swing.
Another fabulous feature the MB4-S has to offer is the programmable jump thread trimming. With this function enabled, the machine will automatically trim your jump threads after the set number of stitches. There's also an upper thread and presser foot sensor which locks up the machine if the incorrect settings or positions are detected.
Along with the machine itself, you also get a range of complementary accessories, including 5 bobbins, 5 spool caps, 9 spool nets, scissors, a lint brush, a seam ripper, and various other bits and pieces.
Janome MB4-S Review: Final Thoughts
This machine is not for the faint-hearted or those just starting out in the world of embroidering. While it's not a particularly difficult machine to use, it is aimed more at the professional user. The Janome MB4-S is a top-spec model that's made to the highest standard with top quality components. It's can move just as fast as an industrial machine and produces a finish that's absolutely flawless.
There's a variety of built-in designs to work with or you have the ability to use your own, so design possibilities are unlimited. And, with features like an automatic thread cutter and a dedicated winding motor to offer, what's not to like?
So, if you're a professional embroiderer looking for an industrial-type machine that offers excellent features and is designed for home use, then the Janome MB4-S is the perfect match for you, and one that I'm sure won't disappoint.
Related Articles: