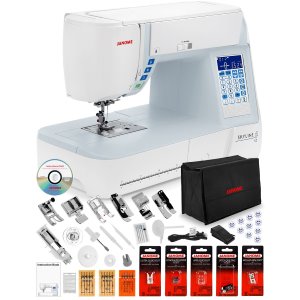 Sewing is a craft that's been around for thousands of years. And while it may have been created out of need as opposed to want, nowadays it covers both on a wide scale. Sewing practices evolved largely with the introduction of sewing machines. No longer is everything you wear handmade. In fact, there is probably very little you wear that is.
But sewing isn't just for professionals. There are a lot of people out there that simply sew for fun or to fix their old clothes. Whatever your reason for wanting to sew, one thing is for certain – in order to carry it out to a high standard in a relatively quick and painless manner, you need a good sewing machine to help. And, that's where the Janome Skyline S3 comes in.
The Janome Skyline S3 is a mid-range sewing machine that seems to have achieved the perfect balance between functionality and usability. It's advanced enough for those with some serious skills to get their teeth into, while its smooth controls allow for those with very little prior knowledge to learn the ropes.
Janome Skyline S3 Review: Overview
Whether you've been sewing since you were knee-high to a grasshopper or you've never sewed a thing in your life, once you've used this machine, it's unlikely you'll want to use another as everything runs so smoothly and is so easy to control.
The maximum sewing speed on the Janome Skyline S3 is a modest 820 stitches per minute. And with this machine, you get a choice of how you want to control that speed. You can either use the enclosed foot pedal or instead control the speed stop/start and speed slider buttons on the face of the machine.
On the underside of the top cover of the machine, you'll find a convenient stitch reference chart to make selecting your stitch much easier. Simply find the stitch you want to use and plug it into the computer using the controls under the LCD screen. Then, watch as your stitch type and measurements are displayed clearly in front of you.
Another fantastic feature that learners, in particular, will appreciate is the jam-proof, top-loading bobbin system. Changing the bobbin is a breeze on the Janome Skyline S3.
It also has an automatic needle threader and thread tensioner. So, two fewer things for you to worry about!
Features and Functions Galore
You're certainly not short of design capabilities when it comes to using the Janome Skyline S3. With 120 built-in stitches to choose from, including 7 (yes 7!) 1-step buttonholes. The maximum stitch width is 7mm, while the maximum stitch length is 5mm.
It also features a lock stitch button which is particularly useful when quilting and a conveniently placed reverse stitch button that's used to reinforce your stitching. You even get 71 unique needle positions to choose from, giving you the utmost accuracy when it comes to decorating fabrics or quilting.
Related Articles: 
One of the machine's key attributes is the Superior Feed System Plus (SFS+) that's featured on the machine. With this 7-piece feed dog system on-board, even the thickest and heaviest of fabrics glide across the needle plate with the greatest of ease.
Also integrated into the Janome Skyline S3 is not one, but four super-bright LED lights that illuminate your workspace phenomenally. The backlit LCD screen is also very bright, displaying clearly your stitch selections. No more eye strain for you when using this machine.
Versatility
The Janome Skyline S3 is quite a popular sewing machine for many reasons, one of which is how very versatile it is. Whether you need to sew a button on a shirt, mend a hole in your trousers, or create your very own patchwork quilt, this machine has all the functionality and more to enable you to do just that.
Thanks to its sturdy build, this machine is capable of achieving a maximum sewing speed of 820 stitches per minute. And with that kind of power behind it, this machine can easily plow through a variety of tougher fabrics such as leather, canvas, or denim.  There's very little excess movement while it's in operation, and it's one of the quieter sewing machines out there too.
Included with the machine are various presser feet to help when completing different tasks. There's a ¼" seam stitch, a satin stitch, a zipper foot, a zigzag foot, a blind hem foot, an overage foot, and an automatic buttonhole foot. And, it also has a high presser foot and pressure adjustment which enables you to control how hard the presser foot impresses on the feed teeth.
Strong and Stable
Measuring in at 19" x 12" x 9", and weighing a hefty 22 pounds, the Janome Skyline S3 probably isn't the best machine to be moving around every day. However, if you're looking for a machine to sit at home or in a workshop that's going to be tough and durable and capable of completing a wide range of tasks then this is the model for you.
In addition to being a heavy-duty machine, it also offers a nice big workspace to carry out those larger projects. With a bed space that's 8 ¼" x 13" there isn't much you can't sew with the help of this baby.
Janome Skyline S3 Review: Final Thoughts
If you're looking for a top-spec sewing machine that's fitted with as many bells and whistles can possibly be squeezed in, then the Janome Skyline S3 may well be the next model for you. It's modern functioning with a range of automated features to save you time and effort; it's solidly made, staying put while in use; and it doesn't take a genius to work. There's also quite a large collection of stitches to work with for both sewing and quilting purposes.
So, whether you're a seasoned pro or a newcomer into the delightful world of sewing the Janome Skyline S3 is a dream to work with and highly recommendable to anyone and everyone.
Related Articles: