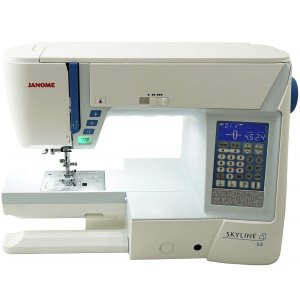 To become a highly-skilled machinist takes a lot of dedication. As well as setting aside the time to learn all the different aspects of sewing, you also need to put in a lot of practice in order to really hone your skills. It's not usually something people perfect in a matter of minutes and not everyone finds it easy. However, once you've put in the hours of hard work in learning how to sew, it's a valuable skill that's never going to go away.
Once you've developed your sewing skills to a competent or at least semi-competent level, it's time to ditch the entry-level machine and move on to something with a little more oomph. And that's where the Janome Skyline S5 comes in.
Another fine example from the 'S' line of Janome sewing machines, the Skyline S5 is a true force of nature that will make even the most advanced machinist blush. It's one of the company's leading models that's designed to take modern sewing to the next level.
Janome Skyline S5 Review: Overview
Being equipped with a high-tech computer is just the start of it when faced with the Janome Skyline S5. With a total of 170 utility and decorative stitch options to work with, the design capabilities you have with this machine are never-ending. Just flip the lid and underneath you'll find a very handy stitch reference guide for easy perusal. As well as being able to view all the stitch types, it also displays all the alphabets too.
Another pretty awesome feature this machine has to offer is it comes with no less than 10 auto buttonholes, which is more than most machines out there in this class.
On the right-hand side of the machine is where the large monochromatic screen and controls sit. Using these function buttons, you can select your stitch type, width, and length. And just as easy to operate but over near the needle are further function buttons which allow you to start/stop the machine, position the needle up/down or trim your thread.
Moving on from the basics, the Janome Skyline S5 has many other fabulous features to unveil. Firstly, it has an automatic needle threader in which to take that worry away. It also features an automatic thread cutter to save you searching for scissors every five minutes. You have the option to sew without a pedal thanks to the stop/start function, and it has 6 built-in LED lights to light up your workspace.
Simplistic Operations
While it may be a little too advanced for someone completely new to the world of sewing, anyone with a slight inkling of how to sew using a modern sewing machine should be fine. So, if you are worried about getting in a mess when trying to thread this sewing machine, then don't be.
Despite its high-tech, futuristic appearance, the Janome Skyline S5 is actually a pretty easy machine to work. The threading process is nice and simple. And, thanks to the auto declutch bobbin winder winding of the bobbin takes minimal effort.
Another function that's really easy to operate is the needle up/down function. With just a touch of this button, the machine will memorize the position in which you leave the needle. Then you can return to it exactly where you left off.
A Shirt Today, A Quilt Tomorrow
One of the biggest selling points this machine has to offer is that it's so very versatile. If you want to mend clothes, there are enough stitch types and presser feet to allow you to do that with ease. If you want to sew a quilt, that too is a breeze thanks to the 21" x 12" workspace that sits to the right of the needle.
Related Articles:
Some other helpful accessories to aid you when quilting are: a ¼" quilting foot which enables you to stitch quilt blocks; a walking foot to make managing your fabric easier; and a free motion foot that enables you to sew freely in any direction.
Perfect Performance
The maximum sewing speed on the Janome Skyline S5 is 1000 stitches per minute. But even at these speeds, thanks to the machine's solid and sturdy frame, there's no vibration at all, meaning you get an accurate stitch each and every time. A lot of this comes down to the machine's advanced feed system. With this system in place, the fabric is fed through fast and evenly. And surprisingly, it's actually a pretty quiet sewing machine compared to some others out there.
Another bonus this machine has to offer is the automatic thread tension system. The tension can be set manually using the dial located on top of the machine. However, when the 'A' is selected, the auto tension function is initiated which automatically ensures the right level for your fabric. It really is a great feature that works like a charm.
Janome Skyline S5 Review: Final Thoughts
Not for the faint-hearted, this machine is bursting with feature after feature and is the perfect aide to any skilled or semi-skilled machinist. While it may be a little on the pricey side, but when you sit back and take a look at all the fantastic features you're getting for your money, it's hard to be disappointed.
This machine has a sewing speed that ranges from as low as 60 stitches per minute to as fast as 1000 stitches per minute. It comes loaded with an enormous collection of stitches to work with including 10 auto buttonholes. For such an advanced machine, it's so easy to operate and runs like a charm each and every time. You've got all your favorite features to play around with like the automatic needle threader and thread tensioner, and it's pretty painless to set up.
All-in-all, if you're looking for a top-quality sewing machine, that's versatile, reliable, and money's not a concern, then Janome Skyline S5 is definitely a machine to consider. As is by far, one of the best around on the market today.
Related Articles: