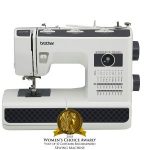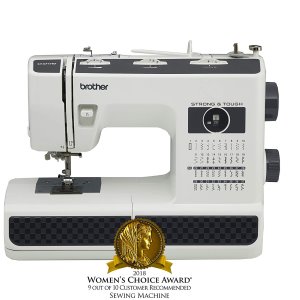 37 Stitch Options
6 Sewing Feet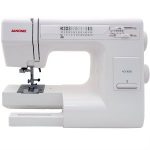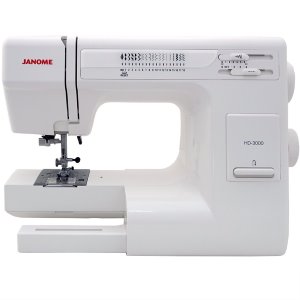 18 Stitch Options
Lots of Accessories
Janome vs Brother is a long-standing battle between sewing machine giants. And today we are going to reach a conclusion once and for all, deciding which heavy-duty sewing machine is the best. It comes down to the Janome HD3000 and the Brother ST371HD. Both machines are durable, strong, and offer a lot in terms of features.
Who are these machines best for? Well, for anyone who wants a strong machine with tough components that are not going to breakdown on them every time they turn it on. The great thing about using a heavy-duty sewing machine is that you know it will function the way it is supposed to.
For people who move their machines around a lot, a heavy-duty sewing machine is best because it will not be compromised by a lot of jangling or rough movements. These machines are also ideal for people who like to abuse their sewing equipment. If you are a hardcore sewer, you need a hardcore sewing machine.
---
Janome HD3000 Sewing Machine Review
The Janome HD3000 Sewing Machine is simply fantastic. With so many features loaded into one unit, you will be astounded at the value you get with your purchase. At an incredibly affordable price, you receive an enormous basket of high-quality accessories like specialized feet, unique needles, and usable bobbins.
You also get a sewing machine with built-in stitches, a simple operation, and automatic features that make sewing faster and easier.
So Many Accessories
If I had to list all the accessories that come included with the HD3000 Sewing Machine, I would run out of space. You get packs of needles, packs of bobbins, an incredible amount of sewing feet that will have you tackling hardcore projects in no time, and smaller accessories that are instrumental in operating a sewing machine.
Automatic Needle Threader
There is nothing better than an automatic needle threader. If you are upgrading from an old model that had no automatic features, you will be pleasantly surprised to see how easy it is to thread your needle when you don't have to do it yourself. This is a must-have feature in any new machine.
And in case that doesn't make you happy enough, you get a top-loading bobbin system that is totally jam-proof. That should really take the edge off when worrying about any possible jams.
---
Brother ST371HD Sewing Machine Review
The Brother ST371HD Sewing Machine is a seriously heavy-duty unit. I mean come on, it has "Strong & Tough" written on its front. And despite its raw toughness, the unit is actually extremely easy to use for anybody. And it is a fun machine, with lots of built-in stitches for decorative purposes and arts and crafts.
More Than Meets the Eye
While this may look like a big brutish sewing machine on the outside, it is actually extremely gentle and highly portable. It has a strong and lightweight frame that makes it ideal for those who take their sewing machines with them to different places.
Plus, you get loads of usable workspace to tackle the largest jobs, like when you need to make a massive quilt. With the versatile free arm, you can use the Brother ST371HD sewing machine for way more projects than with other models that are similarly priced.
Great Support
One of my favorite things about buying sewing machines from Brother is that they always offer the best technical support. If something were to somehow go wrong with your new machine, you could easily reach technical support by calling, by reaching out online, or by doing a live chat. This service is available for the life of your machine.
---
Janome vs Brother: Main Product Differences
These machines are basically the same price. We don't need to talk price points. And while both come with automatic features like the needle threader, there are some serious differences to consider before making your purchase.
Built-In stitches
The Janome HD3000 comes with 18 built-in stitches. The Brother ST371HD has 37. It may not seem like a big difference, but if you are new to sewing and would like a moderate amount of options to choose from for your stitching patterns, 37 is definitely a lot more than 18. While many professionals don't require built-in stitches, for some people this is a deal-breaker.
Full Features
It should be noted that neither machine comes with a digital screen. Everything is set using dials and buttons. It should also be noted that both machines come with an automatic needle threader and a drop-in top bobbin system that is jam-proof.
However, when it comes to accessories, the Janome machine has more. However again, the machine from brother comes with heavyweight needles because it is a heavyweight machine. It also includes six sewing feet that are very useful for getting started. And even though the Janome may come included with more accessories, some may argue that the stuff that comes included with the Brother is of better quality. In the end, it's quality vs quantity.
The other main difference Is that the ST371HD comes included with a special free arm that allows you to work with a wider range of sewing projects. Having a versatile free arm with your machine can be critical to completing some tasks. The HD3000 does not have a free arm.
Janome vs Brother: Final Thoughts
My final thoughts on Janome vs Brother, or should I say thought, is that I like the Brother ST371HD more. It looks tough, it feels strong, and it is a workhorse plain and simple. You get great support from Brother if anything goes wrong, it comes included with well-built accessories, it has standard automatic features and a jam-proof bobbin system, and it is included with enough built-in stitches to give you a lot of options straight out of the box. There is even an auto-size buttonhole.
When you need a heavy-duty sewing machine, you want something that is built tough and built to last. This is what you get with the Brother ST371HD.
The Janome HD3000 is also extremely tough, and it is very powerful with great sewing performance. I do say the HD3000 is enough to rival the Brother sewing machine, but I have to go the other way on this one. The ST371HD is my preferred unit.