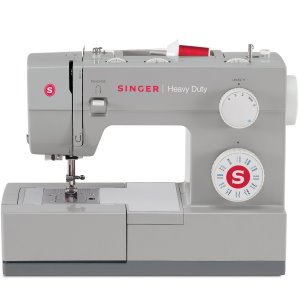 1,100 Stitches Per Minute
Durable & Robust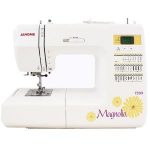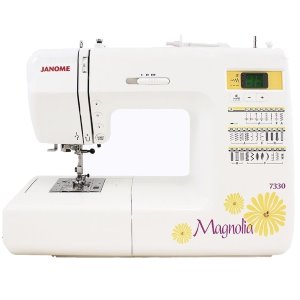 Automatic Needle Threader
Good Stitch Options
You may have wondered to yourself, which sewing machine company is better, Janome vs Singer? And if you are someone who is familiar with these two brands but is unsure which offers the best sewing machine, you need to read on!
I love both of these companies. Janome offers some of the best budget sewers that you will ever find, while Singer delivers seriously heavy-duty sewing machines that are designed to last a lifetime. Trying to decide which company is better, Janome vs Singer is basically impossible. But we can take a look at two of their most popular machines and see which is the better value.
Today we will check out one of Janome's innovative computerized sewing machines, the Janome 7330, and pit it against Singer's ultra-tough 4423 Heavy Duty Sewing Machine. Both units offer unmatched quality and will be an ideal addition to your sewing room.
---
Janome 7330 Magnolia Sewing Machine Review
The Janome 7330 Magnolia Sewing Machine is an extremely professional sewer that offers adjustable speed control, the ability to sew without using a foot pedal, a bright LED display, 30 built-in stitches, and an entire accessories package.
Not only do you get this high-quality sewing machine, but you also get an entire package of useful accessories like the concealed zipper foot, the Janome universal needles, and other miscellaneous tools.
Upgrade Your Sewing
If you are feeling tired or bored with your current sewing machine, it may be worth upgrading to the 7330 Magnolia to get some extra power behind your sewing. This machine comes with a convenient drop-in bobbin and a transparent bobbin window, an extremely useful needle stop, and 30 useful stitches for clothing construction.
This machine comes with far more features than most standard machines, and it is sold at a steal of a deal. This machine is super affordable, and it is built to last you for years to come.
Classic Janome
This machine looks like a classic. It is completely white except for the massive Magnolia artwork in the corner with bright yellow flowers. Also, the area around the digital display is yellow. Whether you appreciate the extreme amount of yellow on this machine is a personal opinion. For me, I think it looks terrible. But others may like the classic Janome look.
---
Singer 4423 Heavy Duty Sewing Machine Review
You won't find a more robust classic than the Singer 4423 Heavy Duty Sewing Machine. This unit is all about strength and speed. It offers an impressive stitching speed of 1,100 stitches per minute along with a motor that is 60% stronger than previous models.
Heavy-Duty Madness
If you want a heavy-duty sewing machine, there is no company better than Singer. The 4423 is built with an exceptionally strong metal frame and a super tough steel bedframe. The motor is heavy and strong, and even the outer housing is built to withstand maximum punishment.
The internal components are built to continue working for many years to come, and you can expect to operate at the maximum speed of 1,100 stitches per minute for hours on end without any overheating or malfunction.
Quality & Automation
Along with being extremely strong and tough, the 4423 offers quality stitching. Even when you are stitching through heavy fabrics or many layers of fabrics, you will be pleased to see the stitches are straight and consistent.
Automatic features are everywhere these days, and the 4423 is no exception. It comes with an automatic needle threader and 23 built-in stitches so that you can master a variety of different kinds of projects, including fashion projects and craft projects.
---
Janome vs Singer: Main Product Differences
While these two sewing machines are extremely similar in price and quality, they are a bit different. Each machine offers unique features that the other does not have. And while you would be wise to have either machine in your sewing room, there are some main product differences we need to assess.
Quality Build
Let's talk about quality. The Janome 7330 is an excellent sewing machine that sews very well to deliver consistently strong and secure stitches. It has a standard frame and a fairly standard area for working. However, the Singer 4423 is extremely heavy duty. It sews just as well as the Janome, yet it has a stronger frame, a more robust motor, and an even more dependable body.
If I had to pick between the two, I would say the 4423 is the stronger unit. It is built to be a workhorse. Its stitches per minute are better, its motor outputs more power, and it is more portable and less prone to breaking.
The Looks
It is safe to say these two sewing machines are on the same level. They both offer similar qualities of stitching, they are both strong and dependable, and they both come with an array of built-in stitches, though the Janome does have seven more than the Singer.
And so, the main difference comes in the appearance of the machines. I personally like the Singer's gray facade and simplistic setup. It looks strong, it doesn't have any overwhelming designs that distract me, and it looks easy to use.
However, I find the Janome is a little bit messy. It has too much going on in terms of visual art, the yellow color is super ugly, and it looks unnecessarily complicated with its tiny LED display and menu of stitch patterns.
Janome vs Singer: Final Thoughts
You probably want to know which machine is the best. I have to tell you now that both machines are excellent overall. Whether you choose the computerized Janome 7330 sewing machine or the heavy-duty Singer sewing machine, you are making a great decision.
However, I would definitely choose the Singer 4423 Heavy Duty Sewing Machine. It is built way tougher than most machines, its components are designed to last way longer, and it is simple to use with its easy system of dials. You can't beat the quality of the 4423.
The 4423 has a carrying handle that makes it very portable, it comes with an automatic needle threader, it boasts an absolutely impressive 1,100 stitches per minute, it is available with bonus accessories and a carrying case, and it can stitch the heaviest fabrics and the thickest layers.
For a beginner or a pro, I highly recommend the Singer 4423 Sewing Machine. It will never let you down.