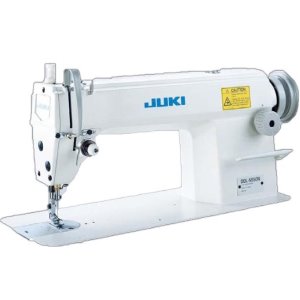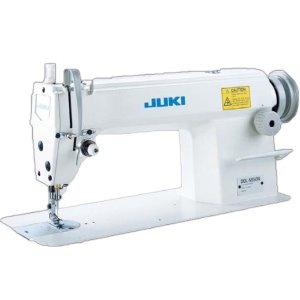 Welcome to my Juki DDL 5550 review. Today we're going to look at one of the most intense sewing machines Juki has ever released. This baby has a maximum stitch length of 5 millimeters, a maximum sewing speed of 5,500 stitches per minute, and an industrial clutch motor.
If you are ready to upgrade your sewing machine into something industrial that can take on heavier fabrics, tougher jobs, and can dramatically increase your output, it is time to look at the Juki DDL-5550. This machine will do everything, from quilting to garment repair, to straight-up making your own factory inside your house.
This machine is great for people who own a business and are constantly sewing. You can easily stitch through layers of all kinds of light or thick materials, though it is not recommended to be used with leather. No more stressing over how long it will take to finish the job. Using the Juki Industrial Sewing Machine, you will complete all your projects in record time.
Juki DDL 5550 review: Overview
There are so many great things to say about the Juki DDL-5550 Sewing Machine. It is a very quality product. In fact, I think it is one of the best home machines you can own. It comes fully constructed, it does fantastic work with stitches, and it will last you a lifetime. There is so much you can do with this amazing Juki sewing machine.
Incredible Performance
There is no other machine that can beat the DDL-5550 in terms of performance. This machine can sew over all kinds of thick layers of fabric without a single hiccup. And even though it is not recommended for leather or other thick materials, it can definitely work on them. But where it really shines is with many layers of thin or medium fabrics, like lace, fleece, cotton, and much more.
Furthermore, this is a super quiet machine. The motor outputs a crazy amount of power and yet the machine does not make a racket. It almost sounds like the machine is simply whispering while it is in motion. You are even able to adjust the speed of the motor, turning it to low until you can finally master its amazing 5,500 stitches per minute. You are then able to jump the motor up in speed.
As another awesome feature, you get a built-in bobbin winder that allows you to sew and to wind the bobbin at the exact same time. The bobbin will automatically stop as soon as it is full.
Fabulous Price
While it is true that most hobbyists do not require a fancy industrial machine for making curtains, quilts, drapes, tablecloths, and all kinds of other miscellaneous things, the price kind of makes it worth it.
The price of the Juki DDL-5550, which comes with one of the most powerful motors and one of the sturdiest sewing tables in the business, actually costs less than most high-end sewing machines that don't have tables.
Obviously, if you want fancy computerized features and lots of stitches, this machine won't be for you. But who really needs that stuff? There are not many times when I myself really need to use anything other than a straight stitch. And if you want the best straight stitch possible, this machine delivers.
Already Set Up
One of the greatest things about buying this particular model is that you do not need to build it. You do not need to confuse yourself by sifting through dozens of confusing parts and trying to put the machine together piece by piece. The entire machine comes already constructed and ready for you to use.
This awesome sewing machine will be delivered to your front door on a pallet. I recommend having another person to help you there because it is extremely heavy. But once you get it set in position, you will never need to move this sewing machine again.
Related Articles:
The quality of the machine is so great that you will never need to buy replacement parts. And if you do for whatever reason, you can simply order them from the manufacturer very easily. The only thing you need to set up once the machine is delivered is the thread holder, which you can easily screw on. Then you must add oil. But that is it! Once the oil is added, you are ready to sew.
Also, you don't need to buy oil. This machine comes included with a pack of needles, a bobbin case, a pair of screwdrivers, a bobbin, and an entire bottle of oil for the machine. However, it only comes with a single presser foot.
You don't even need to worry about threading the machine, as it is extremely simple. If for whatever reason you get confused while threading the machine for the first time, there are many tutorial videos that you can watch to learn how to thread it.
Juki DDL 5550 Review: Final Thoughts
When it comes to an industrial sewing machine, you cannot beat the Juki DDL-5550. This baby is manufactured in Japan. It is perfect for sewing any kind of fabric that is lightweight or medium, it has almost no vibration, the motor is super quiet, and it has been optimized for the most comfortable operation yet.
My final thought is that you must buy this machine if you are looking for a complete unit. The DDL-5550 comes as a complete setup with the sewer, the table, the stand, the motor, the drawer, and the sewing light. Plus, it has all of the components you need to start working straight out of the box.
While it is true that this machine is not intended to be used with extremely heavy fabrics, it is still great for any hobbyist. This is especially true if you run a hobbyist business from home, as you can now have a powerful industrial machine at your fingertips in your own house.
Related Articles: