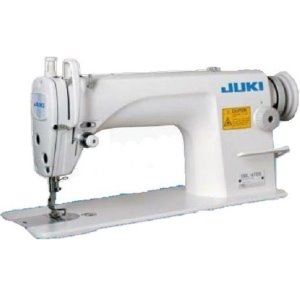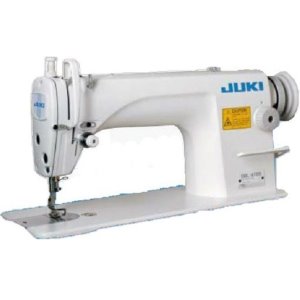 Welcome to my Juki DDL 8700 Review. If you are in the market for a powerful industrial sewing machine and table, this is the unit for you. This machine is great for denim and jeans, it has an outstanding sewing speed of 5,500 stitches per minute, and it is extremely durable. This thing is heavy-duty.
The sewing machine comes delivered in three separate boxes and can be assembled easily within an hour. You can then use this massive sewing unit for all kinds of industrial jobs, like sewing entire boxes of jeans in barely any time at all.
The table is clean and sturdy, the sewing pedal is big and comfortable, the straight stitch sewing machine makes incredibly professional stitches, and the motor is robust. There is no other sewing machine table at such an affordably low price that will do the same job as the Juki DDL-8700.
Juki DDL 8700 Review: Overview
So, you want a full industrial sewing machine with an industrial-strength table to boost your sewing capacity by a lot? Well, you have come to the right place. So long as you are able to assemble this unit yourself, you will be extremely happy.
With a small set-up time of just one hour, you'll be on the road to finishing sewing jobs super quickly. Nothing will stand in your way anymore, and all your sewing friends will be jealous of how much work you can finish with your new industrial-grade sewing machine.
Blinding Speed
The Juki DDL 8700 has a stitches-per-minute count of 5,500 at maximum. Most standard sewing machines only have between 500 and 1,000 stitches per minute. Just think about that. When you buy this machine, you get over five times the stitching speed that you would on an ordinary sewing machine.
What does all this speed translate to? It means you can finish jobs in the blink of an eye. Want to make a quilt in a day? No problem! Want to sew a dozen pairs of pants for your local clothing drive? You can do it! The blinding speed of this machine means that you can complete any possible sewing task in record time.
Heavy & Light Fabrics
While most people want an industrial sewing machine so that they can use it for crafting articles of clothing from denim or leather, as the sewing machine is incredibly strong with a big and powerful motor, it should be noted that you can also sew very delicate fabrics.
Even if you want to sew silk or extremely lightweight polyester, you can use this extremely powerful sewing machine to do so. However, it should be noted that if you are planning to sew a lot of delicates, you may want to switch the standard feed dogs for nylon feed dogs. The factory feed dogs are built tough and might chew through your delicate fabrics.
Lots of Space
Not only do you have tons of table space with this all-in-one sewing machine and table, but you also get a pretty big arm space on the machine itself of exactly 11 inches. This will allow you to work on oversized quilts with ease.
Also, the stitch length of your new machine can go up to exactly 5 millimeters. This gives you loads of freedom to get your job done properly. Not only that, but Juki DDL 8700 can go all the way down to 6 stitches per inch for extreme detail on close jobs.
Powerful Systems
There are a few mechanics and systems in the Juki DDL 8700 that ensure you can make the highest quality garments. It comes with a unique single-needle lockstitch mechanism and an automatic lubrication system.
Thanks to the lubrication system, your machine is going to stay perfectly maintained without you needing to put in a lot of effort. The lubrication system is totally automatic to keep your machine running smoothly.
Industrial Tasks
Ask anyone who has used this machine and they will tell you it is amazing. Not only is it well worth the money, but it performs even better than you expect it to. Whether you are doing automotive upholstery, making lots of garments, stitching bulk projects, or just using it at home in your sewing room, you will be pleasantly surprised.
The motor is extremely powerful. With such an intense output, your needle can pierce many different layers of fabric and can sew through the toughest industrial materials without any issues. And even though it is so powerful, the machine is practically silent.
Related Articles:
That's right, even when you are sewing at 5,500 stitches per minute, the machine purrs like a kitten. You don't get any of the annoying rattle or buzz that you might get with an inferior machine. It comes with a servo motor that is quiet as a dream.
And while it is obviously not a highly technical computerized sewing machine, this is the exact type of sewing machine used in factories to make the clothing that we all love to wear. When you use the Juki, you are using a professional sewing machine.
Juki DDL 8700 Review: Final Thoughts
What an excellent machine. It just doesn't get better than the Juki DDL 8700. It stitches incredibly fast, the unit itself is extremely simple with just a few buttons and dials, the table comes very easy to build, and once it is set up, you'll be sewing nonstop at speeds of up to 5,500 stitches per minute.
The sewing machine comes with a completely automatic lubrication system, it is eco-friendly to comply with Juki Eco-Products standards for protecting the environment, and it has a huge 11-inch arm space for you to work on larger projects.
All I can say is that if you want the entire package, a quality sewing machine, and a stable table, you should definitely think about purchasing the Juki DDL-8700. I mean, this machine costs less than other quilting machines that stitch at half the speed and don't come with their own table. This is a fantastic product for those looking to industrialize their sewing.
Related Articles: